Welcome to 2017, where old is new and new is old again. Retro '80s fluro ski jackets are making a comeback, the Nokia 3310 has been re-released on the market, and the all-new 2017 Kia Rio SLi arrives with a four-speed auto.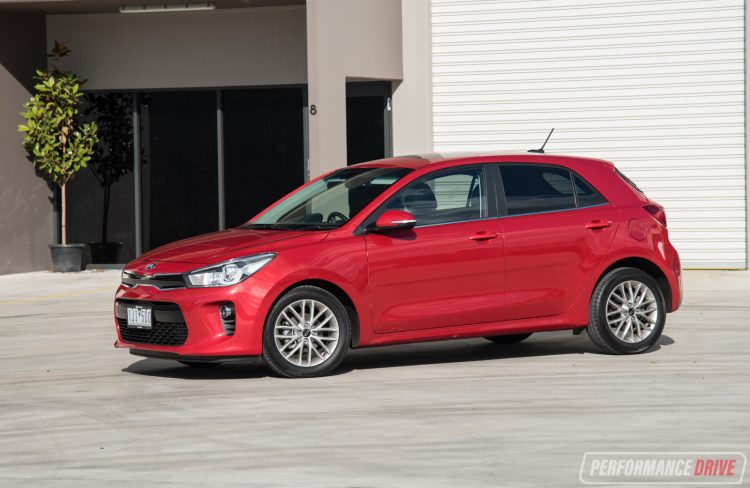 That might sound like an anachronism in a completely new car, but does it detract from the driving experience? That's one answer we're looking to find, in addition to what the 2017 Rio SLi is like to live with. Prices start at $22,990 for the auto-only SLi, but kick off from $16,990 for the base S manual.
2017 Kia Rio SLi – THE SPECS
Engine: 1.4-litre four-cylinder
Output: 74kW@6000rpm / 133Nm@9000rpm
Transmission: Four-speed auto
Drive type: Front-wheel drive
Wheels: F & R: 16×6.0, 195/55
ANCAP: Not tested/MY2016 5 stars (scored 34.99 out of 37)
Tare weight: 1162kg
Power-to-weight: 15.70:1 (kg:kW)
Official fuel economy: 6.2L/100km
Economy during test: 7.1L/100km
Fuel capacity/Type: 45L/91 RON
Power efficiency: 11.93kW:L/100km
0-60km/h: 5.34 seconds*
0-100km/h: 12.20 seconds*
60-110km/h: 9.44 seconds*
1/8 mile: 12.09 seconds at 99.6km/h*
1/4 mile: 18.62 seconds at 120.4km/h*
100-0km/h braking: 3.24 seconds at 43.37 metres*
Decibel at idle: Not tested*
Peak decibel at 60-100km/h: Not tested*
Priced from: $22,990
* Figures as tested by PerformanceDrive on the day. Factory claims may be different

2017 Kia Rio SLi – THE PACKAGE
The all-new car is more cab-rearward than its predecessor, with the windscreen pushed further back into the cabin. This doesn't impact interior space much but grants the car more taut proportions. For an entry-level compact car, the two-tone dash is a stand out, with the modern touch-screen and large buttons proving both easy to use and good to look at.
A standard reverse camera with moving guidelines makes parking very easy and stress-free, and the low window lines make the car feel nimble and provide great visibility. Bluetooth connections can only be paired when the vehicle is stopped and in Park, and, during our test at least, it doesn't default back to your phone when you next drive (maybe we had the wrong setting or something). Audio quality is clear and gets the job done without much output, with the SLi adopting a six-speaker layout.
Hard dash plastics are still used on the upper and lower dash, as well as door trims, reminding you this is designed as an affordable compact runaround and not a premium offering even in SLi form. Overall though, it is a modern and fresh design inside with everything where it should be, and built to decent quality. The SLi does possess a degree of luxury over and above the low-spec models too, with leather-like seat trim and a standard sunroof. In this class, we think the design of the Rio's cabin is right up there, only the execution in some areas seems a bit cheap.
Cabin space is very good for this class for four, or five at a pinch, with good legroom and headroom in the front and back, while there's a nice driving position for the driver. Kia has, fortunately, given the Rio its cool three-spoke sports steering wheel, which pairs nicely with the driving position. A 325L boot, hiding an unfortunate space-saver in its basement, is remarkably large for this class. If you fold the rear seats down it opens up 980L.

2017 Kia Rio SLi – THE DRIVE
Power delivery is pretty soft with a worrisome lag off the line, but a surprising surge up high if you shift the widely-gapped four-speeder yourself. To be honest, the four-speeder feels adequate most of the time and you don't always yearn desperately for more ratios. We'd also prefer it over a droney CVT-type auto that afflicts some of its rivals. Our gripe is the engine; it simply lacks energy, particularly for a flagship variant.
As you'd expect of a new car, the chassis is competent and handles most challenges with sure-footed ease, with an excellent ride. The car feels nimble and agile but there is room for improvement with the steering we think. While direct and quick, there isn't much feedback, even though the platform and suspension does provide an enjoyable drive.
Around town the Rio is comfortable and quiet, with good bump isolation and no major shudders going over speed bumps. Economy is rated at 6.2L for the auto and low sevens during our time, with around 3000rpm on the needle at freeway speeds. It feels pretty happy to cruise, but you will need to work that sports mode and anticipate things early on for overtaking.
Capped-price servicing and a seven-year warranty are two things that definitely add to the Rio's ownership appeal. We'd love it if Australia introduced Kia's new 1.0-litre turbo three-cylinder that overseas markets get (74kW/172Nm), but until then this Rio is mainly let down by its overly slow and uninspiring powertrain. If that matters least to you, then every other area is at least at or beyond the class benchmark in our opinion.

2017 Kia Rio SLi – THE VIDEO
2017 Kia Rio SLi – THE VERDICT
So there you have it. A simple, easy to use and solid little car with good ride, plenty of standard features and a comfortable and accommodating interior. Nothing to get too excited about but it does what it's supposed to competently, with minimal fuss.
As for the four-speeder, well some could rightly argue that less gears means less to go wrong and it's not a huge imposition to be honest. Having said that, we'd have to sample the six-speed manual which does look like the better choice on paper if you can drive manual. Otherwise, there's a six-speed auto set to be on the horizon for next year.
PROS:
– One of the biggest cabins (and boots) of this class
– Neat design
– Kia's seven-year warranty plan
– Luxury appointments and standard features
– Surprisingly fun and sure-footed handling

CONS:
– Old four-speed auto
– Very slow (even in this class)
Editor Brett Davis contributed to this review
As always, if you're thinking about buying a new car don't forget to click here to speak with our car buying specialists.