It looks like the upcoming BMW M850i will be quite a sporty drive, judging by this video. It shows a prototype being pushed around the Nurburgring with the driver testing its drifting potential.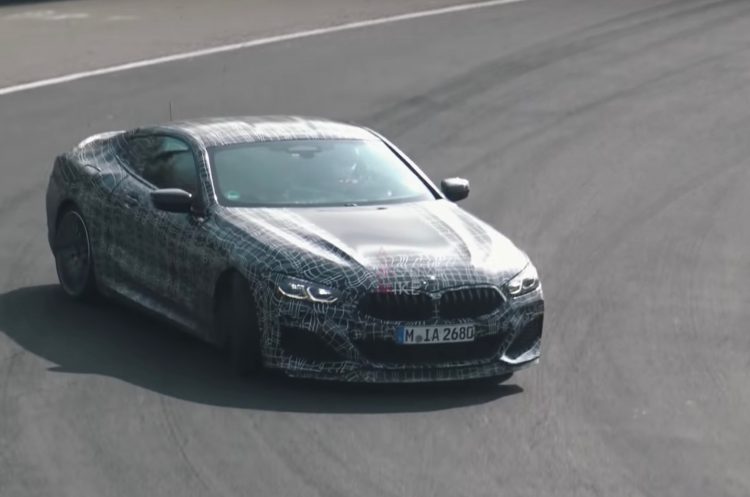 BMW released some details of the new model last week, confirming the M850i badge. Other variants are likely, potentially including an 840i and 840d, along with the confirmed M8 performance variant. The M850i will come with a twin-turbo V8 producing 390kW and 750Nm, sent through an xDrive all-wheel drive system.
However, it looks like the all-wheel drive system will either be very lenient towards oversteer, or, BMW might offer a switchable rear-wheel drive mode like in the latest BMW M5. Given the prototype doesn't really powerslide in the video, it looks more like weight shifting, we'd be guessing the xDrive system will simply be configured to offer sporty handling, especially in sport mode.
The company is putting the final touches on the new 8 Series, with its big debut confirmed for the Le Mans event on June 15. It'll come in as the showroom flagship, with an expected price tag of at least $200,000. Considering it will be like a coupe version of the 7 Series, the 8 Series is likely to boast a range of uber-luxury features and convenient-focused technologies.
As for the design, it'll be inspired by the 8 Series concept unveiled last year. At the front will be a traditional long bonnet, with a low profile cabin glasshouse, and a short rear end with short front and rear overhangs. Prototypes are still wearing disorienting wraps but you get the idea of what to expect from the design. Check out the video below to see how it slides, and how it sounds.