Isuzu has been going from strength to strength in Australia in terms of sales, since the 2008 introduction of the D-Max ute and 2013 debut of the MU-X SUV. Since then, the company has enjoyed year on year growth and over 100,000 sales.
Volume is slightly down compared with 2016 and that is due to some earlier supply issues, but the introduction of a revised D-Max earlier and now the MY17 MU-X brings a raft of changes that build on the car's strengths and address some of its weaknesses.
Starting on the outside, the front-end treatment is new with a new upper and lower grille design, headlights that incorporate Bi-LED projectors on all models, and new alloy wheels. A new colour, Havana Brown adds upmarket lustre to the big truck.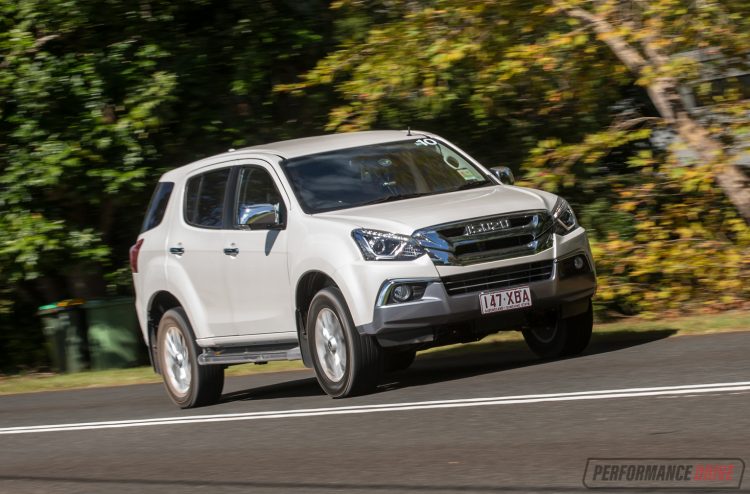 The headline changes are a significantly revised engine and new six-speed automatic transmission. Isuzu's 3.0-litre turbo diesel engine makes much more torque than before (430Nm versus 380Nm), from 100rpm lower in the rev range (1700-3500rpm), with a 700rpm higher ceiling. Power remains at 130kW.
Fuel consumption is 7.9L/100km, meaning the MU-X is one of the few vehicles in its segment to dip below the 8 mark, despite its 3500kg towing capacity.
A new variable geometry turbocharger is the primary reason for these improvements, with new fuel system, EGR cooler, particulate filter and ceramic glow plugs also contributing to the now Euro 5 compliant engine's newfound efficiency.
Previous criticism of the old model were limited to NVH and interior, with its harder plastics than some rivals. Both of these have come in for attention, with three layers added to the firewall, softer dash materials and a new 8.0-inch touchscreen on LS-U and LS-T.
Prices have risen slightly, starting at $42,800 for the 4×2 LS-M, rising all the way to $56,100 for the flagship LS-T 4×4. All come with seven seats as standard, with a manual transmission available on the 4×4 LS-M and LS-U. Isuzu expects the manual transmission to account for only five per cent of sales.
Two major strengths of the MU-X that may have contributed to its success are the Service Plus 555 initiative and the I-Venture Club program. Service Plus 555 is the combination of a five-year/130,000km warranty, five-year roadside assistance and five years/50,000 capped-price servicing.
The I-Venture Club is exclusive to Isuzu D-Max and MU-X customers and is an off-roading events program that allows owners to get the most out of their vehicles. Locations such as Fraser Island and Margaret River are included in the drive program.
PerformanceDrive was invited to the official Australian launch of the 2017 MU-X, which incorporated road testing on and off road on Queensland's Sunshine Coast.
The subtle exterior changes do noticeably distinguish the MY17 from the previous model, with new LED headlamps in particular looking fresh. Havana Brown is a dark, chocolatey hue with shades of black that is sure to be one of the more popular colours. In the Queensland sun, it stands out well.
Stepping inside, it is immediately obvious Isuzu has sought to improve the user experience, with the 8.0-inch touchscreen offering significantly better graphics than before. The navigation system is also easy to operate with brighter colours.
The dashtop and console lid trimmed in stitched leather are certainly welcome touches, while the quilted leather seats and door trims elevate the MU-X above its commercial origins. However, the carryover steering wheel with its hard switches, top console and hard-to-access USB under the dash will have to wait for the next generation to receive attention. Overall, Isuzu has spent its money where it counts. Fit and finish is also great, with a good quality feel in most areas.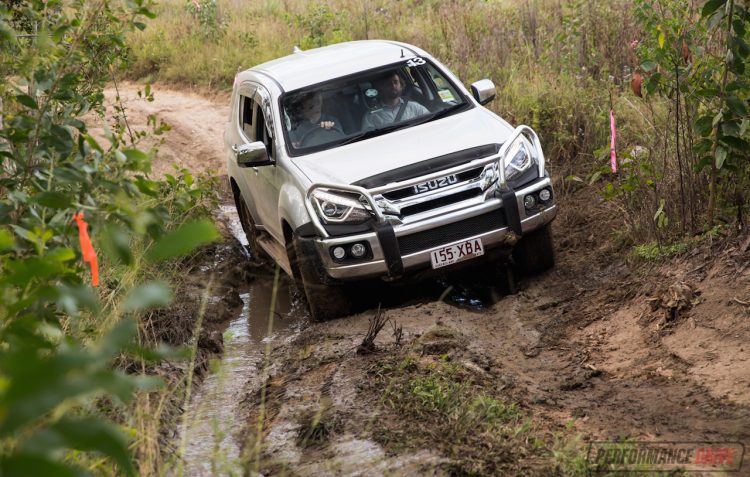 Power delivery from the 3.0-litre engine is excellent, and you'll struggle to find any turbo-lag at all. Torque comes on song in such a smooth manner, helping it effortlessly get up to speed. There's also significantly less noise entering the cabin.
At highway cruising speeds, the diesel is barely perceptible with only the wing mirrors buffeting against the wind if you pay close attention. We're glad Isuzu has stuck with the higher-capacity diesel engine, as this means more effortless power off-boost and better real-world fuel economy since the engine doesn't struggle as much as some of the rivals.
A stab of the throttle raises only engine timbre, with the stability control doing a remarkable job of keeping things in check even in the sticky stuff.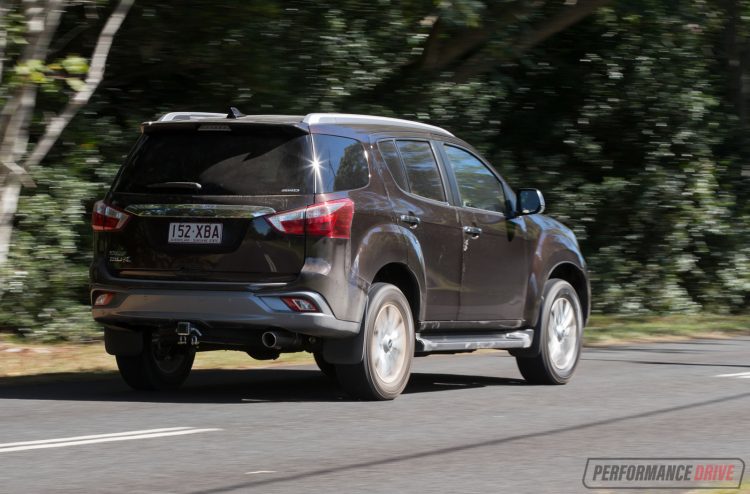 Handling is good for a separate-chassis SUV, with a firm suspension setup keeping the SUV neutral and reasonably predictable. Steering is firm without being overly heavy, but some may prefer a tad more assistance at parking speeds. Nevertheless, it reinforces the car's tough character.
Off-road the MU-X shows its prowess with low-range gearing teaming up very well with the engine's newfound torque. Crucially for a muddy and craggy trail, the power delivery is always manageable, meaning sticky situations are easily abated, even with road car tyre pressures. Hill descent control is an excellent downhill companion even for a novice off-roader like this writer.
It may miss out on some radar-based semi-autonomous features of its rivals, but then those cars are much pricier than the honest MU-X, which now has even more compelling reasons to choose it. The MU-X has a tough persona thanks to its brand heritage but has learned some new manners for 2017, making it more appealing than ever before. See below for the starting prices.
4×2
MY2017 Isuzu MU-X LS-M auto – $42,800
MY2017 Isuzu MU-X LS-U auto – $45,100
MY2017 Isuzu MU-X LS-T auto – $48,800
4×4
MY2017 Isuzu MU-X LS-M manual – $48,000
MY2017 Isuzu MU-X LS-M auto – $50,100
MY2017 Isuzu MU-X LS-U manual – $50,300
MY2017 Isuzu MU-X LS-U auto – $52,400
MY2017 Isuzu MU-X LS-T auto – $56,100