It was inevitable really, that the new Volvo V90 wagon would be revealed in scale model form before the actual model appears.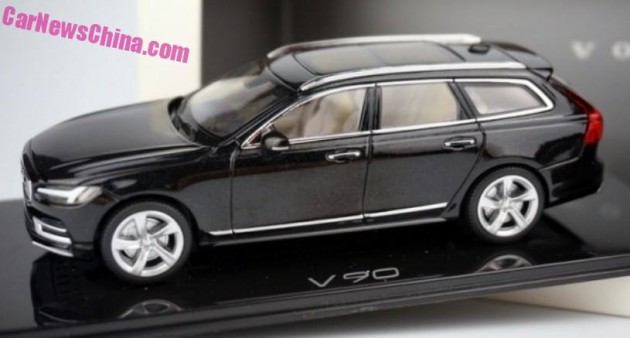 We've seen a few leaked examples of the upcoming S90 sedan in scale model form, but Volvo is yet to reveal the real deal. And now it seems a V90 wagon variant, a model that is yet to be even confirmed, has been revealed the same way via images first appearing in a CarNewsChina report.
Adopting the company's latest styling language, first seen on the XC90, the V90 features Thor hammer LED headlights, a pronounced upper grille, and a slab-like waistline.
It's understood the scale model is an officially licensed version of the upcoming car, just like the S90 sedan. According to reports Volvo assigned toy carmaker Norev to produce scale versions of the S90 in the lead up to its official reveal. Around 20 examples were apparently stolen, with photographs soon hitting the web.
It's believed a similar turn of events has taken place with this V90 version. A full debut for the S90 is expected to take place later this year, with the V90 likely to appear a short time afterwards.
The cars are set to go on sale in China initially, remembering Volvo is now owned by Geely Holding – a Chinese company – followed by international markets next year. We'll be sure to bring you all the details of the full-size version the moment they are unveiled.