The Toyota Prius is certainly a polarising figure in the automotive world. While it may have taken a few generations to be as widely adopted as it is now, there's no denying Toyota's vision for a high-tech, reasonably inexpensive low-emissions passenger car. To give you some idea of its worldwide appeal, more than 3.5 million have been snapped up since its global introduction in 1997.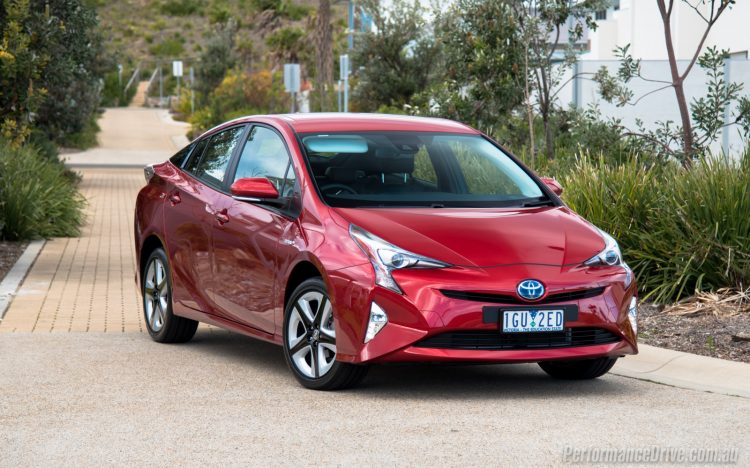 The 2016 Prius has actually had a slight (10kW) reduction in power, yet Toyota says it is now "fun to see, touch and drive". It also says the all-new Toyota New Generation Architecture and new suspension setup improves "road-holding, stability, handling and comfort". We were transfixed by these claims, so we decided to put it to the test.
2016 Toyota Prius i-Tech – THE SPECS
Engine: 1.8-litre four-cylinder hybrid
Output combined: 90kW
Transmission: CVT automatic
Drive type: Front-wheel drive
Wheels: F: 17×7.0, 215/45  R: 17×7.0, 215/45
ANCAP: Not tested (previous model 5 stars)
Tare weight: 1375kg
Power-to-weight: 15.2:1 (kg:kW)
Official fuel economy: 3.4L/100km
Economy during test: 4.5L/100km
Fuel capacity/Type: 43L/91 RON
Power efficiency: 26.4kW:L/100km
0-60km/h: 4.99 seconds
0-100km/h: 11.42 seconds
1/8 mile: 11.84 seconds at 102.7km/h
1/4 mile: 18.15 seconds at 126.1km/h
100-0km/h braking: 3.16 seconds at 40.97 metres
Decibel at idle: 35 (petrol engine switches off)
Peak decibel at 60-100km/h: 73
Priced from: $42,990

2016 Toyota Prius i-Tech – THE PACKAGE
The Prius is offered in two variants in Australia. The entry-level Prius will set you back $34,990 and comes with 15-inch alloys, a 7.0-inch infotainment system, head-up display, wireless phone charger, reversing camera, as well as safety features previously reserved for the previous i-Tech variant like lane departure alert and adaptive cruise control.
Stepping up to the i-Tech variant that we have here gives you larger 17-inch alloys, a leather upholstery, digital radio and a raft of Toyota's latest active safety features such as blind-spot monitoring and rear cross-traffic alert.
The new Prius is an important car for more reasons than you may think. It's the first vehicle in Toyota's lineup to ride on the all-new TNGA (Toyota New Global Architecture) platform that will soon underpin around 50 per cent of its range within the next five years. The platform is constructed from 19 per cent high-strength steel, over just 3.0 per cent in the previous model.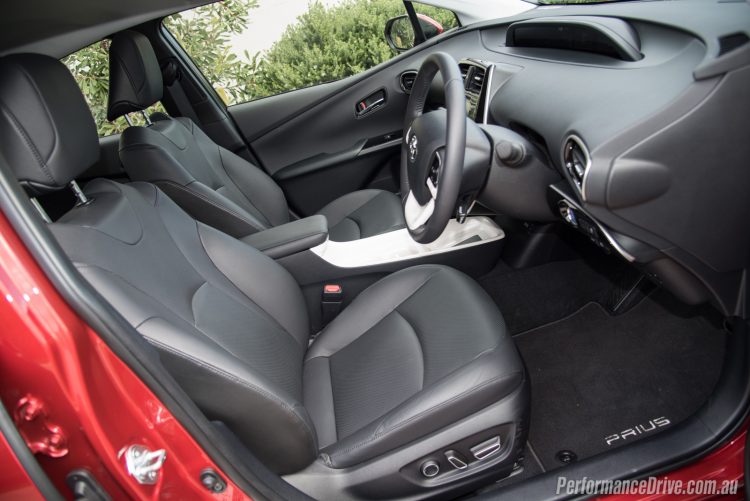 The exterior design is more an exercise in aerodynamic efficiency than styling. You can't move your eyes 5cm without encountering another bizarre design feature, all in the name of reducing the coefficient of drag. Down from 0.25 to 0.24, the Prius is one of the slipperiest auto shapes on the mainstream market today.
This has been achieved through a radical restyle, which, while keeping the overall familiar Prius shape, features new active air vents, a thin and pointy front grille and a very polarising rear end. A particularly cool design highlight is the melange of lines that meet on the exterior behind the rear passengers' head, ushering air in the most aerodynamic way possible.
For better or for worse, the 2016 Prius will not be ignored when you're driving down the street. Personally, we tend to admire the unapologetic Japanese nerdiness of it all. After all, this is a very different car, so why not look different?
Inside, the flowing aesthetic carries through the cabin and around the two-tiered dashboard, tying in with the exterior design's emphasis on aerodynamic efficiency. The interior of the Prius will surely be a highlight for some prospective buyers – it's arguably Toyota's most impressive example of a quality interior (barring all Lexus products of course).
Only a handful of the vehicle's functions have physical buttons in the central console, which adds to the simple layout. Where the gear lever would typically sit has been replaced by a white plastic wireless phone charging station, with two cup holders behind. The white plastic also covers parts of the bulky steering wheel, and works well to contrast the largely black textiles used inside.
One problem that we can see arising inside the Prius is the white plastic being cooked and discoloured by the Australian sun, and also how quickly it gets dirty. This applies to most of the centre console and MMI screen, surrounded by gloss-black plastic, which highlights even the most innate amounts of dust. A very small point, but cleanliness is cleanliness nonetheless.
The heated leather-wrapped seats are soft and comfortable, and now come with some added side bolstering which actually come in handy. We'll tell you why in the drive section below.
One letdown in regards to the interior is the touch-screen that Toyota has installed. While there's nothing wrong with it aside from being a little slow to respond, the rest of the interior sets such a high standard that the interface fails to meet it in our opinion.
In regards to practicality, could you transport the family in a Prius? Absolutely. The front and rear seats are spacious, with a massive windshield providing an open and airy feel. However, due to its aerodynamic design and sloping roofline, headroom isn't a strong point in the rear. But you certainly wouldn't call it cramped. Opting for the i-Tech variant increases boot capacity from 457L to 502L due to the absence of a spare tyre – there's a pump and repair kit instead.

2016 Toyota Prius i-Tech – THE DRIVE
We'll start with what's familiar about the 2016 Prius. Around town it's the quiet, pleasant place that the Prius has always been. Toyota has spent a lot of time ensuring the cabin is a peaceful place to be, reducing noise and vibrations. And it shows. One of the Prius's party tricks is creating awkward silences.
Cruising around town silently is a civilised affair thanks to the comfort-oriented suspension that works well to iron out irregularities on the road. The small list of niggles we have with the Prius on the everyday run is the C-pillar eating into the rear three-quarter view, and the nose which scrapes on driveways and speedbumps.
If you're unfamiliar with how the hybrid synergy drive powertrain functions, quite simply it mates a 1.8-litre petrol engine with an electric motor, with a nickel-hydride battery pack under the rear seats. Power is supplied to the front wheels via the electric motor, while the battery pack is topped up by the engine working essentially as a generator. The end result is a combined power output of 90kW, which, according to our watch, translates to a 0-100km/h time of 11.42 seconds.
Toyota has improved both the efficiency of the 1.8-litre engine and battery pack for a total economy gain of just under 13 per cent over the previous Prius. The redesigned battery pack is actually 10 per cent smaller but 28 per cent more efficient at absorbing current, meaning it charges quicker. The end result is a claimed increase in economy from 3.9L/100km to just 3.4L/100km. In real world driving conditions however, we weren't able to match these figures. Instead, it returned around 4.5L/100km on a combined cycle run and up to around 5.5L/100km under pushy driving, which in reality is still very impressive.
A downside to the battery pack is that it can be drained quickly in situations like traffic jams, leading to some minor forms of range anxiety. So in this respect the Prius is not immune to the foibles associated with the internal combustion engine.
The Prius has three driving modes, with Normal, Eco and Power settings offering a drastically different power delivery. Eco is too slow for our liking – which is why we probably didn't match the official economy figures. Really though, picking up speed this slowly could result in a crash. We stuck with Normal mode which gives you a nice amount of torque and throttle response, gaining speed rather effortlessly with little throttle input.
Put it into Power mode and present it with a challenging road, and we're almost certain the new Prius will surprise you like it did us. It's really not bad in terms of acceleration and on-the-go performance. Like many low-powered but fun-to-drive cars, driving the Prius quickly isn't an exercise focussed on picking up speed. It's about transferring and maintaining that speed through the bends, which the latest Prius does undeniably better than its predecessor.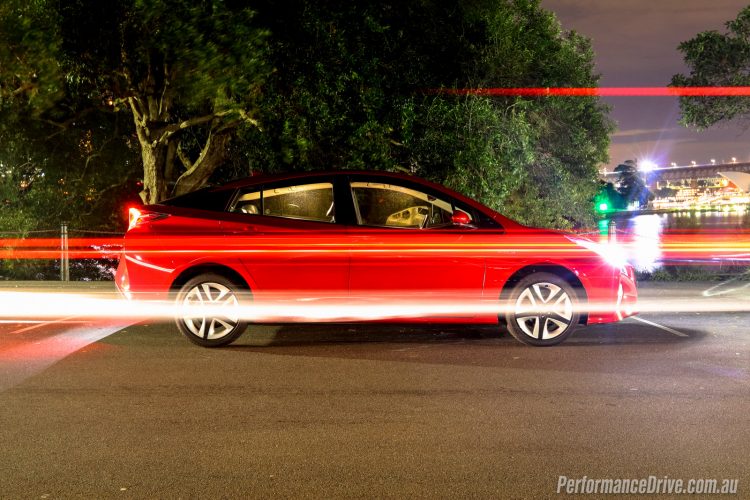 The key to the Prius's playful nature is largely due to the new chassis, but also thanks to Toyota engineers replacing the previous torsion-beam rear suspension with a double-wishbone setup, and recalibrating the front MacPherson strut setup for a more dynamic drive. Toyota has also made efforts to reduce weight and lower the centre of gravity by 24mm. At 1375kg, it is reasonably light for this size vehicle.
On a windy road the front end feels particularly more agile over the old model, with a somewhat confidence-inspiring eagerness to change direction and an impressive amount of grip from the front axle. The new platform also allowed Toyota to lengthen the Prius while actually increasing the frame's torsional rigidity by 60 per cent, resulting in improved composure and less nervousness through the bends.
There is electrical assistance in the steering rack, but it's genuinely hard to notice any numb spots throughout. The steering is quite light but gives the driver enough feedback to know what the wheels are up to. Again, and we know you probably won't believe us, but it's actually surprising how nice this new model is to drive.

2016 Toyota Prius i-Tech – THE VIDEO
2016 Toyota Prius i-Tech – THE VERDICT
Naturally, as a publication with the name 'Performance' in it, we came dangerously close to discrediting the 2016 Prius as being a fun drive… On paper, how could it be? That was until we took it to one of our testing roads to see what's what.
While early generation Prius models received a poor reception from enthusiasts, Toyota has continued doing what it does best, and by making continuous improvements year by year, it has culminated in no doubt the most impressive generation of Prius to hit the road.
The truth is that despite having been around since 1997, in our eyes, the Prius has really just arrived in this, fourth generation. It retains the archetypal Japanese quirkiness it is associated with, and it has also matured. This should help get more people behind the wheel of a hybrid. It is one we definitely recommend you at least take for a test drive if you're considering an eco vehicle.
PROS:
– Nice handling and steering
– Real-world fuel economy, official average reduced from predecessor
– Modern and well-equipped interior
– Lower centre of gravity from predecessor (down 24mm)
– Improved torsional rigidity from predecessor (up 60 per cent)
– More aerodynamic than predecessor (0.24Cd)

CONS:
– Exterior design isn't going to appeal to all
– Down on power from old model
– Prius nameplate always stirs controversy