A bunch of new-model vehicles have passed ANCAP's stringent crash testing standards, via Euro NCAP, including the latest Jaguar XF, Skoda Superb, Kia Sportage, and the new Holden Spark.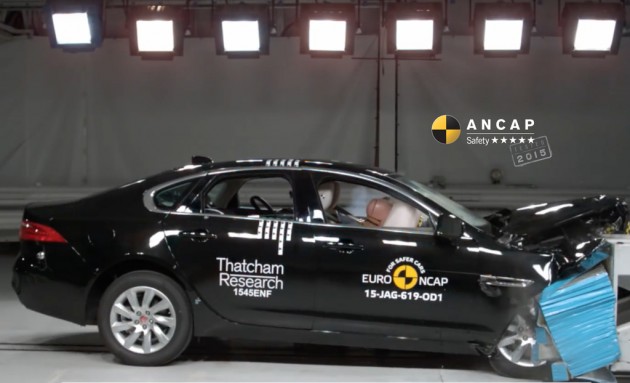 Starting with the Jaguar, the XF is one of the most expensive vehicles ANCAP/Euro NCAP has tested. Up until now though the sleek sports-luxury sedan has only managed to achieve a four-star rating. It scored a high 36 out of 38 in adult occupant protection, and 41.2 out of 49 for child occupant protection.
In a similarly premium segment, the rather attractive new Skoda Superb has also received the five-star accolade, scoring a top 8 out of 8 in the side impact test. Overall adult occupant protection received a score of 32.7 out of 38, and 42.2 out of 49 for child protection.
On home soil ANCAP's local testing lab recently smashed the new Kia Sportage into various walls to see how it handled it. Overall, it scored 34.62 out of 37 in the local test, with 16 out of 16 for the side impact test and 13.62 out of 16 for the frontal offset crash. Overall, the new model isn't as safe as the previous model, strangely, which scored 35.10 out of 37.
Also on home turf, ANCAP crashed the new Holden Spark a few times to see how it would shape up. It just nudged in for a five-star rating, with a score of 33.60 out of 37 overall. The frontal offset test was what let it down the most, scoring 12.79 out of 16. The regular Barina has been awarded 35.43 out of 37.