The 2016 Suzuki Vitara enters an insanely competitive market segment. Compact crossovers/SUVs have become a hit since their introduction, with vehicles like the Mazda CX-3, Honda HR-V, Nissan Juke and Mitsubishi ASX capitalising on a younger generation's desire for adventurous aesthetics, practicality, economy, and affordability.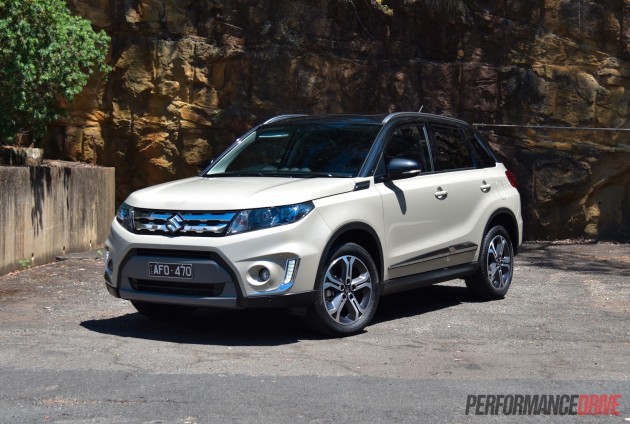 The Vitara, now in its fourth generation, is a late entry into the small SUV segment. We're here to find out if the new model is a real contender, or just another pretender.
The 2016 Vitara range is very simple; the entry-model front-wheel drive RT-S manual starts at $21,990, or with an optional six-speed manual for an extra $2000. Having sampled the RT-S recently – designed to be the most popular variant – we thought we'd see how the RT-X shapes up.
It comes equipped with a four-wheel drive system and six-speed automatic transmission as standard, and is priced from $31,990 – almost $10,000 more than the auto RT-S.
2016 Suzuki Vitara RT-X – THE SPECS
Engine: 1.6-litre four-cylinder
Output: 86kW@6000rpm / 156Nm@4400rpm
Transmission: Six-speed auto
Drive type: All-wheel drive, locking diff
Wheels: F: 17×6.5, 215/55  R: 17×6.5, 215/55
ANCAP: Not tested
Tare weight: 1185kg
Power-to-weight: 13.7:1 (kg:kW)
Official fuel economy: 6.3L/100km
Economy during test: 6.8L/100km
Fuel capacity/Type: 47L/91 RON
Power efficiency: 13.6kW:L/100km
0-60km/h as tested: 5.00 seconds
0-100km/h as tested: 11.74 seconds
Best 1/8 mile: 11.68 seconds at 99.5km/h
Best 1/4 mile: 18.52 seconds at 126.3km/h
Best 100-0km/h braking: 3.03 seconds at 39.15 metres
Decibel at idle: 40.8
Peak decibel at 60-100km/h: 78.4
Priced from: $31,990
2016 Suzuki Vitara RT-X – THE PACKAGE
With a $10,000 premium over the RT-S, what does the RT-X bring to the table? Well, as it turns out, not quite as much as you might have hoped. There's a four-wheel-drive system, which we'll cover in the latter part of this review, a panoramic sunroof, six-speaker stereo (instead of four), parking sensors, and a leather/suede upholstery. There's little else to justify the $10,000 premium over the RT-S, at least on initial inspection.
Both models come with a rear-view camera as standard, along with automatic single-zone climate control, cruise control, daytime running lights, and a comprehensive touch-screen interface with satellite navigation. Manufacturers usually scale back on such features for the base model, but Suzuki has fitted almost everything you need to the RT-S. This is great but it doesn't leave much reason to jump to the RT-X.
If you do want to give your Vitara a more premium look, the optional $995 two-tone paint finish (as tested) will have some people double-taking whether or not a Range Rover Evoque has just passed them – some members of the PD team likened it to a 'Poor-man's Evoque' within seconds of seeing it in the metal. This is a fairly big feather in the cap of a plucky $30k Japanese vehicle. Ignoring the otherwise bland rear end, the Vitara is a genuinely attractive proposition with its defined lines along the bodywork, shiny grille, and 17-inch alloys. It suggests styling was a high priority in the development of the new Vitara, rather than just being an afterthought.
Approaching the Vitara you notice that it's not quite as small as it originally appears. It measures 4175mm in length, and 1765mm in width, making it 100mm shorter than the CX-3 but 10mm wider.
Stepping aboard, the plush suede seats are supportive and comfortable on long distance trips. There's a quality leather wrapped steering wheel too, complete with flappy paddles, which to us seem unnecessary.
As with features and equipment, there is little to distinguish between the RT-S and RT-X interiors. Both share a piano black centre console housing the same infotainment system, however, the RT-X receives some more silver accents around the cabin. Buyers can also personalise the inserts to match the exterior finish of the car to liven things up. Overall, there is an almost unforgivable amount of cheap, scratchy plastics along the dash and doors, with no real attempt to disguise them which on Suzuki's part seems a bit tough for this $32k RT-X flagship.
Suzuki's infotainment system initially proved frustrating. The layout is basic and seems cheap, with music, navigation and phone connectivity separated into four squares on the home screen. It's a far cry away from the aesethically and ergonomically pleasing MZD system offered in the CX-3 rival, for instance. Allow for some time to familiarise yourself with it and you find it is indeed user-friendly, and speedier playing songs from an iPod than some other systems.
Comfort-wise, there's ample space at the front of the cabin, and the rear will comfortably accommodate three medium-sized people. Taller passengers will become irritated by the obtrusion of the sunroof, but there's no problems for legroom thanks to Suzuki's clever packaging and tall-standing seats.
On that note, in terms of practicality the Vitara proves capable and well up to par with its competition, even shaming the likes of the Mazda CX-3 by 100 litres of boot space. The Vitara's 375L is generous for a small SUV, and will only be stumped by really bulky items. There's also the usual array of cup-holders and cubby holes for the piles of everyday junk that accumulates.
2016 Suzuki Vitara RT-X – THE DRIVE
Suzuki has packaged both RT-S and RT-X variants with the same naturally-aspirated 1.6-litre four-cylinder engine, which produces 86kW at 6000rpm and 156Nm at 4400rpm. Again, this may frustrate some who have paid a premium for the RT-X only to receive the same engine. A turbo model is coming later this year which will replace the RT-X. Let's hope it retains a similar price.
On the up side, the Vitara is an economical offering. ADR figures state a combined cycle consumption of 6.3L/100km. Out on the highway on a long trip, even with a full load, the Vitara is undeniably frugal. You can actually achieve a consumption reading lower than the official average. The only trade off is a lack of power available at your right foot.
It's not as if we're expecting the Vitara to perform like a Lamborghini, but the powertrain has little to nothing to offer below the 4000rpm mark, especially carrying the all-wheel drive system that adds 65kg to the RT-S's auto kerb weight. Spirited driving in the Vitara involves revving the little 1.6 all the way out to the redline. The powertrain doesn't want to throw out any real torque low down. The active dynamic drive system can be switched to sport, which adds some low down response, but overall the engine has a very narrow powerband and doesn't offer much in the way of acceleration. We timed 0-100km/h in a yawningly slow 11.74 seconds. The lack of low-down torque can prove frustrating when attempting to overtake.
A quick look at the flagship competitors, the Vitara goes up against the 2.0-litre Mazda CX-3 (109kW/192Nm), Mitsubishi ASX (110kW/197kW), and turbo Juke Ti-S (140kW/240Nm) – you can see the problem here. If we were talking solely about the base RT-S, we wouldn't argue this point, however this problem remains an elephant sitting politely in the corner of the room for the $32k RT-X.
While it remains underpowered, the Vitara's ride quality and comfort are exceptional. There's hardly any road noise or tyre roar entering the cabin thanks to ample sound insulation. The Vitara has an admirably taut ride, albeit with some body roll at speed. Its platform is taken from the SX4 S-Cross, with some height and width added.
Around the city, where we expect the majority of Vitara owners to spend most of their time, it absorbs potholes and irregularities without much of a problem and remains civilised on an urban commute, with great all-round visibility. The steering is a blessing for tight maneuvering, but feels old-school and busy once the pace picks up.
In our opinion, the automatic transmission offers smooth shifts but can prove temperamental at times. Traveling down a hill the transmission downshifts erratically, while on other occasions it doesn't. It also jumps from gear to gear, up and down, as it tries to make use of the engine's low torque.
The active drive system, complete with Snow/Mud and Sport settings offers interesting driving dynamics. Snow/Mud mode takes advantage of a locking differential to optimise power delivery for maximum traction, and the respectable 185mm of ground clearance will see the Vitara overcoming mild off-road obstacles.
2016 Suzuki Vitara RT-X – THE VIDEO
2016 Suzuki Vitara RT-X – THE VERDICT
As we've already mentioned, if you're after a compact SUV, there are a lot of options out there – it's arguably the most saturated segment in the market. The result of which has made it more difficult than ever to make a decision. When we review a car, we review it in respect to a lot of contributing factors, and the over-riding theme of the Suzuki Vitara is that the base model RT-S is so capable, well-packaged, and attractively priced, there's very little need to opt for the RT-X unless you really require a four-wheel-drive system.
PROS:
– Real-world economy
– Practicality
– Standard features
– Reasonably fun to drive

CONS:
– Engine lacks grunt
– RT-X price premium isn't justified
– Interior not premium enough for price