Subaru's lineup has somewhat changed in recent years. Following lackluster sales of its largest SUV, the Tribeca, Subi ditched it in favour of a new compact SUV, the XV. This left the Forester in a form of automotive limbo. It has since gained a few kilos and bulked up to take the Tribeca's spot as Subaru's larger SUV, leaving the XV to attract crowds after a cute, compact SUV.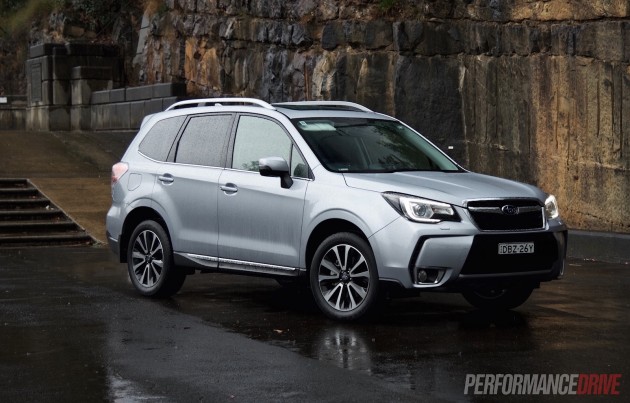 So, the 2016 Forester XT. Is it a continuation of the iconic all-wheel-drive SUV that we've all come to like and trust? We're testing the recently-introduced facelifted model, which brings some new headlights, a redesigned front bumper bar, and new headlights and taillights to the mix.
Prices start at $29,990 for the base model 2.0i-L manual, and top out at an eyebrow-raising $47,990 for the turbocharged XT Premium tested here. If this is too much for buyers, Subaru does offer the regular XT from $40,990, featuring the same 177kW/350Nm 2.0-litre turbo engine. Unfortunately, all XT models are offered only with a CVT auto.
2016 Subaru Forester XT Premium – THE SPECS
Engine: 2.0-litre turbo boxer four-cylinder
Output: 177kW@5600rpm / 350Nm@2400-3600rpm
Transmission: CVT auto
Drive type: All-wheel drive, centre LSD (X-Mode)
Wheels: F: 18×7.0, 225/55  R: 18×7.0, 225/55
ANCAP: Five stars (scored 35.64 out of 37)
Tare weight: 1617kg
Power-to-weight: 9.13:1 (kg:kW)
Official fuel economy: 8.5L/100km
Economy during test: 10L/100km
Fuel capacity/Type: 60L/95 RON
Power efficiency: 20.8kW:L/100km
0-60km/h: 4.16 seconds
0-100km/h: 8.27 seconds
1/8 mile: 10.64 seconds at 116.3km/h
1/4 mile: 16.18 seconds at 143.7km/h
100-0km/h braking: 3.16 seconds at 41 metres
Decibel at idle: 46
Peak decibel at 60-100km/h: 80
Peak stereo decibel: 99
Priced from: $47,990
2016 Subaru Forester XT Premium – THE PACKAGE
The XT Premium is a pricey option by the segment standards, there's no doubt about that. However, for your money you receive every conceivable piece of equipment you'd expect for a circa-$50-80k vehicle. Whereas the Germans will ask you to begin ticking expensive options boxes, the Japanese have thrown everything into the XT Premium.
For your money you get climate control, a panoramic sunroof, 18-inch alloys, a power tailgate, satellite navigation, a powerful eight-speaker Harman Kardon audio system, leather seats (heated in the front), and Subaru's EyeSight driver assist system which we'll go into later.
Approaching the Forester, some fans of past XTs may be a little bit disappointed about the lack of a bonnet scoop, which usually swallows air for the top-mounted intercooler. Subaru now has a new, redesigned intake for the intercooler on the underside of the bonnet. This may leave some potential buyers a little disappointed. However, this does open the door to a new demographic who may have thought the hood scoop was too flamboyant.
The front façade has received a mild redesign as mentioned, with a new bumper, grille, headlights, and the addition of fog lamps in the XT Premium. There's a host of chrome highlighting making its way from the front, around the side to the rear, where there are new LED taillights.
The majority of the interior is black, with some chrome contrasts and gloss-black highlights. There are a few cheap plastics around, but the majority of the cabin has a quality feel. This leather extends to areas like the side and middle arm rests and adds to the premium aesthetic.
In very Japanese fashion, the chunky steering wheel is, in our opinion, too complicated. There are just under 20 buttons on the wheel, for the menus, cruise control, trip computer, voice control and calling and so on. The end result is a fairly clean and uncluttered central dash, but the wheel can be off putting.
Luckily, Subaru's 7.0-inch StarLink infotainment system isn't as complicated and works well, albeit with a slight delay between some actions. With AUX, Bluetooth and USB connectivity, the system is easy to sync with a smartphone and the audio system provides superb sound quality, recording 99dB at full blast. It looks good too, with a glossy black surround, seamless screen, and ergonomic, entirely touch control usability.
Now to the safety stuff. Subaru has developed what it calls the EyeSight system, which utilises 3D images captured by two cameras atop the windshield. These cameras detect potential hazards like other cars, pedestrians and cyclists, and will in theory at least, apply the brakes if the driver doesn't notice.
We can testify the system works with the adaptive cruise control but the 3D cameras will sometimes drop out if driving into harsh, direct sunlight. In addition, Subaru's active cruise control will follow the car in front, applying the brakes if they slow down. There is also a rear-view camera for added convenience.
The Forester in past years has continued to grow which may upset some loyal customers who liked its packaging, but it does mean the 2016 Forester is ultimately even more spacious. The cabin is extremely pleasant and airy, with ample legroom in the front and back, a high roofline even with the large sunroof. Cargo capacity is rated at 422 litres, and 1474 litres with the rear seats folded.
2016 Subaru Forester XT Premium – THE DRIVE
The Forester XT features a powertrain that is taken from the iconic WRX rally machine, detuned and reprogrammed for more family-friendly performance. Subaru has extracted 177kW at 5600rpm and 350Nm between 2400 and 3600rpm from the unit. It serves up an undoubtedly spritely SUV drive.
The constantly variable transmission (CVT) provides a silky-smooth delivery, with no 'shifts' in the traditional sense, just constant adjustments to the ratio. In the real world this is a valuable addition to the Forester's packaging as it adds a level of refinement to the drive that isn't offered from other transmissions. In saying that, CVTs are notorious for presenting bland acceleration and lack of excitement. The best 0-100km/h time we could manage was 8.27 seconds, which is fairly disappointing for sporty/flagship, turbo SUV. We suspect a manual transmission would see this time dropped by around 0.5-1.0 seconds.
The Forester gives the driver three separate driving modes to select from, and is adjusted through the SI-drive buttons on the steering wheel (where else?). When these driving modes are isolated to the Forester's power delivery, they do offer a very different dynamic. Left in 'normal' mode, the power curve is spaced out in a more gradual fashion, perfect for a low to moderate speed urban commuting.
Around the city the sportiest 'S#' mode is almost too perky and responsive, programmed to unload lots of power low down in the rev range. In this sense, it is very easy to speed when tied with the powerful turbo engine. It can also prove jerky under small amounts of throttle input. The sportiest setting should be reserved for exactly that, enthusiastic driving.
Don't buy into the whole 'WRX for the family' marketing spiel though, because quite simply, it's like comparing chalk and cheese. The WRX is low, it's stiff and stays almost flat through a corner. The Forester on the other hand tilts and leans around fast bends, with a higher centre of gravity. It rides on 18-inch wheels with 225/55 tyres, and they provide more than enough grip for the every day driver. You can, if you so wish, make the Forester misbehave, but really, why would you buy a $50,000 SUV to treat it like a WRX when you could instead just buy a WRX STI for a similar price?
On that note, the suspension is spot on for where the Forester will spend more of its time; in the urban environment and off the beaten track on the odd occasion. Bumps are soaked up through the cushioning dampers, and combined with Subaru's effort to reduce noise, vibration and harshness by 5 per cent over the outgoing Forester, the cabin is a quiet and comfortable place for a long journey.
Contrary to most of the competition, the Forester can live up to its claim as a genuine SUV, performing admirably when taken off road. X-Mode takes control of the Forester's engine, brakes, differential, transmission, and dynamic traction and stability control system for optimum off-road performance. It also features conveniences like hill decent control and an impressive 220mm ground clearance. It is one of the best SUVs in this class in terms of ruggedness and general preparation for off-road duties.
If you're after a fuel efficient Forester, the XT isn't the pick of the bunch. Despite its size the naturally aspirated variant is significantly more economical than its turbocharged counterpart. The XT offers an ADR claimed combined cycle of 8.5L/100km, but we weren't able to get the unit under 10L/100km during our test. Highway cruising is of course more economical, but a figure of 10L-plus in real-world mixed conditions makes the Forester appear a bit ancient in comparison with some of its toughest rivals.
2016 Subaru Forester XT Premium – THE VIDEO
2016 Subaru Forester XT Premium – THE VERDICT
The Forester XT is a capable offering in the already saturated SUV market segment. Some buyers may be a bit apprehensive about handing over essentially $50K for a mid-size Japanese SUV, but those who do will have few complaints. With a clean, spacious and easy-living cabin, and a more refined and grown-up persona, the Forester may well be hitting its stride. It also comes with Subaru's legendary reliability history and comprehensive experience with off-road driving.
PROS:
– Spacious and easy-living cabin
– Decent off-road performance for class
– XT Premium offers genuine luxury features
– Renowned Subaru build quality
– Multiple LCD screens; boost gauge, in-built apps

CONS:
– No manual option for sporty XT turbo; CVT saps enthusiasm
– Subaru still behind on fuel economy
– XT Premium is pricey