There's a new sleek four-door coupe in town, called the Mercedes-AMG CLA 35 4Matic. It follows in the footsteps of the A 35 AMG hatch and the recent A 35 sedan, which are pitched just below the full-cream '45'.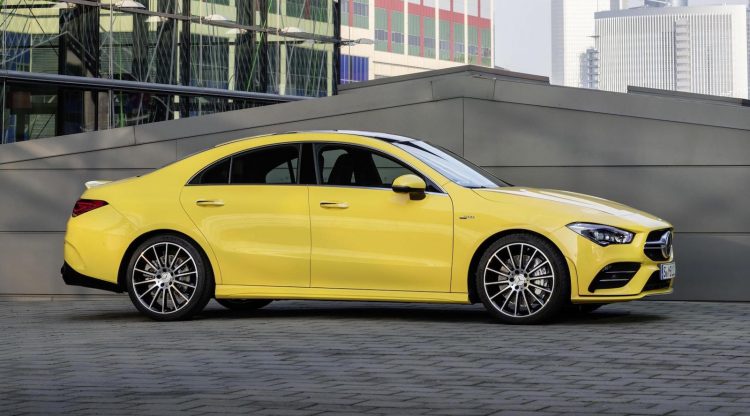 Like the hatchback, the new CLA 35 is powered by a 2.0-litre turbo four-cylinder engine that develops 225kW and 400Nm. Hooked up to a seven-speed dual-clutch auto transmission with 4Matic all-wheel drive, acceleration from 0-100km/h can be dispatched in just 4.9 seconds. Fuel economy is rated between 7.2-7.3L/100km on the combined cycle, which is not too bad considering the performance.
Mercedes-AMG has tuned the 4Matic all-wheel drive system so it is infinitely variable in the way it splits the engine torque between the front and rear axle. It can range from 100 per cent front-wheel drive, up to 50:50 across the front and rear. The company describes the setup as offering the "best possible traction with lots of driving fun."
This variant isn't all about speed, though. Well, it is an AMG model, but it has been designed as an intermediate step between the tarmac-flogging CLA 45 and the slightly sedate CLA 250. As such, it comes with a bespoke sports adaptive suspension setup that offers the driver comfort, neutral and sporty damping modes.
Speaking of modes, the new model also comes with Mercedes's fresh AMG Dynamics system, offering Basic and Advanced modes. These tie in with the AMG Dynamic Select system, which offers Slippery, Comfort, Sport and Sport+ driving settings. All alter the steering and suspension sensitivity, as well as the stability control and even the exhaust note.
Steering is made through a speed-sensitive electro-mechanical power setup that promises direct turn-in, with variable ratio gearing providing either comfortable or sporty feedback, depending on the drive mode selected. Precision is also improved over the regular CLA thanks to a rigid mounting of the integral carrier.
Mercedes-Benz is planning to unveil the CLA 35 to the public at the New York International Auto Show on April 16. Sales orders will then commence on April 29, with deliveries overseas penned in to start in August.