An image showing what appears to be the production Infiniti Q30 hatch has surfaced online, showcasing a suspiciously high ride height.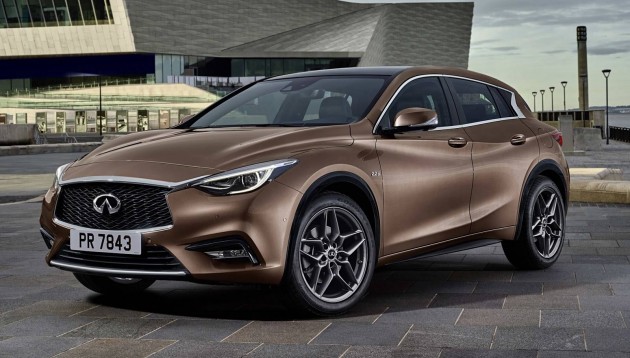 Could this be the upcoming QX30 crossover? Official confirmation is yet to be made, however, Infiniti has previously confirmed it is working on a Q30 and a QX30, based on the Mercedes-Benz A-Class and GLA-Class.
As you can see by this sole image, the Q30 will borrow plenty of inspiration from the Q30 concept car first unveiled back in 2013. There's the typical front grille layout in line with Infiniti's current showroom range, as well as angular headlights and various body lines and sexy contours.
It's understood the Q30 – and QX30 – will be offered in a range of turbo-diesel and turbo-petrol engines, with this example featuring the company's 2.2-litre diesel as indicated by the badge. In the Q50 sedan, the 2.2 unit develops 125kW and 400Nm. A 2.0-litre turbo-petrol in other models produces 150kW and 350Nm.
Interestingly, the Q30 and QX30 will be produced in the UK at Nissan's production plant. This will make it the first Infiniti to be made in Europe. The models will eventually be launched all around the world.
Set to be unveiled at the Frankfurt Motor Show in September, the Q30 will compete in the tough market segment with well-established models like the Audi A3, BMW 1 Series, and of course the Mercedes-Benz A-Class. Other propositions like the Volvo V40 and Lexus CT 200h will also be on its list of prey.