In the market for a sporty, luxurious and practical sedan? Well, Kia claims its 2016 Optima GT is all of the above, and more.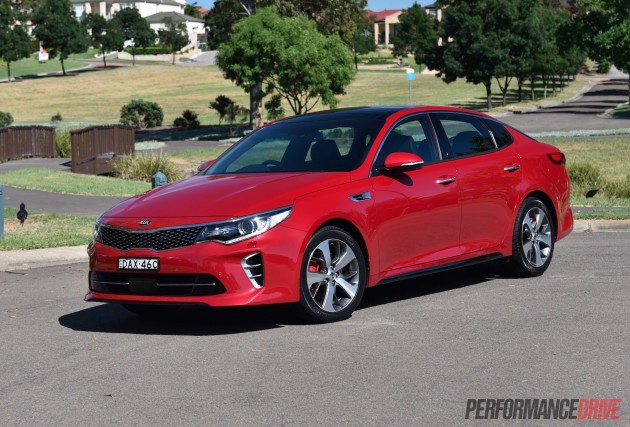 In the company of sub-premium mid-sized sedans like the Ford Mondeo, Hyundai Sonata, Holden Calais and Mazda6, the Optima enters a market segment already spoilt for choice. So, is it time to do the unheard of and take a Kia for a test drive?
That last sentence was a little cruel. But, you see, there's still somewhat of a stigma attached to Korean cars, and the Optima GT is a perfect example of the hazards involved in judging a book by its cover (or in this case, badge).
Kia has brought two variants of the MY2016 to Australian shores, with the Optima Si Automatic on sale form $34,490. Equipped with a 2.4-litre four-cylinder engine producing 138kW and 241Nm, the Si comes standard with 17-inch alloys, autonomous emergency braking, smart cruise control, and a reversing camera and parking sensors as standard.
The variant tested here is the top Optima GT turbo. It's billed as a luxurious yet genuinely sporty sedan, and the figures look promising. Its turbocharged four-cylinder engine produces 180kW and 350Nm, and comes packaged with a considerable amount of equipment. Prices start at $43,990.
We're fascinated by the Optima GT's byline of "It's rocket science"; so it's time to don the lab coat and find out whether or not the GT can stand up to some real science… a PerformanceDrive review.
2016 Kia Optima GT Turbo – THE SPECS
Engine: 2.0-litre turbo four-cylinder
Output: 180kW@6000rpm / 350Nm@1400-4000rpm
Transmission: Six-speed auto
Drive type: Front-wheel drive
Wheels: F: 18×7.5, 235/45  R: 18×7.5, 235/45
ANCAP: Five stars (scored 35.58 out of 37)
Tare weight: 1605kg
Power-to-weight: 8.91 (kg:kW)
Official fuel economy: 8.5L/100km
Economy during test: 9.8L/100km
Fuel capacity/Type: 70L/91 RON
Power efficiency: 21.1kW:L/100km
0-60km/h: 4.11 seconds
0-100km/h: 8.56 seconds
1/8 mile: 10.72 seconds at 115.3km/h
1/4 mile: 16.44 seconds at 142.8km/h
100-0km/h braking: 2.91 seconds at 37.68 metres
Decibel at idle: 40.6
Peak decibel at 60-100km/h: 79.9
Peak stereo decibel: 102.3
Priced from: $43,990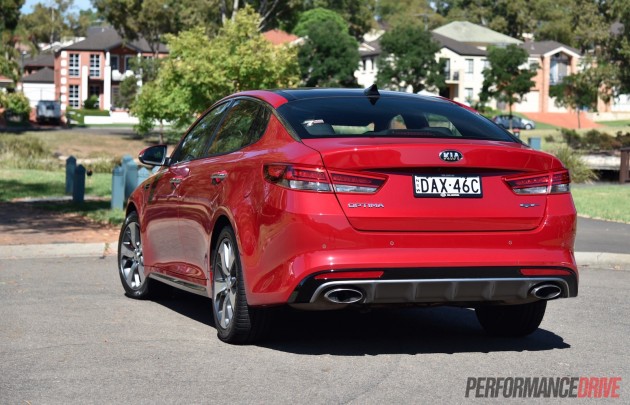 2016 Kia Optima GT Turbo – THE PACKAGE
The Optima's predecessor showed the world that Kia is more than capable of producing an aesthetically pleasing car. Kia's styling of the new Optima does nothing but strengthen this point. The GT receives an array of special touches that add to its premium visuals, with a more aggressive front bumper, chrome 'Tiger' grille, gloss black side sills and exterior roof finish, as well as assertive air intakes, active headlamps, rear diffuser, and chrome dual exhausts. The updates have maintained the Optima's familiarity, yet thrown some sophisticated and sporting pedigree into the mix.
Jumping inside the cabin is a pleasurable experience, regardless of the weather thanks to Kia's installation of both heated and cooled front seats. The seats are firm and supportive, thanks to some quality leather upholstery also covering the thick-rimmed steering wheel and gear shifter. With a nearly $10k premium over the Si variant, Kia has thrown in some special GT touches, with red stitching weaving its way around the cockpit, 'GT' inscribed on the seats and on the steering wheel.
Overall the cabin aesthetics are undeniably premium, with an admirable attention to detail, and the employment of quality materials around the cabin.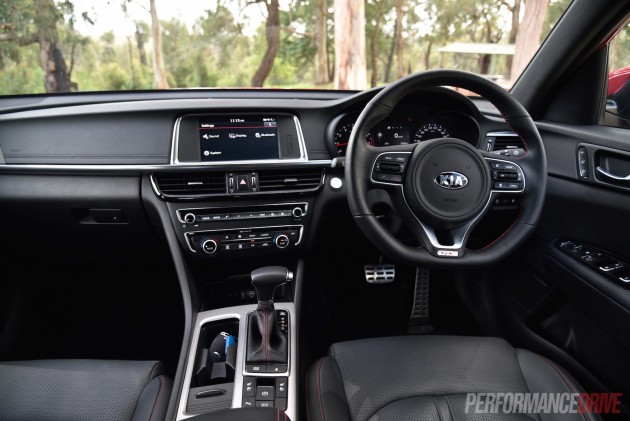 The front and rear of the cabin is incredibly spacious thanks to the Optima's large proportions, with ample headroom back and front despite its attractive sloping roof design. In terms of practicality, the Optima, with its array of clever storage options and huge 510L boot, is a winner.
The GT also receives a one-inch screen upgrade, from a 7.0 to 8.0 inches for the main display. The system is functional, and doesn't look outdated like some other units out there. The navigation will alert you if there is a speed or red light camera ahead, as well as school zones. In theory, this sounds very helpful. In reality however it can be a bit of a nightmare. Due to the high amount of each of the above in cities like Sydney, it sometimes feels like you're driving around a hospital ward with a constant beep, beep, beep in the background. This feature can of course be turned off once you find it well within the sat-nav menus. To us, it just seems like poor execution of a welcomed concept, and always seems to ruin the best part of a song.
Speaking of which, the infotainment system has all the connectivity you'd expect (USB, aux-in and Bluetooth), and the 10-speaker 590-Watt Harman Kardon sound system provides exceptional quality. During our usual test the sound system maxed out at an ear-pinching 102.3dB (ear muffs advised if you're going to do this).
The Optima GT is also the first car in its segment to offer a wireless charging pad for smartphones, which also conveniently warns you if you leave the car with your phone still on the charging pad.
If you're not quite convinced about just how generously equipped the Optima GT is, the list of safety equipment alone is impressive. Autonomous emergency braking will hit the brakes for you if the car in front stops suddenly, while advanced smart cruise control maintains a safe gap between you and the vehicle in front automatically. It also receives Kia's blind-spot detection, as well as a rear cross-traffic alert system to avoid any accidents reversing, as well as the usual array of acronyms (ABS, TCS, ASM).
And to cap it all off, the Optima GT is covered by Kia's fully transferable seven-year warranty, with capped-price servicing and roadside assist, so there's no hidden surprises a couple of years down the road.
2016 Kia Optima GT Turbo – THE DRIVE
Kia says that ride and handling were top priorities for the new Optima GT, so we thought it best to put it to the test on an errand run in the city, and through its paces on some challenging roads.
To begin with, around the city the Optima GT is a quiet, comfortable sleeper which cruises around without making a fuss. The 350Nm of torque helps with this smooth and effortless acceleration, and six-speed automatic "sport" transmission functions well around the city, only coming unstuck on a few low-speed shifts. It can also feel somewhat doughey low down in the rev range, especially when accelerating before the turbocharger has spooled up.
Due to its uber-spacious cabin, the Optima casts a fairly large presence on the road, but doesn't feel like you're piloting a tank – it's just something for drivers to be aware of.
All up however the ride quality of the Optima GT is comfortable, if a little bit firm. This is redeemed by a cabin that is eerily quiet, a feat of engineering if you will. Kia's efforts in sound proofing the cabin and minimising NVH (noise vibration and harshness) are vindicated. It's the automotive equivalent of noise-cancelling earphones, and the ability to drown out the madness of the city almost completely is a nice touch, and illuminates an attentive, European level of attention to detail.
ADR combined cycle fuel consumption figures claim 8.5L/100km, in part thanks to a lighter construction and the installation of a turbocharger. We were unable to get into single digits around the city, but highway cruising brought the figure down to 7L/100km.
Okay, so the business end. When the city is nothing but a dot in the rear vision mirror, how does the GT perform when provoked?
The 2.0-litre turbocharged GDI four-cylinder pumps out 180kW at 6000rpm, and 350Nm from as low as 1400rpm. Sent through a front-wheel drive system, this translates into a rather disappointing 0-100km/h time of 8.56 seconds and a quarter mile of 16.44 seconds. For comparison, a standard Mazda3 2.0L auto performs the quarter mile in 16.81 seconds. We'll get to what we think is the reason for these lackluster times a bit later on.
The GT's underwhelming throttle response is also little disappointing when driven with urgency, and the Sport mode does little to pull its head in line – despite the claim that it does. However, when the turbocharger does get up to puff the GT respectably picks up the pace and performs overtaking duties with no hesitation. This turbo-lag is also something to keep an eye on, as the front end's feel of composure can be quickly replaced with wheel spin with the traction control systems are switched off.
Thanks to a 150 per cent increase in the use of advanced high-strength steel over its predecessor, Kia has improved the new Optima's torsional rigidity by 50 per cent despite weighing 8kg less. This, combined with independent suspension all around, has gifted the GT with genuine prowess in the corners. Kia has also installed a column-mounted electric motor-driven power steering system (R-MDPS) which takes away some of the analogue feedback a driving enthusiast may be accustomed to.
At 1605kg, the GT isn't exactly a lightweight, but the 18-inch alloys wrapped in quality Michelin Pilot Sport 3 235/45 R18 front and rear tyres lend a helping hand, providing an impressive amount of traction through the corners. Pirouetting the large body with too much throttle around a tight corner will of course cause the front to wash wide, but it's not really designed for absolute cornering performance.
The Optima GT's biggest flaw can be found in the six-speed transmission. Around town it's compliant and smooth, but at speed it proves frustratingly slow. We suspect many of those 180kW aren't properly utilised by the gearbox, with particularly painful downshifts. We advise drivers to shift down and then start reading a book, and the gear you asked for should be ready by around the third chapter.
It may sound as though we're getting a little pedantic here, but in a car with a 180kW turbo engine promising sporty credentials, this particular transmission is a weak point of an otherwise impressive automobile in our opinion.
Overall, the GT impressed us with its enthusiasm and comfort, but it's ultimately let down by a transmission that isn't up for the task during enthusiastic driving. While entertaining around the bends, the GT is very true to its name; it's a comfortable grand tourer.
2016 Kia Optima GT Turbo – THE VIDEO
2016 Kia Optima GT Turbo – THE VERDICT
Mid-sized sedans are a perpetually declining segment of the Australian marketplace, with buyers rushing toward SUVs more than ever before. We think that's a shame because it means cars like the Optima GT will be passed by in favour of a high-riding SUV.
When it comes to the Optima GT, there are few people that will be left disappointed after learning of its 'turbo' engine. But it is an attractive, comfortable, and luggage-swallowing machine that has genuine dynamic ability. Yes, admittedly, the Koreans are moving away from their traditional (stupidly-cheap) pricing, but the up-side is they are now producing some quality cars with a level of equipment and sophistication that other brands would have you stretching into the $60k price bracket.
PROS:
– Generously equipped
– Perky 2.0-litre turbo
– Impressive dynamics and handling
– Spacious  and practical

CONS:
– Six-speed 'sport' transmission lacks refinement
– Slow (for a 180kW turbo)
– Some may still be unwilling to pay $40k+ for a Kia