Audi has been spotted test driving the all-new Q5 mid-size SUV out on what must have been one of the first testing days of the season at the Nurburgring.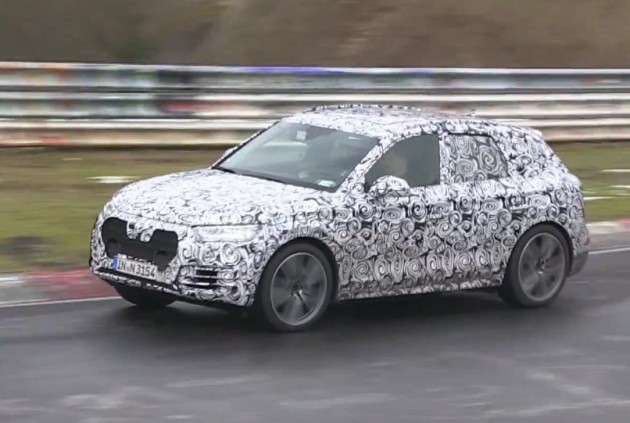 You can still see some signs of the snowy winter around parts of the infamous circuit, as Audi test drivers put the new Q5 through its paces ahead of its debut later this year.
This will be a very important vehicle for Audi, slotting into the highly competitive mid-size premium SUV segment. It has to battle with the likes of the new Mercedes GLC, Land Rover Discovery Sport and Lexus NX, as well as upcoming 2018 BMW X3.
Underneath the skin is Volkswagen Group's MLB Evo platform which is used under the new A4 sedan and Avant wagon. With the new platform we can expect weight to be slashed by around 100kg, with improved handling and body stiffness.
On the surface, the body is likely to adopt Audi's latest styling language, showcasing sharper angles and more clearly defined body lines, as well as the new-look front grille treatment seen on the new Q7 and Q2. We can also expect modern LED headlights and possibly matrix headlights as an option.
As for the powertrain options, we can turn to the new A4 for a pretty clear sign. There will be a range of turbocharged petrol and diesel options, an 'e-tron' electric, and a range-topping performance diesel SQ5. A separate 'RS Q5' is also said to be in the works, which could bring the S4's 3.0-litre supercharged V6 with around 330kW.
The performance variants will be particularly important for Audi. With more and more buyers flocking to SUVs, the demand for diversity and sheer versatility has never been higher. It will also bring some rivalry to the Mercedes GLC 63 AMG, and the rumoured BMW 'X3 M'.
On the same token, Land Rover isn't known to be developing a performance version of the Discovery Sport, and Lexus probably won't introduce an 'NX F' any time soon, but this may change in the years to come.
Audi has confirmed it will be introducing the new Q5 later this year, with a public debut set to take place at the Paris Motor Show in October. Click play below for a sneak peek.