When you name your product after the internet shorthand for 'hate – H8', you're not setting yourself up for a good start. Welcome to the Haval H8, otherwise known as the copycat version of the old Mercedes ML-Class.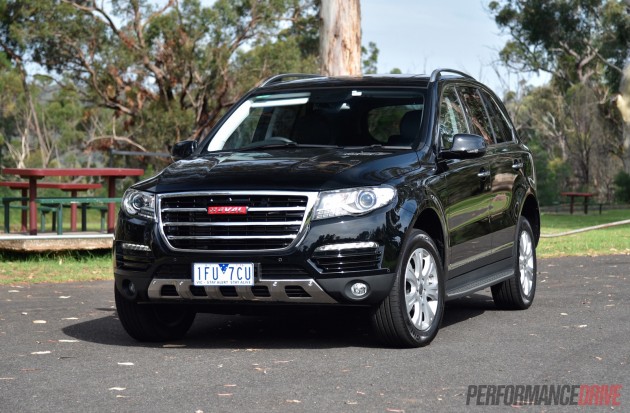 Haval is China's most popular SUV producer. The brand was recently introduced in Australia, with three SUV options currently on offer; H2, H8, H9. Each present a different size to try and penetrate one of the fiercest segments of all.
It's designed to be a cheap and cheerful brand, offering a high level of standard features and available at a comparatively low price point. The H8 starts at $41,990 for the Premium 2WD, $44,490 for the Premium 4WD (as tested), with the top-shelf LUX 4WD starting at $48,990 (all excluding on-roads). All variants are powered by a 2.0-litre turbo four-cylinder petrol engine producing 160kW and 324Nm.
These prices sit dangerously close to some of the more established rivals. For example, the popular Toyota Kluger starts from $42,190, and the Aussie Ford Territory kicks off at $38,490.
2016 Haval H8 Premium 4WD – THE SPECS
Engine: 2.0-litre turbo four-cylinder
Output: 160kW@5500rpm / 324Nm@2000-4000rpm
Transmission: Six-speed auto
Drive type: Four-wheel drive
Wheels: F: 18×7.0, 235/60  R: 18×7.0, 235/60
ANCAP: Not tested
Tare weight: 2128kg
Power-to-weight: 13.3:1 (kg:kW)
Official fuel economy: 12.7L/100km
Economy during test: 13L/100km
Fuel capacity/Type: Unknown/95 RON
Power efficiency: 12.5kW:L/100km
0-60km/h: 5.43 seconds
0-100km/h: 12.00 seconds
1/8 mile: 12.13 seconds at 100.7km/h
1/4 mile: 18.48 seconds at 126.3km/h
100-0km/h braking: 43.76 metres at 3.41 seconds
Decibel at idle: 41.1
Peak decibel at 60-100km/h: 84.0
Peak stereo decibel: 99.8
Priced from: $44,490
2016 Haval H8 Premium 4WD – THE PACKAGE
Competing with the likes of Kluger, Territory and Kia Sorento, the H8 is a large SUV with a longer wheelbase than all three of those rivals, at 2915mm, with a similar overall length at 4.8 metres.
Proportionally, it's inspired by premium SUVs such as the old Mercedes ML and Audi's Q7, with things like straked vents in the bonnet and running boards, and lovely alloy roof racks of the former, and a front guard apeing the latter. Around the back, things go downhill as we see a bit of Captiva in the D-pillars and the taillights looking either like a Porsche Cayenne or a sheep's eye. Overall though, it's a handsome, confident-looking SUV that will have many people convinced of your wealth.
As such, it offers class-rivalling accommodation for five occupants (H9 is the seven-seater), with clever packaging and a logical, expensive-looking interior layout. Rear seat occupants are chauffeured around in acres of comfort, with a wooded climate panel on the back of the centre console.
The steering wheel and stalks are quite Mercedes-esque in shape and feel. It forsakes family commonality with the H2 for a left-mounted indicator stalk and separate cruise control stalk reminiscent of the three-pointed star. As for the rest of the interior, you will find good quality materials, good fit and finish, and a reasonably expensive set of standard features.
Clarion navigation is standard, offering point-to-point guidance and points of interest. Largely intuitive in operation, the unit doesn't include speed camera warnings. The reverse camera has an annoying posh woman's voice too, which thankfully can be turned down. The infotainment system is surrounded by several odd buttons, with two for navigation and "SRC" for audio. There's also a mysterious "HABIT" button which provides a display for off-road angles that we weren't game enough to test.
The standard 10-speaker audio system produces lots of bass, but tinny distortion in the upper range, ruining some of our favourite hits. At max volume in default tune the stereo pumped out 99.8dB, or enough to warrant ear muffs in the case of the industrial safety tolerance.
The 'HAVAL' projected from the mirrors as in the H2 and comprehensive trip computer and digital display including a tyre-pressure monitor are present, with no toggle for a digital speedo readout for some reason.
Unfortunately for us, Haval gave us a black example to test during a week of 35-degree-plus days. The interior colour scheme ensured nauseating heat retention, made worse by the lack of perforation or cooling in the leather seats, the slow reaction time of the climate control, and most unforgivably of all, the lack of tint or UV protection on the windscreen and front windows.
This combination left us red-faced and dazed after a four-hour journey and is unacceptable in this day and age. It gives the impression the company carried out little to no preliminary Aussie testing before putting this vehicle on the market. The car needs those things ASAP – a remote start function to pre-cool the car wouldn't go astray either.
The front seats offer little support for lower back, which added to the discomfort outlined above. Going for the H8 Lux variant brings a massage function which would be very welcomed indeed. One thing we really like is the ability to change mood lighting from blue, orange, pink or purple, or off. The LEDs emanate from a halo surrounding the sunroof controls and cascade from the doors and dash. This is very impressive, and a great gimmick to show off to your friends.
2016 Haval H8 Premium 4WD – THE DRIVE
The H8 talks with a posh accent, with its Mercedes/Audi-esque proportions and detailing, fit and finish and excellent interior space, but it doesn't take long before it starts barking like a mongrel. Noise and refinement is generally acceptable, with a solid body but the 160kW/324Nm 2.0-litre turbo is woefully inadequate for a vehicle of this size.
Throttle response is doughy off the line, particularly in the 'Economic'(sic) driving mode whereby you end up using more juice because you need to push it harder. Off-boost, the H8 is positively glacial, as it is when confronted with a gradient of any degree – a problem shared with its little brother, the H2. We recorded an indicated average consumption of a 13L/100km, which is not brilliant. It seldom drops below 10.5 when cruising (blame those pesky hills). This is against a pathetic (for a 2.0T) ADR average of 12.7L/100km – the old Mercedes-Benz GL 63 AMG with its 410kW 5.5-litre twin-turbo V8 offered an ADR average of 12.3L/100km.
In 'Sport' mode the consumption actually improves, with slightly sharper response until it sticks at high revs. Across the usual sprints we recorded a best 0-100km/h of 12.00 seconds, and the quarter mile in 18.48 seconds. These are slow times, especially for a petrol SUV.
In China, engines above 2.0 litres are penalised with hefty taxes, so we can kind of understand this choice, but there are rivals with traditional six-cylinder engines offering better consumption. The Territory 4.0L consumes 10.5L/100km on the official average cycle, while Kia's new Sorento V6 petrol comes in at 9.9L/100km. To mention the Sorento diesel's 7.8L/100km average would be cruel, so we won't do that. Both of these petrol rivals are considerably more powerful and quicker.
The six-speed gearbox is okay, but somewhat recalcitrant to the cool-to-touch paddles in manual mode. Perhaps a few more ratios would help fill the gaps in the engine's low torque. Peak torque is available between just 2000rpm and 4000rpm, reading like a diesel, but the low max figure is what hurts the most in our opinion.
Around the twisty stuff, the H8 doesn't feel unsafe but it certainly isn't inspiring. The footprint is wide enough for stability around sweeping bends, but you get a fairly high degree of body roll due to the soft suspension setup. The hazard lights will come on if you attack a corner with too much fervour, while the vague and lumpy steering loads up through the corners and at parking speed. The ride is generally pretty good but there are moments of unsettled juttering over low-speed bumps.
Constant steering corrections are necessary to keep the desired line. In Sport mode with the paddles in use, it is very hard to enjoy yourself and maintain enough momentum through the corners, with the gearbox ignoring requests to kickdown at the right time, and the engine's lack of torque encouraging you to just give up.
For the average motorist who wants to get from A to B, the H8 will be a luxurious and impressive vehicle. It is easy to drive and see out of, with that must-have high riding position, and the features are likely to keep most occupants happy. However, if you have any ounce of enthusiasm or passion in your blood, you'll enjoy any of the rivals more than this.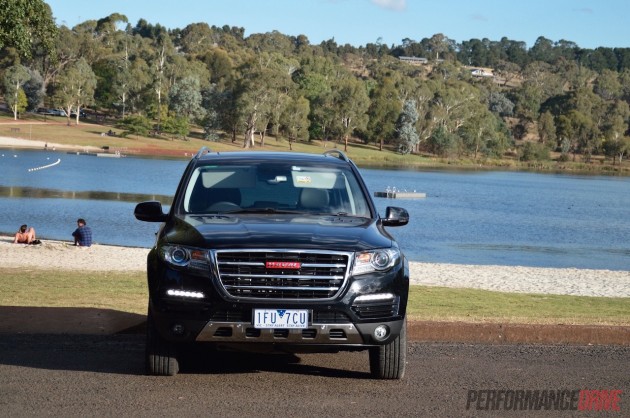 2016 Haval H8 Premium 4WD – THE VIDEO
2016 Haval H8 Premium 4WD – THE VERDICT
The H8 does have its good points and surprises, but it needs a better engine (diesel), seat coolers with remote start, a better air-con system, a digital speedo, and a few other things for us to truly recommend it. The body and packaging are sound, and it has the presence of a large luxury SUV. With a few adjustments, the H8 could become a genuinely desirable proposition.
With Haval rumoured to be considering an Australian R&D hub, we hope it quickly gets to work on optimising its vehicles for our conditions. Nevertheless, we think this is a promising start for such a junior company.
PROS:
– Premium-looking exterior, clearly 'inspired' by old Mercedes ML/GL-Class
– Very spacious with excellent packaging
– Decent quality dash plastics and build quality
– Good visibility
– Reasonably quiet and refined when cruising

CONS:
– Climate control system
– Lack of UV protection on front windows
– Uncomfortable seats, and cumbersome folding rears
– Breathless and extremely thirsty 2.0-litre engine; too small for vehicle
– Heavy, uncommunicative steering, and class-trailling handling dynamics
– Overweight; 2128kg