If in the world of cars the Tesla Model S is a disruptor, then the Lucid Air is the disruptor of the disruptors, having just achieved a top speed record of 378km/h.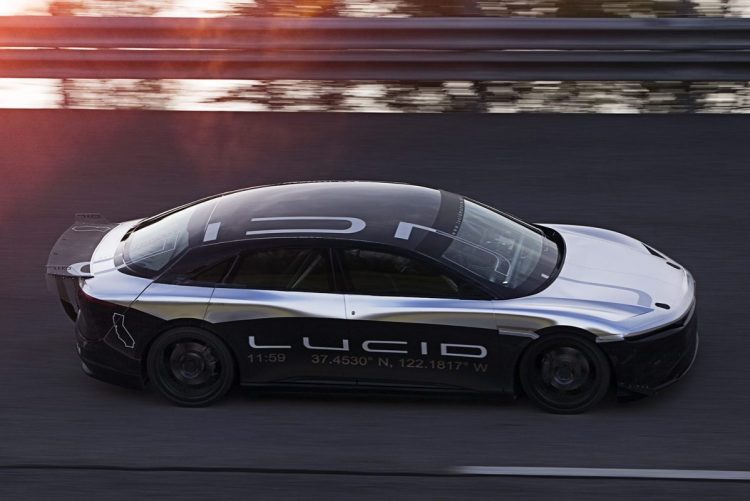 Currently under development, the Lucid Air will be built at a factory in Casa Grande, Arizona, in 2019. This is if all goes to plan and a $700 million cash injection being sought is obtained.
Details were revealed in March, with the base model's US$52,000 (about AU$68,286) coming in lower than the most affordable Model S, with a superior 298kW and 386km range. The flagship's 130kWh battery and 643km range also exceeds the benchmarks.
While Tesla continually stuns the world with acceleration times never seen in a four-door sedan, such as 0-100km/h in 2.7 seconds and always improving, top speed is a rather average 249km/h.
A Lucid Air prototype achieved a record 350km/h in April, on a banked 12km circuit, limited by software with more apparently possible.
Now we are seeing more with a staggering 378km/h achieved on the latest run. This is all the more impressive when you consider it's close to the legendary McLaren F1 – long considered the world's fastest production car, hitting 391km/h with Andy Wallace in 1998. The company said in a recent blog:
"Although the car performed wonderfully, we also found opportunities for improvement. For example, the self-levelling air suspension was not able to adjust quickly enough when running near 200mph on a high-banked track, with heavy downforce pushing the car laterally against the track. We also found the front motor was running at temperatures higher than had been predicted in computer simulations."
Lucid says some adjustments were made before heading out for the second test, with the suspension tweaked via a software update to improve responsiveness. For the front motor cooling revisions were made, with improved ventilation. Some special aero wheels were also fitted up and the speed limiter was removed.
Although the production version won't offer such a speed in standard trim, this prototype does show us the potential in this growing world of electric vehicles. Check it out in the video below.