The all-new and highly anticipated 2016 Fiat 124 Spider has been spotted, seemingly during an official photo shoot in the USA.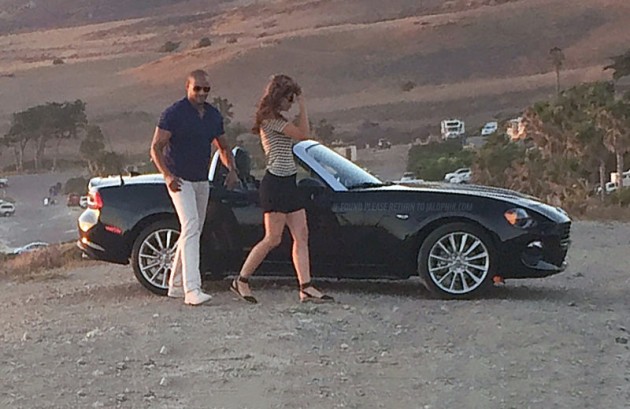 These images, first appearing on US enthusiast website Jalopnik.com, give us a glimpse of the new 124's design. The images are rather pixelated but we do get a pretty decent view of the bodywork.
As we already know, the Fiat 124 Spider is based on the Mazda MX-5 under a joint project the two companies agreed to before its development. For the Fiat there's a unique front end with a protruding upper lip, embedded headlights, and a classic long bonnet profile.
The side shows the pushed-back cabin layout in traditional sports car fashion, supported by a silver windscreen pillar, with similarly bulging wheel arches as seen on the MX-5 counterpart. Around at the back is a completely restyled fascia, relocated and newly-designed taillights, and a clean bumper bar design.
Now that we have a hint of the exterior design, it's just a matter of time before we find out more about the powertrain options. Reports say Fiat will use one of its 1.4-litre turbocharged units producing around 132kW, and potentially a 1.75-litre turbo flagship offering up to 175kW.
Seen as though a photo shoot is going on, a full debut is expected any time now. The mostly likely place could be the Los Angeles Auto Show in November. Stay tuned.