Having recently confirmed a twin-turbo V6 hybrid system for the new 2016 Honda/Acura NSX, more specific numbers have now (finally) been confirmed.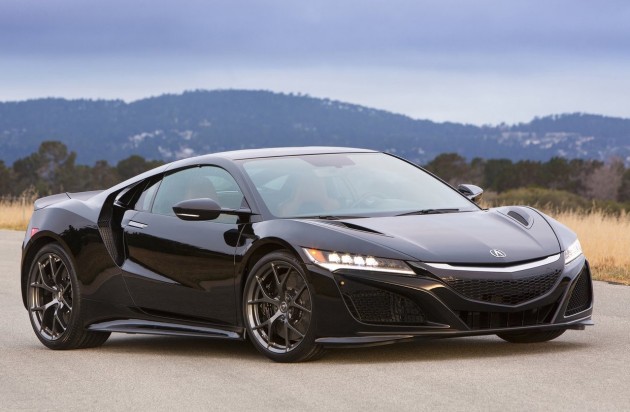 At a first-drive launch in the USA, Honda – Acura, locally – confirmed the new NSX's 3.5-litre twin-turbo V6 produces 373kW and 550Nm, capable of a 7500rpm redline, while the three electric motors lift overall output to 427kW and 645Nm. All of this is sent through a nine-speed dual-clutch transmission, resulting in 0-100km/h in just over 3.0 seconds, with a top speed of over 300km/h.
As we already know, three electric motors are complexly incorporated into the powertrain. There's a 35kW/135Nm motor directly behind the V6, while two 27kW motors provide power for the front wheels. Electric power is supplied by a lithium-ion battery pack.
The Honda NSX, and in fact all Honda sports cars are known for their lightness. For the new NSX though things are a bit different; it tip the scales at 1725kg. This is rather heavy for a supercar, and very heavy compared with the last NSX that was on sale from 2002, which weighed around 1430kg.
Despite the weight, it will be the first four-wheel drive NSX. With more grip and traction it should be able to offer better overall performance compared with any other production NSX, both on the track and in real-world conditions.
Production of the new NSX will take place at a new facility in the USA, in Ohio. It has been delayed as the company fine-tunes the model, but it's currently scheduled to hit US markets during the first half of 2016. Honda Australia has confirmed the model will make it Down Under, but we think numbers are likely to be limited.