The 2016 BMW 3 Series will soon land in Australia, bringing added standard features across the range, and a new 340i flagship variant.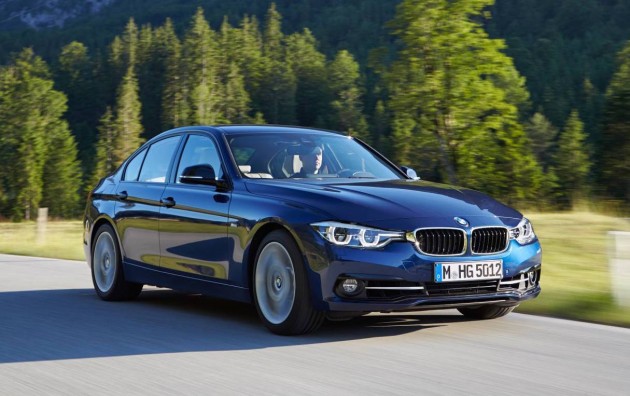 Five variants will go on sale in Australia, spanning from the 318i sedan, 320i sedan and wagon, 320d sedan, 330i sedan and wagon, to the top 340i only available as a sedan.
For the first time ever, the entry-level 3 Series, the 318i, comes with a three-cylinder engine in Australia (has been available overseas). Yep, it gets the company's new 1.5-litre turbo producing 100kW and 220Nm. Despite the minute displacement, the 318i can accelerate from 0-100km/h in a reasonably swift 9.1 seconds. It also returns an official 5.4L/100km average fuel consumption.
Stepping up to the 320i gets customers an impressive list of standard features, along with a 2.0-litre turbo producing 135kW and 270Nm. It's able to accelerate from 0-100km/h in 7.3 seconds, while returning 5.8L/100km.
Standard features for the 320i include an electric driver's seat, Adaptive M Suspension, the 'lights' package, and digital radio functionality for the on-board interface.
The 320d comes with the same standard features as the 320i, only it uses a 2.0-litre turbo-diesel engine developing 140kW and 400Nm. As such, it can cover 0-100km/h in just 7.2 seconds, and returns 4.4L/100km on the combined cycle.
Replacing the 328i is the new 330i. It comes with a slightly tweaked version of the 2.0-litre four-cylinder turbo, now producing 185kW and 350Nm (up 5kW). Acceleration from 0-100km/h comes up in just 5.8 seconds.
At the top end of the range, just short of the M3, the 340i uses the now iconic 3.0-litre turbocharged straight six engine. Power is lifted to 240kW and torque is boosted to 450Nm (up 15kW and 50Nm). This results in 0-100km/h coming up in just 5.1 seconds.
Standard features for the new lineup are expanded, with all models getting a rear-view camera with surround-view, head-up display, lane change warning, the Driving Assistant package, LED headlights, ConnectedDrive Lifestyle connectivity with real-time traffic alerts, and a minimum of 18-inch alloy wheels.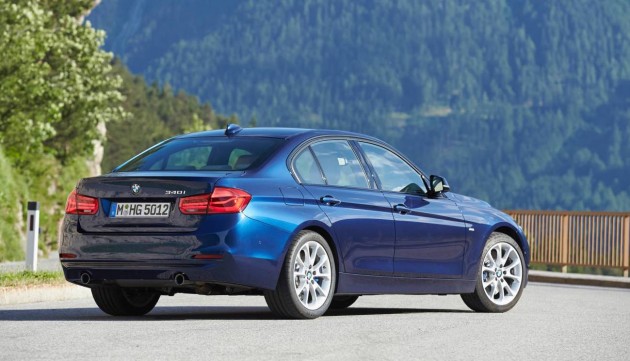 Although all models features an eight-speed automatic transmission as standard, there is a six-speed manual available at no cost. The Luxury Line package is also available in place of the M Sport package on the 340i as standard.
The new lineup officially arrives in October, with the new 318i three-cylinder coming in November. See below for the price list (excludes on-road costs):
2016 BMW 318i – $54,900
2016 BMW 320i sedan – $61,900
2016 BMW 320i Touring – $65,300
2016 BMW 320d sedan – $62,800
2016 BMW 330i sedan – $69,900
2016 BMW 330i Touring – $73,300
2016 BMW 340i sedan – $89,900