A completely electric 1981 Chevrolet Camaro has just ripped down a quarter mile in just 10.08 seconds at 127mph (204.5km/h). Team Haiyin EV Racing and the electric Camaro just missed out on the electric car drag world record which is currently held by a Volkswagen Beetle named Black Current. The black Beetle has run a 9.51-second pass.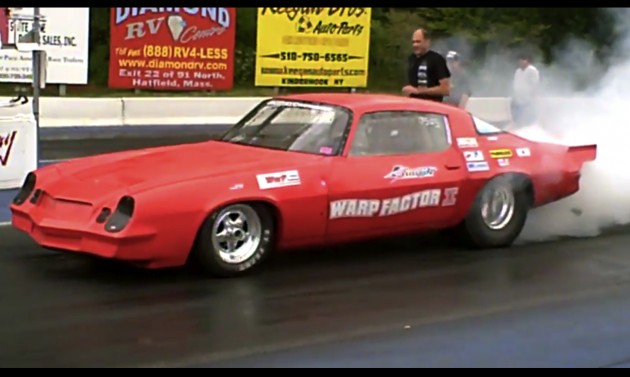 It's funny to watch as the Team Haiyin EV Racing Camaro makes the run, it looks like a big traditional dragster that typically would use a highly powerful, and very loud, V8 engine. But no, the EV Racing Camaro just silently tears down the track. It's quite strange to watch.
The electric Camaro is powered by a lithium polymer battery pack consisting of Nano-Tech Lipo Cells built with 14P – 5AH 3.7v cells. The total voltage is 220v at 70AH, while the maximum amperage is 6300-amp bursts and 3150 amps of continuous power.
Some of the Camaro's technical running gear details include:
WarP-11, double ended shaft – advanced timing, 1.375-inch, 32-tooth splined DE shaft, lift-eye bolt hole, thermal switch included. CE shaft is same as typical WarP 11
TransWarP-11, double ended shaft – advanced timing, 1.375″, 32-tooth splined DE Shaft, Lift-eye bolt hole, thermal switch included. Eight mounting holes on CE, double wide bearings on DE. CE shaft has identical splines as DE 2-inch long
Two Cafe Electric – Zilla 2K HV's
Lipo battery pack
Custom 9″ rear Strange Axles
4 Link drag suspension
Aluminum rims with drag racing tires
Aluminum floors, firewall, wheel wells, etc…
Fiberglass one piece nose, doors, trunk
You can watch the full run below which was completed at Lebanon Valley Dragway, NY. The green age is taking over.
Also check out:
– Video: AMS Alpha 12 Nissan GT-R R35 runs 8 seconds