Hyundai has released early design sketches of the 2015 Hyundai i20, which will debut the company's upcoming 'Fluidic Sculpture 2.0' design language that will eventually be applied to all models.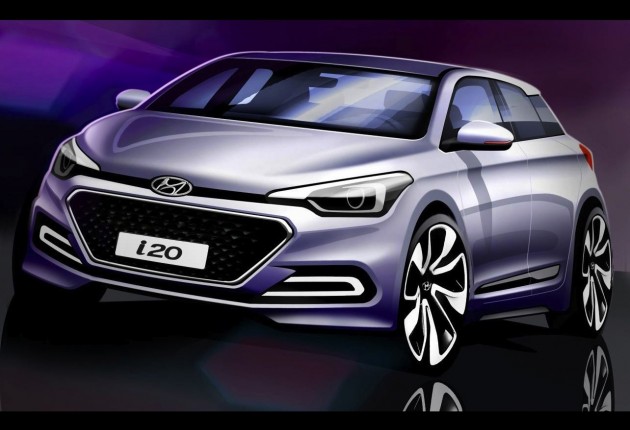 The sketches show a rather striking design for the next compact segment vehicle, with a longer bonnet, more simplistic lines, and a sporty blacked-out C-pillar to give it a three-dimensional look. The headlights are also elongated and stretch right up to the front wheel arches.
It was designed at Hyundai's Design Centre Europe in Russelsheim, Germany. The team is expected to come up with the fresh layout for various other models in the Hyundai showroom in the near future.
In terms of specifics for the next i20, the company has refrained from revealing any major details. According to reports though, the new model will see improvements in efficiency and technology, with highlights such as a rear-view camera making its way into the range for the first time.
So far this year the Hyundai i20 has been the best-selling vehicle in the Light Under $25,000 segment, according to VFACTS figures. The local arm has sold 7736 examples (as of June), even exceeding sales of the popular Mazda2 (6616) by quite a margin.
Hyundai is likely to unveil the new model in full very soon.
UPDATE: Hyundai has been spotted test driving the new model, revealing the body in full. More images can be found at IndianAutosBlog.