More teaser images and some info on the new 2015 Skoda Fabia has been released, with the latest shots giving us a glimpse of the new grille.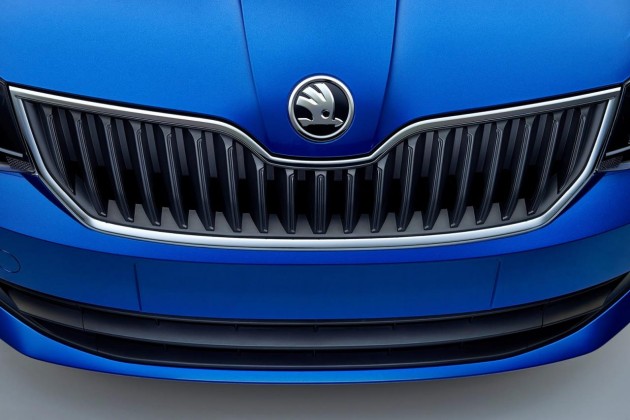 Even though the 2015 Fabia won't necessarily be an 'all-new' model, it will showcase a number of big advances over the model it replaces. It's based on the same Volkswagen Group PQ25 platform which is also shared with the VW Polo.
However, the platform will be revised somewhat to help reduce overall kerb weight, cutting up to 65kg from the Fabia's 1040kg mass. This will help improve fuel economy across the board and also contribute to providing more nimble handling and better performance.
The updated platform will also provide more cabin space, with the overall width set to expand by 90mm. Cargo space will also be increased to around 330 litres, while the height will drop by 30mm for a more sporty stance.
On the outside, the new model will showcase the company's latest styling language. You can see the new-look front grille in the preview image, similar to the grille on other late-model Skodas such as the Superb and Octavia.
From there the design will be a little sharper and more grown up, featuring cleaner panel contours and a smattering of darkened highlights such as around the lower grille and headlights.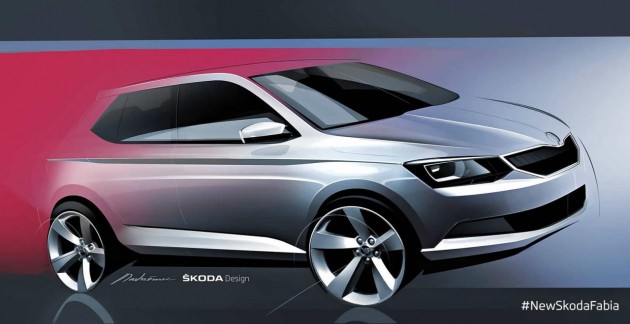 Under the bonnet details are being withheld at this point. According to reports it will come with a range of three- and four-cylinder engines. In some markets it'll come with a 1.0-litre three-cylinder producing around 44kW, up to a range-topping 1.2 TSI with around 81kW.
A Fabia 'GreenLine' is also set to join the lineup, equipped with a 1.4-litre turbo-diesel. Other than an economical engine, the GreenLine will use various eco-minded accessories, such as low rolling-resistance tyres, thinner grilles and intakes to aid aero efficiency, and stop-start technology. All of this could provide an average consumption figure of around 3.1L/100km.
All new models will be Euro 6 compliant and more economical than the respective outgoing variants. Unfortunately, there won't be a 2015 Fabia RS sports variant joining the showroom this time around, due to a lack of demand.
The new Fabia will make its official debut at the 2014 Paris Motor Show starting on October 2. Stay tuned.