Rolls-Royce has unveiled the new Dawn drophead convertible, based on the Wraith two-door coupe. The company is calling it the "sexiest Rolls-Royce ever built".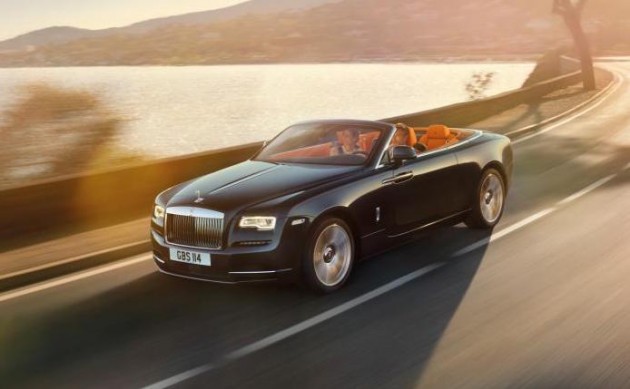 The Dawn nameplate is being brought back to life, last seen in convertible models built between 1950 to 1954. For the new model, it is inspired by the Silver Dawn only is designed to be a contemporary interpretation of what a super-luxury four-seat convertible should be in 2015.
Inside, the Dawn features four seats. Rolls-Royce is making a big deal about the fact it isn't a typical 2+2 layout. Instead, it offers proper space for four adults. Giles Taylor, director of design at Rolls-Royce Motor Cars, said,
"At Rolls-Royce, we pride ourselves as creators of fine motor cars that also serve as social spaces. The idea of creating a car like Dawn that can be used in comfort by only two adults on a day to day basis is anathema. In creating Dawn we have accepted no compromise to the comfort and luxury of four adults who want to travel together in the pinnacle of style."
For the interior, it's a sumptuous mixture of fine wood and leathers, with four individual seats that have been created so there is no compromise wherever a passenger sits. There's also polished metal chaplets around the dials that are handmade, while the wood surface of the trays are book-matched down to the centre console in a chevron pattern pointing forward to provide an accelerated theme.
In the engine bay sits a 6.6-litre twin-turbo V12 producing 420kW and 780Nm. It's matched to an eight-speed ZF transmission which is connected via satellite to anticipate the road ahead and make changes as necessary. The 2560kg land yacht can accelerate from 0-100km/h in just 4.9 seconds, with a limited top speed of 250km/h.