Images of the next-gen 2015 Mazda2 have hit the web before its official debut, revealing the sharp new look for the popular compact car.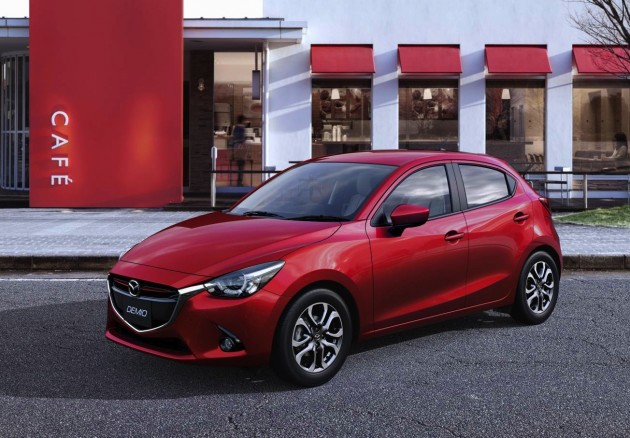 As expected, the next-gen model is inspired by the Hazumi concept car that was unveiled last year. It infuses Mazda's latest design language, particularly noticeable at the front end with the chrome drooping grille.
The rest of the car seems nicely proportioned, blending in big yet faint wheel arch curves, some cute little haunches at the back, and a petite rear end. Essentially, it's a shrunken down Mazda3.
Like the new Mazda3, the new 2 is set to showcase various advanced technologies to help it stay on top of the game in terms of economy, connectivity and practicality. Three engine choices will probably join the lineup, including a petrol 1.3-litre SkyActiv entry model for some markets.
In Australia, we're likely to get updated 1.5-litre four-cylinder petrol units, with around 79kW and 80kW-plus. A turbo-diesel may also join the range, with talk of a 1.5-litre producing around 77kW and 250Nm.
All details are expected to be officially announced soon. The new model is set to go on sale later this year.
UPDATE: Mazda has officially unveiled the new model along with some preliminary details. Mazda says,
"The All-New Mazda2 will be available with a range of three different engines, dependant on market, including SkyActiv-G 1.5 and 1.3-litre petrol engines, or a SkyActiv-D 1.5-litre diesel engine.

"Available for the first time on Mazda's smallest model are i-ActivSense advanced safety features that aid the driver in recognising and responding to hazards."
Full specifications and pricing for the Australian market will be announced later in the year. It will hit showrooms during the fourth quarter.