Audi plans to launch more than 20 new or updated models this year, on the back of a successful 2015. And this is despite having to face issues related with the Volkswagen Group emissions scandal which also affects Audi models.
As previously reported, Audi sales jumped 3.6 per cent in 2015 from 2014. This coincided with increases in revenue, with operating profit returning 4.8 billion euros for 2015. Some of this is obviously tainted money via cars sold with false emissions ratings.
To continue the success in profits, Audi is aiming to launch a number of new SUVs, including the all-new Q5 and the recently-revealed Q2. Both of these are expected to be very popular models for the brand both here in Australia and abroad.
These will be launched as part of an investment plan of more than three billion euros this year, with a majority going towards electrification and new digital technologies. During the company's annual press conference, Rupert Stadler (the guy smirking below), chairman of the board of management at Audi AG, said:
"We successfully mastered a year of challenges. We will now invest in 2016 alone more than €3 billion for the mobility of tomorrow, and we will push forward with the electrification and digitisation of our products."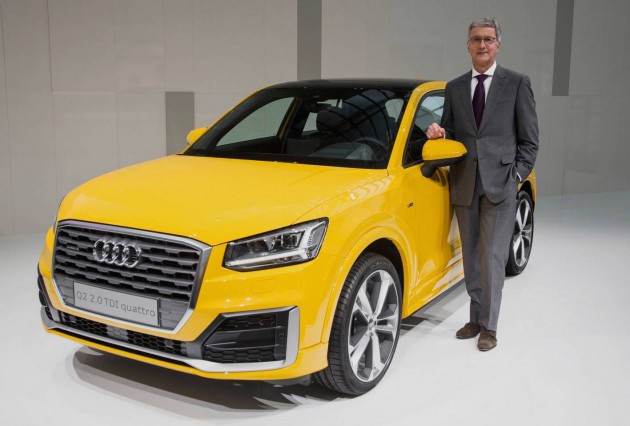 The investment includes the opening of an all-new production facility in Mexico, where the new Q5 will be built, while over 1200 new jobs will open up at the company's German centres. Audi also plans to increase its number of apprenticeships by more than 10 per cent.
So, what other new models will launch this year? The SQ7 performance SUV will be one of them with its all-new tri-turbo technology, as well as the all-new A5 and S5 sporty coupe and convertible models. Audi will also launch various A4 variants this year including wagon and Allroad, while a new fully electric e-tron SUV is on its way.
These models are set to come with updated 2.0 TDI and 1.6 TDI engines that aren't fitted with emissions-cheating software. Despite blatantly lying to its customers and cheating its way around environmental concerns for several years, Stadler says Audi will "ensure full transparency" in the future.