Why are SUVs so popular at the moment? It's a question that we can't definitively answer. But we can see the attraction, especially with vehicles like the 2015 BMW X3 xDrive30d on sale.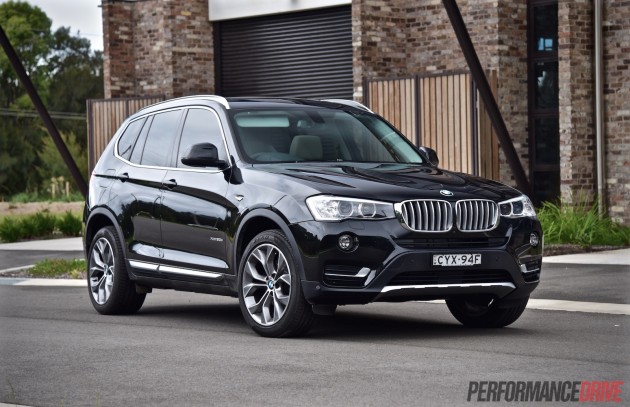 This is a product that is probably best described as an all-rounder. It promises a degree of adventurous off-road capability with full-time four-wheel drive, decent ground clearance (212mm), as well as the traditional driving dynamics you'd expect from a modern BMW sedan or coupe. With the 30d engine, it also promises favourable fuel economy with sportscar-like acceleration.
As you probably know, the X3 is BMW's mid-size SUV, competing with the likes of the Audi Q5, new Land Rover Discovery Sport, and Volvo XC60. It's been on sale now since 2011 in essentially the same form (second generation), however, a facelift was introduced in 2014 bringing updated styling, with new headlights and trim options. A third-generation model isn't expected to arrive until around 2017, which means this version will be around for another couple of years.
The xDrive30d variant is currently the flagship X3 in the Australian range. It's the most powerful and quickest, and also the most expensive. Interestingly, it's the only model in the BMW showroom where the top-shelf variant is a diesel. Prices start at a fairly steep $77,700 (excluding on-road costs).
2015 BMW X3 xDrive30d – THE SPECS
Engine: 3.0-litre turbo-diesel inline six
Output: 190kW@4000rpm / 560Nm@1500-3000rpm
Transmission: Eight-speed auto
Drive type: All-wheel drive
Wheels: F: 19×8.5, 245/45  R: 19×9.5, 275/40
ANCAP: Five stars (scored 34.58 out of 37)
Kerb weight: 1772kg
Power-to-weight: 9.3:1 (kg:kW)
Official fuel economy: 6.0L/100km
Economy during test: 7.4L/100km
Fuel capacity/Type: 67L/Diesel
Power efficiency: 31.6kW:L/100km
0-100km/h as tested: 5.9 seconds
Priced from: $77,700
2015 BMW X3 xDrive30d – THE PACKAGE
Despite being the mid-size SUV in the company's showroom, the X3 is actually quite large – it's just a smidge smaller than the first generation X5. Underneath it all is a platform based on the previous-gen 3 Series, with a tall cabin providing more interior space, and, more cargo space; 550L/1600L compared with 460L/1385 of the old 3 Series wagon. Cargo space is also larger than the current 3 Series Touring wagon (495L/1500L).
The X3 is one of those vehicles where you simply slide across into the seat. You don't need to climb up into it like some other SUVs, but it's not so sporty that you need to step down into and hit your head on the way through. We think it's a great balance. Once you're in you're greeted with an airy and open environment. This vehicle features the no-cost optional Oyster white leather package, which really brightens up the atmosphere. With the massive panoramic glass roof open (a $3000 option), the ambience is well and truly in prestige realms.
Like all BMW vehicles, the driving position is absolutely spot on. You can lower the electric-adjustable seat right down for a sporty layout, or raise it right up for that must-have commanding view that SUV buyers love. With the tall ceiling, headroom isn't going to be a problem for even the tallest of drivers. It's a similar story for the rear seat, with adequate legroom and very impressive headroom. Middle seat passengers do have to fight with a fairly high transmission tunnel though, but the upshot is a completely flat floor underneath for optimum aero efficiency and off-road clearance (see image gallery below).
We love the attention to detail of the entire package. Out of all the clever little functions and gadgets that some vehicles offer in the industry, the X3 30d comes with a wide range of them. Head-up display is optional ($2000) and shouldn't be, but you get a very cool on-board "Professional" grade wide-screen interface. The on-board computer offers "Sport Display" readouts for live kilowatt and torque, height adjustment for the standard electric tailgate, bird's eye view camera technology with front and rear cameras, tyre pressure monitoring, and even the ability to check the engine oil while sitting in the cabin. The on-board computer also has the full user's manual in digital form, and offers internet connectivity, text message displays from your phone, and of course satellite navigation.
Other standard features include a four-mode driving toggle with Eco Pro, Comfort, Sport, and Sport Plus settings altering throttle response and transmission character. There's also an in-built hard drive for your music and movies, a decent nine-speaker stereo, bi-xenon headlights with the fashionable 'halo' rings, and dual-zone climate control in the front with separate heat/cool adjustment for the rear seat vents.
2015 BMW X3 xDrive30d – THE DRIVE
Even though the 30d engine is at the lower end of the range in the larger X5, in the smaller and lighter X3 (approximately 230kg lighter) it offers superb performance. The unit produces 190kW at 4000rpm – with a redline of 5000rpm – and a meaty 560Nm of torque available from just 1500rpm up to 3000rpm. This means it's almost always offering good stuff no matter what rev range you're in.
We timed 0-100km/h in 5.9 seconds, matching BMW's official claim and 0.3 seconds quicker than the RedBook claim. This is the sort of time we usually see in serious hot hatches and even some V8-powered Aussie sports sedans. In an unassuming SUV like this, the acceleration takes you by surprise, pushing you right back into your seat for easy overtaking and uphill charging. It's also quite addictive to use the surging torque to boost your way through traffic.
It picks up speed so effortlessly in between corners in fact, that you almost can't keep up. It means the X3 30d almost requires the optional adaptive M Sport suspension ($1600) – or at least the basic sports suspension option ($300) – as a necessity to help hold it all together. This example here isn't fitted with either option and showed some moments where it didn't feel 100 per cent planted when really pushed in the corners, particularly the front end despite coming with strut tower braces as standard.
We think the sports suspension options would tighten it up and remove the minor bouncing that we experienced. But, when you remember this vehicle isn't designed to be a sportscar, or even a sporty variant, you come to realise it's actually more composed and capable than a lot of 'sporty' coupes and sedans that are on the market at the moment. Needless to say, the handling ability is certainly far superior to any of its rivals.
Compared with the xDrive28i with the full M Sport package that we reviewed earlier this year, there is a noticeable difference in agility and overall cornering stability. Obviously the 2.0-litre turbo-petrol four-cylinder engine in the 28i would be lighter in weight compared with the big diesel six here.
The engine itself sounds pretty good, and not just for a diesel. Somehow BMW has managed to almost completely eliminate the common diesel clatter, although it can be heard on the outside during cold starts. From inside the cabin, most passengers wouldn't even know it's a diesel. It's remarkable.
Industry followers might remember when Holden announced a staggered wheel and tyre size for its flagship Commodore SS in the last year or two. Ford recently did the same thing for its supercharged V8 models. BMW has been doing this for decades; even this diesel wagon uses 19×8.5-inch wheels on the front wrapped in 245/45 tyres, and 19×9.5-inch items on the back with 275/40 tyres, as standard. This is another example of the attention to detail that you get.
The Pirelli P-Zero tyres provide a huge amount of grip. You can tip it into a bend at speed and just nail the throttle and the clever all-wheel drive system will literally rip you around with gut-wrenching g-force. Around tighter stuff under power you are presented with gentle understeer as the torque of the 3.0-litre heaves the platform forward. In our opinion, part of this is down to the run-flat tyre technology, which we recommend you avoid if you can. BMW Australia fits run-flats to all of its mainstream vehicles, annoyingly.
As an overall package the 30d is definitely the pick of the lineup. Not only is it quicker than any other, it's also economical. During our test the 30d returned an average consumption of 7.4L/100km. It's not quite at the official 6.0L/100km average, but in the real world we think 7.4 is a very respectable figure, let alone for a vehicle that can do 0-100km/h in just 5.9 seconds.
2015 BMW X3 xDrive30d – THE VIDEO
2015 BMW X3 xDrive30d – THE VERDICT
In 30d guise, the X3 really is the perfect all-rounder. It virtually defies the usual sacrifices that we've learned to tolerate with vehicle versatility; it performs like a sportscar and offers serious acceleration, yet, it sips fuel like a small hatch. It can also get muddy and tackle some off-road stuff, or be cleaned off to become a luxurious evening cruiser that you'd be proud to be seen stepping out of. As a bonus, it handles like a true BMW, easily setting the benchmark in the class. As you can probably gather, we love it. We like it so much this writer has actually bought this very vehicle.
PROS:
– Car-like handling and driving dynamics
– Brilliant diesel engine; high revving, excellent performance, good sound
– Flawless eight-speed auto
– Practical and luxurious cabin
– Overall versatility

CONS:
– Exterior design blends in with the rest
– Run-flat tyres; lower grip threshold, stiff side walls
– Overpriced in Australia