Honda's Indonesian sector is planning to unveil a new seven-seat SUV/crossover called the BR-V at the Indonesian Auto Show in August, which will go on sale in selected Asian markets.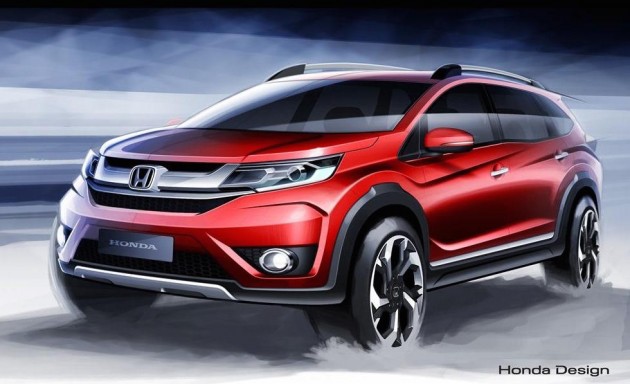 So far only these teaser sketches have been released, but it seems like Honda is looking to bolster its small SUV product range. Called the Bold Runabout Vehicle, the BR-V is going to be a new generation seven-seat crossover.
The vehicle is being developed in Thailand for Asian markets, where the small SUV segment is really booming at the moment. Even in Australia, the compact SUV segment is gaining popularity. So far this year 43,275 new-car buyers have opted for a small SUV, compared with 33,668 during the same period in 2014.
Powertrain details for the BR-V are yet to be revealed, however, it's believed the model will be offered with a 1.5-litre petrol engine offering excellent economy. It's unknown if it will be available with all-wheel drive or if it will be a front-wheel drive only affair.
As you can see by these official design sketches, the BR-V will showcase Honda's latest design language. There's a beefy front bumper bar giving it a tough stance, muscly wheel arches, and a thick radiator grille with a single central bar.
At the rear there are sophisticated taillights, unique wheel arches that form into the bumper bar, and a sporty diffuser-like section underneath. The exterior will also come with large alloy wheels, integrated roof rails, and a decent amount of ground clearance.
At this stage the BR-V will only be sold in some Asian markets, with no known plans for an Australian introduction, unfortunately. Honda Australia doesn't currently offer a seven-seat SUV, but it does offer the Odyssey MPV with up to eight seats.