What appear to be official images of the next-gen 2015 Audi Q7 SUV have surfaced online, giving us a glimpse of the all-new model. It showcases Audi's latest designed language and is expected to bring a number of new technologies to the large SUV segment.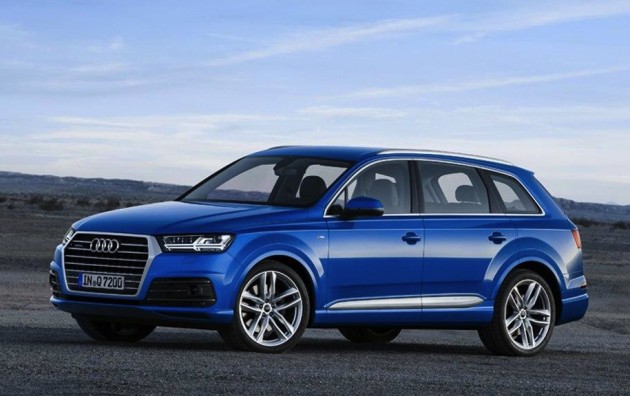 Specific details are yet to be officially revealed, however, the new model is set to be built on an updated Volkswagen Group 'MLB Evo' platform. Seen as though the current, first-gen Q7 has been on sale in virtually the same form since 2005, it is in need of a chassis update.
With the new platform we can expect some weight loss. There's word that suggests this new model will be around 350kg lighter thanks to more use of high-strength aluminium in its construction. A lighter weight will bring improved performance, handling and economy.
As for the new look, well, Audi seems to be quite lazy in terms of auto design at the moment. While it is very crisp and attractive, and a big step forward from the ageing current model, it does look like every other modern SUV in the company's showroom. At the front there's a stylish silver grille in hexagonal form, black detailing around the headlights, and a well-proportioned body with muscular wheel arches.
Under the bonnet the new model is reportedly coming with an optional e-tron hybrid diesel unit later down the track, but initially a range of turbo-petrol and turbo-diesel engines will probably make up the lineup.
Audi will officially unveil the new model, including all specs, at the 2015 North American International Auto Show in Detroit next month as confirmed in October. The show starts on January 12. Preliminary details and images may be released earlier in which case we'll keep you updated.