The 2014 Volvo XC60 D4 Luxury is an SUV that you could happily live with day to day, even if you aren't heading bush. It's comfortable and easy to drive, like a sedan, and it's powered by an efficient turbo-diesel engine. This could be the ideal family wagon that you've been looking for.
Priced from $57,890, the XC60 range consists of eight models with an interesting array of engines on offer; a 177kW turbo four-cylinder and a 242kW twin-turbo six-cylinder covering the petrol units, while diesel offerings include a 120kW 2.0-litre five-cylinder turbo (as tested) and a 169kW 2.4-litre five-cylinder turbo.
The nomenclature for the D4 we're testing is kind of confusing (surely it should be called D5 to reflect the five-pot diesel?), but it is a small point and certainly doesn't detract from the performance of this lovely, tractable and flexible oil burner.
2014 Volvo XC60 D4 – THE SPECS
Engine: 2.0-litre five-cylinder turbo-diesel
Output: 120kW@3500rpm / 400Nm@1500-2750rpm
Transmission: Six-speed automatic
Drive type: Front-wheel drive
Wheels: F: 18×7.5, 235/60  R: 18×7.5, 235/60
ANCAP: Five stars (scored 36.53 out of 37)
Kerb weight: 1771kg
Power-to-weight: 14.75:1 (kg:kW)
Official fuel economy: 6.9L/100km
Economy during test: 7.2L/100km
Fuel capacity/Type: 70L/Diesel
Power efficiency: 16.6kW:L/100km
0-100km/h as tested: 10.6 seconds
Priced from: $64,890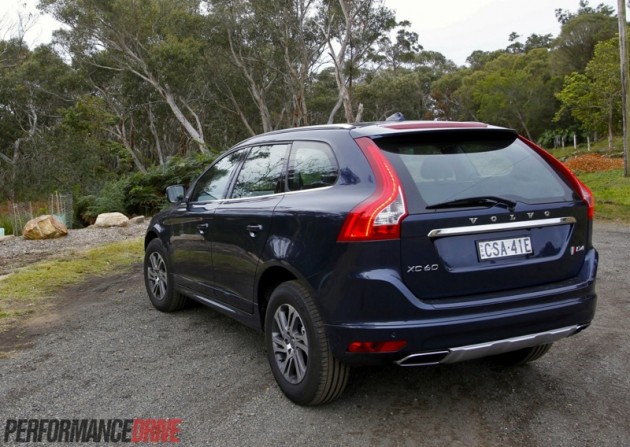 2014 Volvo XC60 D4 – THE PACKAGE
The interior is a standout in this segment. The instrument panel is particularly good with Volvo switching the analogue dials in favour of a large reconfigurable LCD display, which is bright and easily-read. It delivers three display modes with 'normal' putting the emphasis on the speedo, 'eco' mode displaying a fuel efficiency gauge, while 'sport' mode shows a red-themed tacho and digital speed indicator.
Volvo has updated other aspects of the interior for the 2014 model, including better upholstery and trim panel materials, as well as introduced more heavily bolstered sport seats in the front.
The materials used are of superb quality and everything fits together well with a solid dependable feel. Volvo has also designed a funky illuminated shifter that looks right at home in the Swedish cabin. Without a doubt Volvo has stepped up its quest to peg back some of its German rivals in the luxury vehicle market.
Integrated child booster seats are built into outer positions of the rear bench, and a powered tailgate makes it easy to access the 495-litre cargo area when juggling groceries or armfuls of luggage. The cargo area can be expanded to 1455 litres with the rear seats folded down.
Safety is still a focus for Volvo; it's just that the marketers aren't overselling that aspect these days preferring to promote the more exciting aspects of their Swedish machines. There is a full raft of electronic driver aids and passive safety systems to help keep you out of trouble. The most interesting of these is the 'city safety' anti-collision system which functions at speeds up to 50km/h, automatically avoiding rear end collisions.
The safety package includes ABS, trailer stability control, electronic brake-force distribution, emergency brake lights with automatic hazard flasher activation, Volvo's ubiquitous dynamic stability control, rear parking sensors, roll stability control and brake assist, along with a host of front and side protection airbags.
2014 Volvo XC60 D4 – THE DRIVE
The front-wheel drive XC60 D4 is a very likeable machine and there are a lot of aspects that make it endearing. We drove the car extensively over a week. It was rarely parked in the garage. We have to say it is an ideal luxury SUV wagon; plenty of load space, superbly comfortable and a more than capable handler with plenty of torque from the D4's engine to push it along. During testing we clocked 0-100km/h in 10.6 seconds.
The engine is smooth and quiet and has plenty of pull across a wide rev range. It's also remarkably economical, averaging 6.5L/100km on a trip without driving for economy and with a decent load on board. Our combined figure for the week comes up at a very respectable 7.2L/100km.
Economy and power are by nature not compatible bedfellows, but Volvo has done a good job producing an SUV that has good torque and more than adequate power, with surprising frugality. The 120kW power figure is not huge but with 400Nm of torque on offer the nearly-1800kg SUV offers impressive forward thrust.
Like its sedan sibling (S60 D4), the XC60's overall package of steering, brakes, handling, performance, fuel economy and comfort make this a really pleasant SUV that easily eats miles on the open road and around town. The lovely five-cylinder howl from the diesel combined with its effortless torque makes it easy to cope with stop-start traffic.
It seems strange to be worried about a six-speed auto, but in an era when the benchmark in Euro luxury machines are using eight cogs, the XC60 could do with an extra couple of gears. The gear shift isn't necessarily quick but it is smooth.
Having said that, the six-speed adaptive auto flows nicely and the gear ratios are well spaced to optimise the high-torque engine. The new V60 Sport Wagon has just debuted overseas featuring an eight-speed auto. It wouldn't be unrealistic to assume the XC60 could receive a similar unit down the track.
The XC60's coil-over suspension offers a ride and drive feel that is sporty despite its high centre of gravity. The XC60 D4's front-drive configuration is ideally suited for daily workload. As well as being lighter and more fuel-efficient, the front-drive set up is particularly well mannered and the steering is communicative.
2014 Volvo XC60 D4 – THE VERDICT
It's practical, spacious, fuel efficient, fun to drive, with an interior design that has a real sense of pleasantness. The D4 Luxury's starting price of $62,890 is certainly good value for a mid-sized European luxury SUV. In our opinion it ticks all the boxes.
PROS:
– Calm and intelligent interior
– Flexible power and torque
– Economy to rival a small hatch
– Practicality

CONS:
– Transmission not as advanced as rivals
– Extensive options list, including hallmark safety items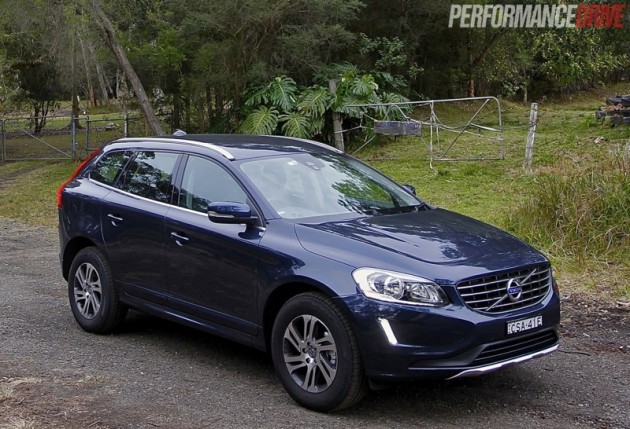 2014 Volvo XC60 D4 – THE COMPETITORS
Audi Q5 TDI
2.0-litre turbo-diesel four-cylinder– 130kW-380Nm – 6.1L/100km – 1895kg – from $62,600
BMW X3 xDrive20d
2.0-litre turbo-diesel four-cylinder– 140kW-400Nm – 5.4L/100km – 1745kg – from $64,400
Range Rover Evoque TD4 Pure
2.2-litre turbo-diesel four-cylinder – 110kW-400Nm – 5.8L/100km – 1850kg – from $57,395