Ever wondered what the fastest truck in the world is capable of over a flying, and standing kilometre? The Volvo 'Mean Green' hybrid truck has just set both records.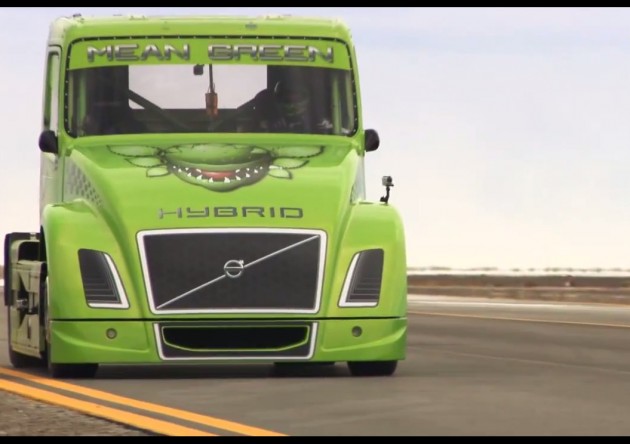 Trucks aren't usually our focal talking point here at PerformanceDrive, but when you're talking about anything to do with speed and, more significantly, a set of wheels with 1567kW on tap, it tends to catch our attention.
The Volvo truck going by the nickname of Mean Green has just set two world records at the Wendover Airfield in Utah, USA. The first was the flying kilometre, where the truck reached 236.577km/h, and then the standing kilometre, where the truck reached 153.252km/h.
The records are set to be made official by the Federation Internationale de l'Automobile (FIA) over the next couple of months.
So what powers the beast? Underneath the aerodynamic bodywork, and relatively standard cab, Mean Green features a Volvo D16 engine boosted extensively, matched up to a Volvo IShift transmission. The engine is backed up by an electric hybrid motor system which adds 150kW and 1200Nm.
All up, power is rated at a colossal 1567kW, while torque is out at an Earth-moving 6780Nm.
Click play on the video below to see how it goes.