Mercedes-Benz has perhaps inadvertently revealed the upcoming 2013-2014 Mercedes-Benz E 63 AMG in a new E-Class lineup image. The image shows the full range of new E-Class variants, such as the Coupe and Cabriolet, and the Estate wagon, all of which have previously be revealed.
The hot new AMG version, along with the rest of the E-Class models, will make a public debut at the 2013 North American International Auto Show in Detroit next week.
Specifications on the AMG are still under tight wraps, however, it is likely the current 5.5-litre twin-turbo V8 will be carried over in slightly revised form.
In today's version, the unit produces 386kW, or 410kW when optioned up with the Performance Pack. Power for the 2014 model is expected to be tweaked a little, potentially exceeding the top-line 410kW rating.
As previously speculated, Mercedes-Benz will be offering a 4MATIC all-wheel drive system for the performance sedan. Mercedes-Benz said in a recent statement,
"Of interest not only to the US market will be the E 63 AMG models, now available for the first time in a 4MATIC version as well."
It's still a bit unclear if the option will be offered in Australia. The increased traction would significantly improve acceleration and allow it to outrun key rivals such as the BMW M5 and upcoming Jaguar XFR-S, but it also makes a lot of sense for international markets where snowy conditions are common.
In terms of design, the new E 63 AMG will showcase a number of sporty highlights like the current model, including a subtle bodykit with aggressive front and rear bumper bars, sports suspension, and a more focused interior.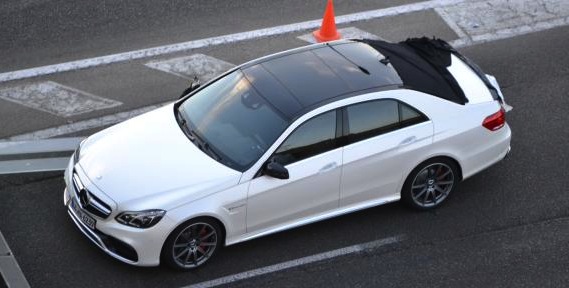 A recent spy image (above) capturing the new model in full trim also highlights a set of freshly styled alloy wheels, contrasting black trimmings such as the roof and side mirrors, and a large brake package with cross-drilled discs and red multi-piston calipers.
Full details will be revealed at the Detroit show, starting January 14. Be sure to keep tabs on our front page as we will be providing plenty of covered of the show.