This is what Jaguar does best. High-revving, high-power six-cylinder sports sedans. For the 2018 Jaguar XE S, the power has been turned up to 280kW, while in-car tech has been boosted to help it stay among the leaders of the pack.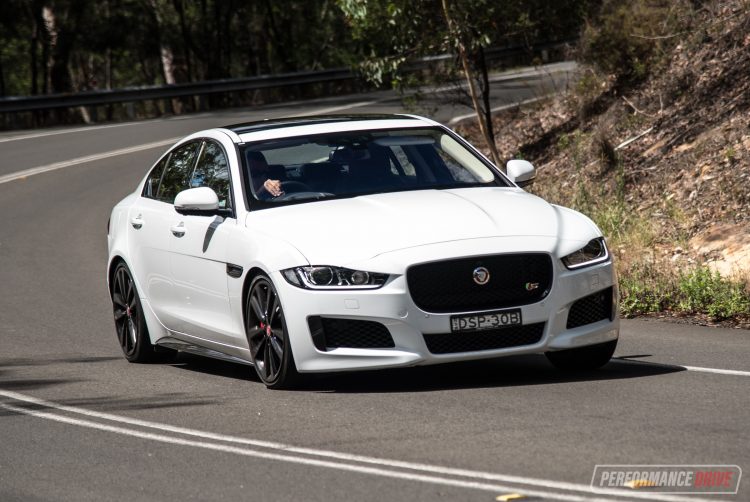 Yes, that's right, more power. Since the XE S isn't technically a performance model, more just the flagship variant, the XE S remains as one of the most powerful sedans in the class. About the only vehicle to trump it is the Infiniti Q50 Red Sport, with its 3.0-litre twin-turbo V6 that produces 298kW. The Mercedes-AMG C 43 delivers 270kW from its 3.0-litre twin-turbo V6, while the BMW 340i and Audi S4 sit further behind, with their turbo sixes generating 240kW and 260kW, respectively.
Despite featuring a more potent engine tune than the previous 250kW model, and coming equipped with more gadgets and luxuries, the 2018 XE S is more affordable than before. Prices start at $92,700, which is a decent drop from the original $104,200 price tag (excluding on-roads).
2018 Jaguar XE S – THE SPECS
Engine: 3.0-litre supercharged V6
Output: 280kW@6500rpm / 450Nm@3500-5000rpm
Transmission: Eight-speed auto
Drive type: Rear-wheel drive
Wheels: F: 19×7.5, 225/40  R: 19×8.5, 255/35
ANCAP: Five stars
Tare weight: 1616kg
Power-to-weight: 5.77:1 (kg:kW)
Official fuel economy: 8.1L/100km
Economy during test: 8.0L/100km
Fuel capacity/Type: 63L/95 RON
Power efficiency: 34.56kW:L/100km
0-60km/h: 2.63 seconds*
0-100km/h: 5.01 seconds*
60-110km/h: 3.05 seconds*
1/8 mile: 8.70 seconds at 145.0km/h*
1/4 mile: 13.16 seconds at 179.5km/h*
Max acceleration: 0.782g
100-0km/h braking: 3.03 seconds at 38.53 metres*
Max deceleration: -1.173g
Decibel at idle: 42*
Peak decibel at 60-100km/h: 85*
Priced from: $92,700
* Figures as tested by PerformanceDrive on the day. Factory claims may be different

2018 Jaguar XE S – THE PACKAGE
No major changes are made to the exterior for 2018, but that's not a bad thing as the XE remains as one of the most elegant sedans in the class in our opinion. Most of the body is made from aluminium, including a world-first use (in a car) of 'RC5754' recycled aluminium. From the front the feisty feline is presented with a sculpted bonnet that draws up from the Jaguar-esque grille, with special air strakes along the bottom edge of the bodywork to help to provide a drag co-efficient of just 0.28. Jaguar engineers were able to achieve this thanks to extensive computational fluid dynamics simulations and analysis during development.
Some updates have been made to the interior, with higher quality carpet, enhanced leather, and some new trim options arriving. You can select between wood veneers and carbon fibre to decorate the cabin, with more chrome added to lift the premium appeal. As standard this top S model gets the regular 8.0-inch touch-screen media interface in the dash like all other variants, but you can option for the newer (and much better) 10-inch Touch Pro unit with dual-view technology (as tested). We think the bigger interface should really be standard on the S considering it is the flagship model.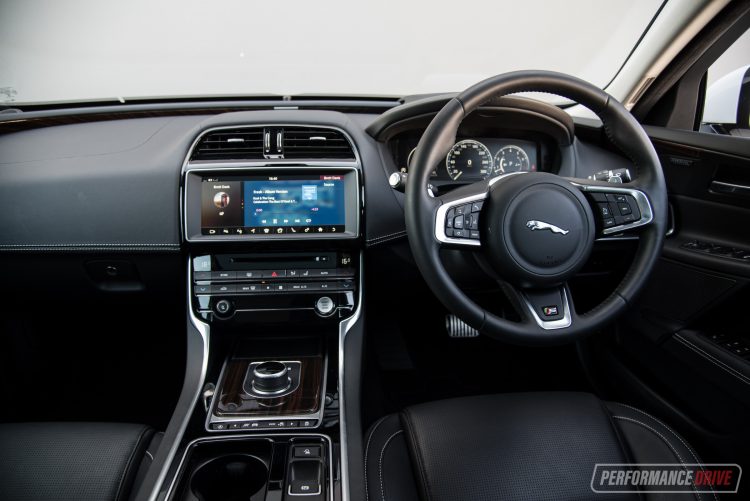 Jaguar has also introduced a fully digital 12.3-inch instrument cluster display, but again, it is optional and only available as a package with the 10-inch Touch Pro system. We get that some things ought to be optional to give buyers the chance to personalise their vehicle, but stuff like this should be included on the S we think. If Jaguar wants to show off its latest and greatest tech then why not include it on the top model?
The XE's cockpit remains as one of the sportiest in the market segment. You submerge yourself in, snugly, with the centre console, dash and door trim enveloping around you. This coincides with a perfect driving position, made adjustable thanks to the standard electric steering column across the range. Pedal placement is also ideal and supports left-foot braking. It's only when it comes to getting in and out where there might be some discomfort, as you do need to crouch down to get in and step right up and out. This is exaggerated for rear seat passengers.
Cabin space and general room to move is commendable though, once you're in. The rear seat doesn't offer the most space in the class but it's far from the tightest; it's about average. Rear passengers get climate vents in the back of the main console, as well as a power socket, cup holders in the central flip-down arm rest, and bottle holders in the doors. Fit and finish is excellent, with no signs of premature wear and tear, and it all smells of luxury.
Boot space is rated at 415L, which is behind the main German rivals. You can option for either a tyre repair kit which helps to open up 450L, or go for the space-saver spare that leaves 415L.

2018 Jaguar XE S – THE DRIVE
On paper, the Jaguar XE S is made from very tantalising ingredients. It's a small sedan made predominately from high-strength aluminium, resulting in an impressive tare weight of just 1616kg (kerb: 1655kg). There's a 3.0-litre supercharged V6 up front providing instant grunt to a complex rear-wheel drive system.
You might recognise these figures. And don't worry, you're not suffering déjà vu. This engine is also seen in a number of Jaguar Land Rover beasts. It comes in the sexy F-Type and more recently in the Range Rover Velar. The Ford-based AJ-series 3.0-litre block is similar to the AJ133 5.0-litre supercharged V8 that Jaguar does, only with two cylinders chopped off – it's actually built on the same production line. Here, known as the AJ126, the unit runs a 10.5:1 compression ratio with slightly narrower and shorter bores than the V8, with a twin-vortex supercharger nestled in the middle of the V, blowing in around 27.6psi of boost (up from 25.4psi in the 250kW version).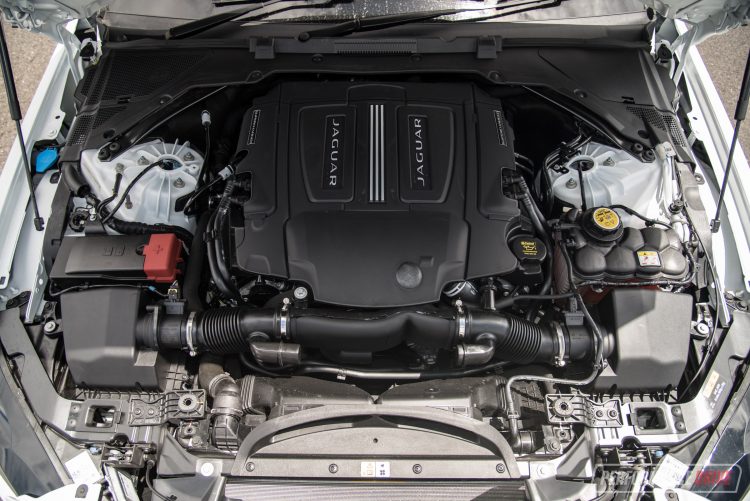 It has all of the modern tech, with quad cams, direct injection, and a balance shaft to provide jaguar-like smoothness and reduced harshness that you normally get from a V-configuration engine. Peak power of 280kW is hit at 6500rpm, and it loves to spend time up in this region of the rev range. Peak torque of 450Nm is spread across 3500-5000rpm. Helped by the inherent snappy nature of a supercharged engine, the acceleration response is as sharp as you could ever need. New for the MY2018 is 'Configurable Dynamics' driving modes, with on-the-go adjustments available for the throttle response, steering, suspensions and gear shift behaviour. In Eco mode the accelerator pedal is more relaxing while still providing heaps of power when you call for it, while the Dynamic mode makes it race-car reactive.
The engine has what we call a good power-efficiency ratio too, whereby the power you get for the amount of fuel it uses (on the official average) is very high. In this case, a quick calculation of the engine power divided by the official consumption rate of 8.1L/100km returns a ratio of 34.56kW:L/100km. We normally only see a figure like this in either top-dollar exotics or ultra-modern and sophisticated hybrids. And the official consumption isn't that far from reality either. During our week with the car the trip computer was showing a very reasonable 8.0L/100km, and that included performance testing and highway driving – we actually saw it drop as low as 7.3L/100km before we conducted the performance sprinting tests.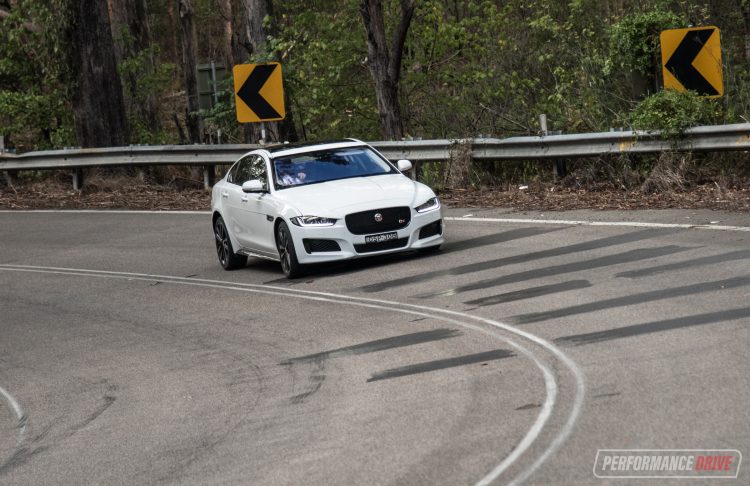 Out on the road this engine is an impassioned machine. There's a nice note from the exhaust, with a subtle bass at idle. From there it quickly turns into a raspy roar, peaking with a high-pitch snarl. You can't really hear a typical supercharger whine, and this is good in our opinion as we think superchargers sound annoying. They don't posses the exotic whistles and wisps of a turbo. In fact, this V6 actually sounds like a naturally aspirated engine in some parts of the rev range. A highly tuned one at that.
With the supercharger providing boost from any revs the longitudinal g-force is very linear. You get a sudden hit off the market but from there it rapidly yet steadily increases speed. Fortunately the engine pairs up with the brilliant ZF 8HP eight-speed automatic and not the newer (and confused) nine-speed auto featured in some Jaguar Land Rover products. The eight-speeder's ratios seem perfectly matched to a six-cylinder (or higher), with third gear often used for slow- to medium-speed corners with excellent pickup. Across the usual sprints, we clocked 0-100km/h in 5.01 seconds and the quarter mile in an exciting 13.16 seconds.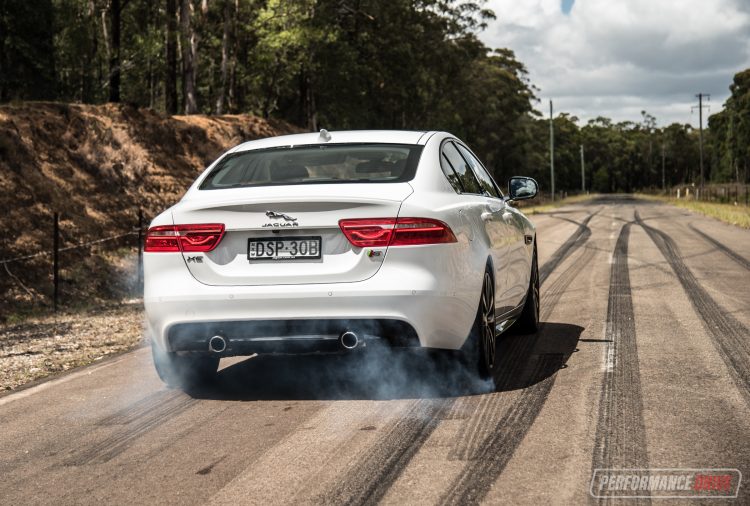 All of this excitement doesn't have to end when the road gets twisty either. The XE's chassis is unbelievably rigid, with the electric power steering system providing direct and accurate front end placement. Feedback levels are high, making it a very rewarding drive. You can feel the nose pushing, or, if you kick it in the guts, the rear end start to drift wide. Overall grip though is astounding. This thing can generate a huge amount of g-force in the corners, with its flat and wide platform tensing and bracing firmly against body roll. Despite this, the ride isn't bad. Sure, it's taut and sporty but in the relaxed modes it is quite nice.
Jaguar hasn't fit a limited-slip differential, even with the updated model, despite the F-Type S with the same engine and gearbox using one. This does annoy us but it probably won't be much of a problem for the wider population. Instead, the XE S uses an electronically-controlled torque-vectoring system which brakes the inside wheel to help pivot the car around corners. It does result in a very controlled and stable drive, we'll give it that. But for those who like playing around with the rear end, a proper mechanical limited-slip differential will continue to be desired.
The best part about the XE S is the synergy between the undeniably urgent engine and the superb chassis and precise steering. It feels like a real driver's car, all of it. However, it'll still perform beautifully as a luxury cruiser. And it's surprisingly fuel efficient, which means you don't have to stop at pesky petrol stations every day.
2018 Jaguar XE S – THE VIDEO
2018 Jaguar XE S – THE VERDICT
With the high-output 280kW V6, the XE S is one of the most enjoyable and more genuine driver's cars in this segment. The only element that's faking it is the electro diff, but that's not even a proper criticism as it only affects a tiny slice of the buying public.
It's fast, like a jaguar. It's elegant, like a jaguar. And it prowls through life with a distinct, sneering attitude, like a classic Jaguar. The XE S remains as one of our favourite performance sedans, even though it's not even trying to be an outright performance sedan.
PROS:
– Taut chassis and huge cornering grip
– 280kW puts it near the very top of the class
– Impressive real-world fuel economy
– Light weight for its class
– Feels and looks classy

CONS:
– Awkward/tight getting in and out
– Lacks mechanical limited-slip diff
– Some options shouldn't be options
As always, if you're thinking about buying a new car don't forget to click here to speak with our car buying specialists.