The all-new 2016 Holden Volt, or at least the American Chevrolet Volt, has just been revealed and it could be on its way to Australia. But before it gets here, we thought we'd take a last look at the existing version to see how the technology stacks up against the current industry standards.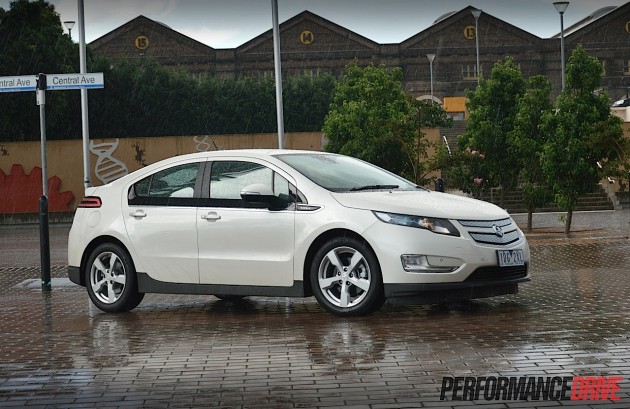 For those that don't know, the Holden Volt was one of the first proper plug-in electric-based hybrid vehicles to hit the market in Australia. And for that reason alone it is a bit of a pioneer. It was first launched here in 2012 and has since remained in the same specification. But is it still a modern motivation to save the planet?
Under the bonnet lies a complex hybrid system consisting of a 1.4-litre four-cylinder petrol engine and an electric motor which ambitiously tries to be the primary power source, until the circa-80km range is depleted and the petrol generator kicks in. The system produces 111kW of combined power and 370Nm of torque. This is sent through a single-speed auto and into a front-wheel drive system.
At this point is where the age factor starts to become… non-excusable. It's priced from $59,990. This is the same price tag from 2012 when it was an advanced standout. However, it isn't as fresh anymore. It is targeting the premium market though and it does come with a generous list of gratifying appointments.
2014 Holden Volt – THE SPECS
Engine: 1.4-litre four-cylinder hybrid
Output: 111kW@instant / 370Nm@instant
Transmission: Single-speed auto
Drive type: Front-wheel drive
Wheels: F: 17×7.0, 215/55  R: 17×7.0, 215/55
ANCAP: Five stars (scored 34.56 out of 37)
Kerb weight: 1721kg
Power-to-weight: 15.5:1 (kg:kW)
Official fuel economy: 1.2L/100km
Economy during test: 5.0L/100km
Fuel capacity/Type: 35L/95 RON
Power efficiency: 92.5kW:L/100km
0-100km/h as tested: 9.2 seconds
Priced from: $59,990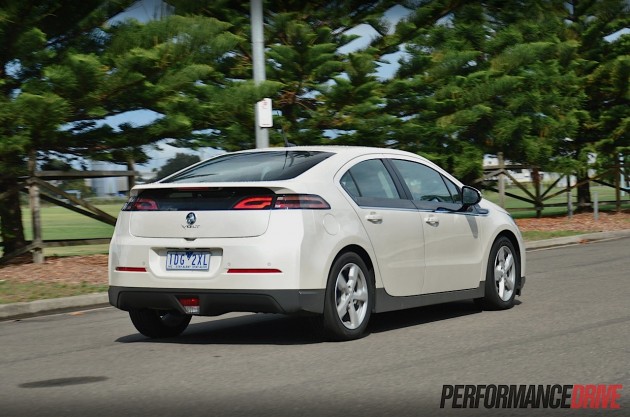 2014 Holden Volt – THE PACKAGE
There's no doubt about the exterior's futuristic design. It looks very different from any other car on the road. It looks like a concept car from not that long ago. You can point out a few clues that give away its age though, such as the repetitive straight lines which these days are replaced by nice curvy ones. The headlights also seem out of date compared with today's bi-xenon high-definition LED mambo-jumbo. For the 2016 model all of this has been updated.
Inside the Volt is also showing some signs of age. It's mostly monotone with lots of grey and a few white bits, which look, umm, 2008 iPod. When the car first debuted in 2012 it must have been a star attraction. Most of the centre fascia is covered in a sneeze of buttons too and it is overwhelming to understand what they all do, until you become familiar with it. For the driver there's an advanced (for its day), customisable digital instrument cluster with funky graphics.
Up at the top is Holden's now-familiar MyLink touch-screen interface. This must have been one of the first vehicles to receive the system and it still holds well against the market standards today. There are large buttons with responsive touch controls, and the main menu screen makes it easy to find what you're after.
The MyLink system comes embedded with many interesting apps such as radio and internet-radio systems including Stitcher and Pandora, as well as satellite navigation, and various eco driving information screens that track and analyse your driving and subsequent impact you are leaving on the environment.
This is a sedan but you could call it one of those four-door coupes that are becoming increasingly popular. In the front the cabin offers about as much legroom and headroom as a Toyota Camry. In the back there are only two seats due to a then-futuristic centre console making its way up the middle.
It's cool and rather interesting sitting inside. And the rear seats sort of float and blend in with the cargo area. Speaking of which, the back presents 300 litres of space in the default configuration. With the rear seats folded down you can open up a long and flat space capable of swallowing a mountain bike, remembering not to gouge the pedal on the rear centre console armrest.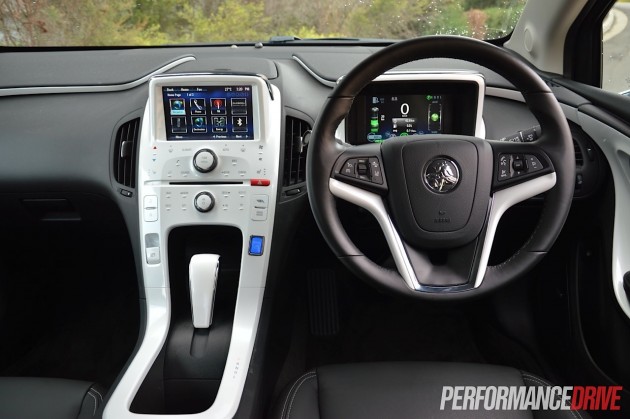 2014 Holden Volt – THE DRIVE
This is a peculiar car to drive, especially if you haven't even driven or been in an electric vehicle before. The first thing to note is the sheer silence of the cabin. To turn it on you just push a button and not much happens, aside from the dash lighting up. From there you just select forwards or backwards and it will go there. It's quite bizarre.
It's a heavy car for this class, weighing in at 1721kg. And you can feel it immediately when you start driving. In normal conditions, such as in the city and so on, the car feels reassuringly planted and railed to the road. This is a good thing initially as it tends to act as a confidence booster.
For those who are keen drivers, the Volt is predictably uneasy in the twisty stuff. There's relatively low body roll, partly thanks to the weight of the electrics being place low down, and the steering is engaging and precise. It is let down by the eco-friendly tyres when you really push it, with early tyre squeal tapping you on the shoulder to remind you of its weight. Fortunately, regenerative braking technology helps to wipe off speed very quickly.
Don't get us wrong, for a leisurely drive through the mountain the Volt provides a peaceful and soothing experience. However, in the city is where it performs best and feels most at home. It likes to trundle around and coast through the streets and suburbs. And you tend to like doing just that because it uses no fuel driving in this manner.
There are a number of hybrids on the market that are propelled by both a petrol/diesel engine and an electric motor. The Volt, on the other hand, is almost a fully electric car. Even when the batteries are depleted the petrol engine kicks in to generate power for the electric motor. It does provide direct power to the front wheels, but only through the electric motor. We achieved around 70km from a full charge. When it runs out, there's a completely uninterrupted transition from electric to hybrid drive. The transition doesn't require anything on your part either; the on-board computers work it all out as you go.
You can prolong the range if you drive it carefully and let it overrun and brake often to recharge the batteries. You can also select between driving modes, including sport and one that allows you to 'store' the battery charge and use the petrol engine instead.
When the day's over and it comes time to plug it in, the Volt uses a standard power socket that can by plugged into pretty much any household socket. It takes about six hours to recharge at 10 amps or 11 hours at 6 amps (selectable). We found the total range to be about 700km, or around 5.0L/100km according to the life average of this particular car.
We worked it out and it costs about $3.60 to recharge at 10 amps for six hours, using a local rate of 25 cents per kWh. You'll need to charge it every night, unless you live extremely close to work, which means you'll end up spending around $20-25 per week. But put it this way, if you do live close to work you won't ever need to use the petrol engine and you'll never need to stop at a petrol station again.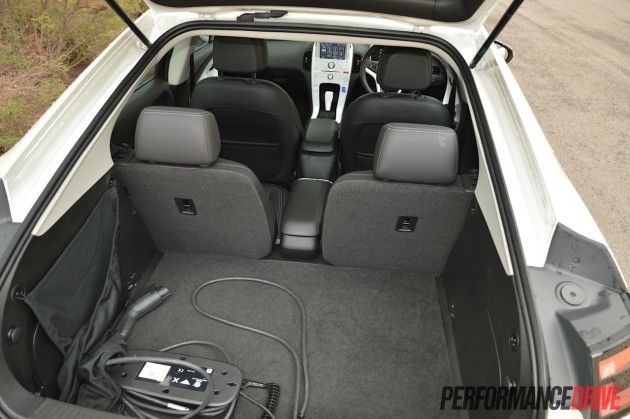 2014 Holden Volt – THE VIDEO
2014 Holden Volt – THE VERDICT
As a concept, an idea, the Volt is brilliantly interesting and it gets you thinking. It also makes you want to drive economically (yes, even for us). We think it does need a longer battery range to be a truly viable exchange for a regular petrol engine vehicle though, and the interior and exterior design is obviously in need of a rehash, which GM has done with the 2016 Volt (below).
GM has also improved the range for the second-gen Volt and enhanced the design, and put it on a diet, which means it should be an excellent car. Holden Australia is yet to confirm if the next-gen version will make it to Australia. Our advice would be to wait and see before handing over $60k for this version.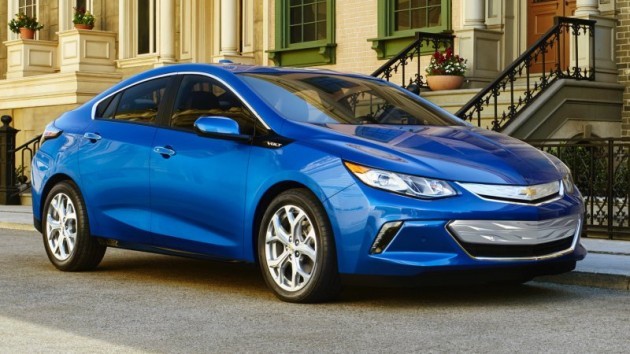 PROS:
– Looks like a concept car
– Can act as fully electric car and has backup petrol motor
– Economy
– Ease of charging; doesn't require special plug
– MyLink interface ahead of its time

CONS:
– Futuristic design starting to age now?
– Heavy driving feel
– Needs longer range for suburban use
– Steep price tag