Images of the 2017 Volvo V90 have leaked online (on purpose or not, we don't know), giving us a clear look at the next-generation large station wagon.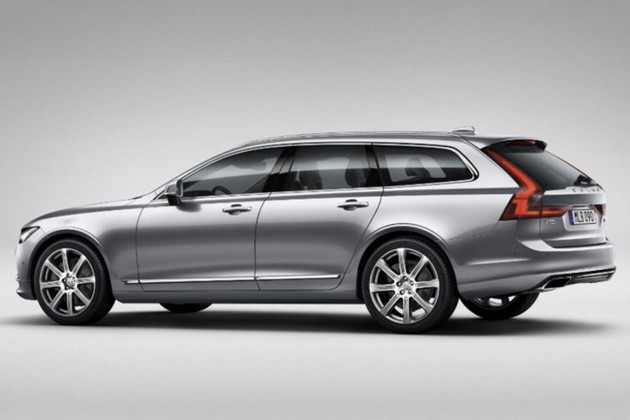 As previously reported, the new V90 is based on the S90 sedan. It's one of the first models to be based on Volvo's new SPA architecture, also shared with the XC90 SUV, and it's also one of the first models to be completely developed under Volvo's new Chinese parents, Geely Holding.
The design pretty much mimics the layout seen on the S90 sedan, only at the back the roofline is obviously extended to allow for the tailgate and wagon area. At the back the design squares off, featuring large L-shaped taillights, a defined crease through the middle, and a sporty underside.
Powertrain options are expected to carry over from the S90, and the XC90 for that matter, comprising of a range of four-cylinder units only. Diesel and petrol is likely, with power outputs rising up to as much as 235kW in the case of the 'T6', or 300kW in the case of the T8 hybrid.
Volvo interiors have come a long way in the recent past. They are now quite exquisite. We can expect a modern Swedish decor and design in all V90 variants, a unique dash fascia with a huge touch-screen, elegant tones, and a range of high-quality trimmings options.
The company was planning to give the V90 its official debut on February 18, but now that the cat is out of the bag there won't be much to talk about come February 18. Market entry is set to take place later this year in some markets, and early 2017 for others.