BMW has taken the wraps off the new 2014 BMW X5, which has undergone a major facelift. The new model comes with added features to improve handling, and some tweaks under the bonnet for increased performance.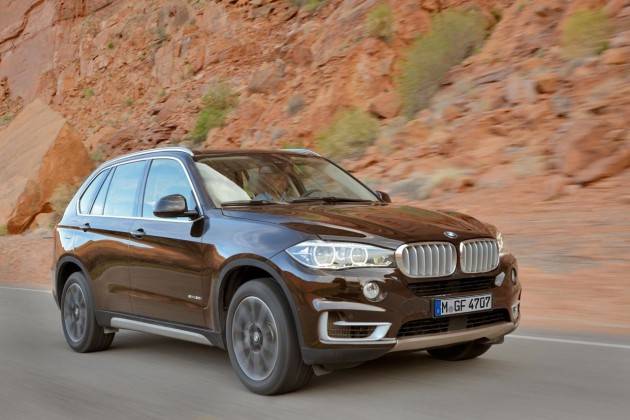 Perhaps the biggest news to come with the announcement of the new model is the introduction of a fresh entry-level variant. Called the xDrive25d, it will come with a 2.0-litre turbo-diesel four-cylinder engine, pushing power to the rear wheels.
Despite being a four-cylinder – a first for the big X5 – the 25d offers up a respectable 160kW of power. It also represents the most efficient X5 variant, recording an average fuel economy rating of 5.6L/100km.
Stepping up a level, the new xDrive30d is now moved by BMW's tweaked 3.0-litre turbo-diesel inline six. It produces 190kW of power and 560Nm of torque, which is up 10kW and 20Nm on the current version. It's able to cover 0-100km/h in 6.9 seconds, offering a lower average economy figure of 6.2L/100km.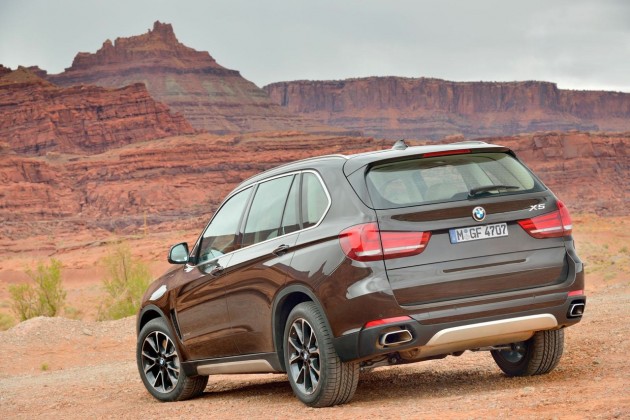 For more power, an xDrive40d will join the range, propelled by a tweaked version of the engine above. It produces 230kW, and offers a fuel economy average of 6.4L/100km.
If this still isn't enough, the performance M50d will be carried over, with its triple-turbo version of the diesel engine, producing 280kW and 740Nm. BMW says the 0-100km/h time has been shaved by 0.1 seconds, covering it in 5.3 seconds.
For the petrol buyers, the xDrive50i gets the latest tune of the company's 4.4-litre twin-turbo V8. It produces 330kW of power and 650Nm of torque, which is up 30kW and 50Nm on the outgoing 50i. The mighty engine is able to send the SUV down the road from 0-100km/h in just 5.0 seconds. It consumes an average of 10.4L/100km.
Aside from the revised powertrain options, the 2014 X5 comes with the company's latest Driving Experience Control modes. It offers three different driving modes, each varying the tune of the adaptive dampers (Comfort, Dynamic and Professional, when optioned), steering feel, and throttle response. Adaptive M Sport suspension will be optional to further bolster handling performance.
In terms of design, the new X5 has grown slightly, measuring an additional 29mm in length, 5mm in width, while the roof height has been lowered by 4mm. These changes give the X5 a lower and fatter stance, and also provide 30 litres of extra cargo space when the rear seats are in place – 650 litres on offer, 1870 litres in total when the rears seats are folded down.
Although BMW Australia is yet to confirm if the new xDrive25d will be heading Down Under, the 2014 X5 will go on sale later this year. Prices are yet to be announced.