BMW has officially unveiled the new 2014 M3 sedan and M4 coupe, and released all specifications on the next-gen performance icon. Predictably, the new version is lighter in weight, quicker, and more fuel efficient than the outgoing model.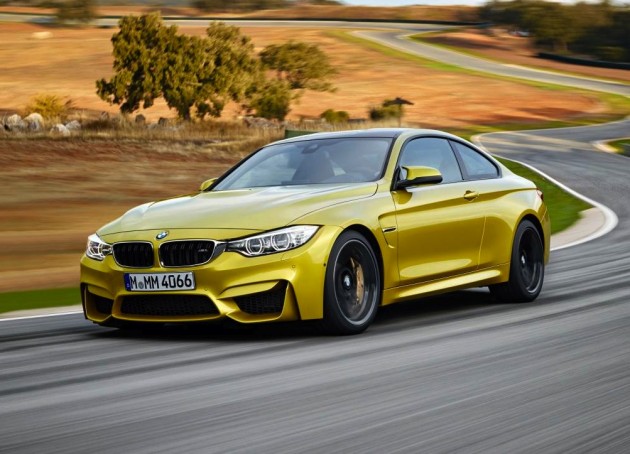 Power for both models comes from a freshly built, high-revving 3.0-litre TwinPower turbo inline six-cylinder engine using two mono-scroll turbochargers and double VANOS variable valve timing.
The engine is capable of revving to 7600rpm, which is quite high for a turbo motor, with peak power of 317kW achieved between 5500-7300rpm. Peak torque is 550Nm, reached between 1850-5500rpm.
The engine uses a 10.2:1 compression ratio with 89.6mm x 84mm bore and stroke measurements, a forged crankshaft, and a special magnesium oil sump which can handle extreme lateral g-forces. It's compatible with 95-98RON petrol.
To make sure the engine sings like a proper BMW M car the M3 and M4 come with a unique twin-pipe exhaust system using a flap arrangement to provide a deeper, fuller soundtrack depending on which driving mode the driver selects.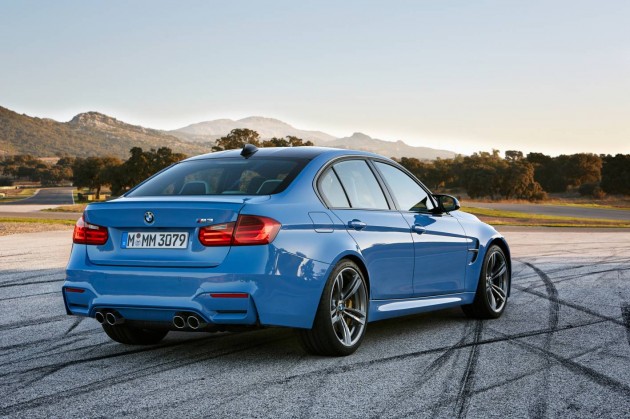 Translated to tarmac performance and you have 0-100km/h possible in just 4.1 seconds for both the M3 sedan and M4 coupe. Both will be available with either a six-speed manual or seven-speed dual-clutch auto, using a 3.462:1 final drive ratio with an Active M multi-plate limited-slip differential.
Those who select the six-speed manual can enjoy a new unit which is 12kg lighter than the previous manual. It features throttle-blipping technology for downshifts, and uses a double plate clutch setup.
Interestingly, the optional seven-speed M DCT dual-clutch auto has been revised and now comes with launch control and a 'Smokey Burnout' function. BMW says the burnout function allows drivers to indulge in a degree of wheelspin while the car is moving at low speeds.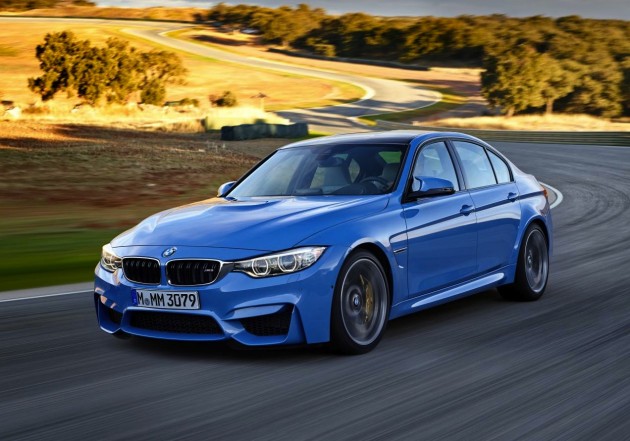 Thanks to various carbon fibre and aluminium components, around 80kg has been shed from the new model. The M4 weighs 1497kg while the slightly larger M3 sedan weighs 1520kg. The roof is carbon fibre on both the sedan and coupe, saving 5kg and 6kg respectively, while the drive shaft is also made from carbon fibre saving around 40 per cent over the previous unit.
Both feature new lightweight forged alloy wheels measuring 18×9 inches on the front and 18×10 inches on the back. Buyers will be able to option 19-inch items as well. Other lightweight measures include a carbon fibre strut brace weighing just 1.5kg, as well as an aluminium bonnet and front side walls.
Not only does the reduction in weight help out with acceleration and performance, it also helps with handling and fuel economy. Both the M3 and M4 offer an official combined cycle fuel economy of just 8.3L/100km, making it around 25 per cent more efficient than the outgoing V8 version. It also makes it quite easily the most efficient vehicle in its segment.
For the first time ever in the M3's history the new model uses an electric power steering system. It offers the driver the versatility of three driving modes, including Comfort, Sport and Sport +, and helps to save overall weight.
There's also adaptive M sports suspension with three similar modes, providing complete versatility between city driving all the way to hardcore performance driving out on the track.
In terms of exterior styling, both models can be distinguished via the bolstered wheel arches, various aerodynamic cutaways and vents, and the aggressive front end with the bulging bonnet. BMW says every aspect of the exterior has been designed and developed specifically for aero performance. The sexy looks are simply a welcomed side-effect.
As usual with BMW M cars, the interior is a tasteful blend of luxury and light sportiness, with special M seats which are more seriously bolstered compared with the standard 3 and 4 Series items, while a sports steering wheel and instrument cluster reminds the driver of the car's epic sports car pedigree.
The new models will go on sale in 2014. Prices and Australian specifications are yet to be announced.
See below for the full specifications: