BMW Australia is announcing the arrival of the 2014 BMW 5 Series facelift, as revealed earlier this year. The new model comes with more equipment as standard across the range, revised styling, and improved performance and efficiency for the range-topping 550i. Luxury and Modern Lines have also been introduced for the first time.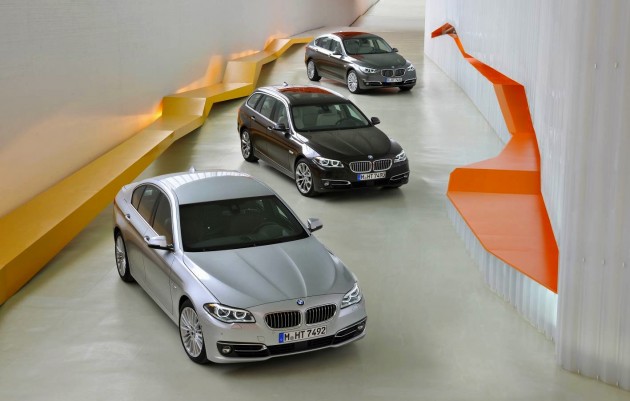 Sporting a slightly tweaked design with new LED fog lights in the front end, additional contour lines around the twin kidney grilles, a restyled lower grille section, and a new crease line in the rear bumper bar, the update gives the 5 Series a distinctively modern and intelligent look. There's also indicators embedded into the side mirrors.
Inside, the interior layout sees some changes, including new chrome trimmings, increased storage space on the centre console, Dakoto leather seats, a 12-speaker stereo with sat-nav as standard, and a new iDrive touch controller for the interface.
As for the mechanical updates, the biggest of which is for the 550i. It now comes with the high-output version of the 4.4-litre twin-turbo V8, and a price cut of almost $20,000. The updated engine produces an impressive 330kW and a whopping 650Nm (up from 300kW/600Nm), capable of propelling the suave sedan from 0-100km/h in just 4.6 seconds.
All variants are available with the optional M Sport package, which includes 19-inch alloy wheels, sports seats, M Sport suspension, and an M sports steering wheel.
Pricing for the complete range is as follows:
2014 BMW 520i Sedan – $79,900
2014 BMW 520d Sedan – $82,400
2014 BMW 528i Sedan – $97,400
2014 BMW 535i Sedan – $116,900
2014 BMW ActiveHybrid 5 – $119,900
2014 BMW 535d Sedan – $121,900
2014 BMW 550i Sedan – $159,900
2014 BMW 520d Touring – $90,900
2014 BMW 535i Touring – $122,900
2014 BMW 520d Gran Turismo – $93,900
2014 BMW 530d Gran Turismo – $108,900
2014 BMW 535i Gran Turismo – $117,900