Images of showing Mugen accessories for the yet-to-be launched 2014 Honda Jazz have been leaked online, giving us some insight into the tuning potential of the new compact five-door hatch.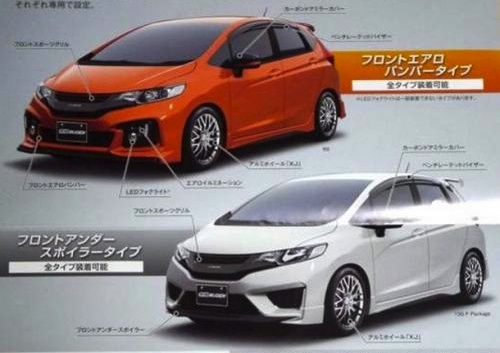 The 2014 Honda Jazz was only unveiled a few weeks ago, but it looks like Honda tuning specialist Mugen has had access to the car and has already come up with some accessories and enhancements.
Judging by the images, which appear to be of a brochure of some kind, the Mugen package will be broken up into two levels; the 'S' and the 'RS' (orange). Both showcase an aggressive bodykit with a fresh front bumper bar and front spoiler, as well as a rear spoiler and chunky rear diffuser.
It looks like the RS version will feature some additional chrome trimmings, such as along the bottom of the rear windscreen, and some black trimmings, including a more curvy rear spoiler. The RS also gets a set of driving lights in the corners of the front bumper.
Mechanically, both versions are likely to come with special sports lowered suspension with new stabiliser bars and dampers, a sports exhaust system, and a set of chrome 17-inch alloy wheels. The RS version is expected to see some under-bonnet tuning as well, with potentially a bespoke air intake setup with a freer flowing air filter.
The regular 2014 Honda Jazz will go on sale in Japan next month. Official dates for an Australian launch are yet to be announced.