This is the first look of the new 2013 Porsche 911 GT3 Cup car, giving us a preview of the upcoming GT3 road version. For the first time ever the Cup car comes with a six-speed 'dog-type' transmission with paddle shifters behind the steering wheel.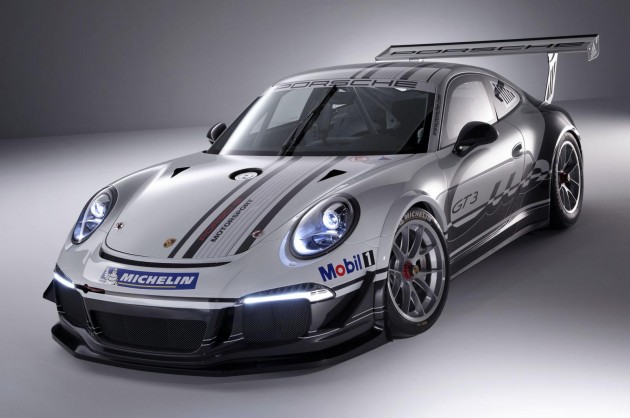 In the back, power has been boosted by 7kW, resulting in 338kW at 7500rpm from its 3.8-litre naturally aspirated flat-six engine. As usual, propulsion is sent to the rear wheels.
Helping the new model be even quicker on the track is a set of widened single-piece Porsche Motorsport race wheels wearing fatter tyres. At the front the Michelin slicks are 270mm wide (up 20mm), while at the back the slicks are now 310mm (up 10mm).
Timo Bernhard, Porsche works driver and one of the key players in the development of the new model, recently said,
"The new 911 GT3 Cup is much easier to drive at the limit. The car is excellently balanced. The new axle geometry is enormously positive for the handling. Apart from that the new Cup 911 is great fun to drive."
Safety for the 991 GT3 Cup has also improved thanks to 380mm six-piston brakes up front and four-piston brakes on the rear; a new roll cage system; a new racing seat with focused protection around the shoulder and head; as well as a new rescue access hatch in the roof for emergencies.
As for the styling, the GT3 Cup showcases the latest 991 911 headlight and taillight designs, as well as the pinched rear end incorporating a thin spoiler. For racing, there's also a huge rear wing, heavily pumped out wheel arches and a very aggressive front spoiler complete with intakes and fins.
For those interested in racing in the Carrera Cup series and so on, the 991 Porsche 911 GT3 Cup will be priced from 181,200 euros (approximately AU$223,140, after a straight conversion).
The car will be produced on the same production line in Zuffenhausen, Germany, along side the upcoming 911 GT3 road car.