The Subaru Outback is one of those cars you can't help but love, or at least admire. Originally, it favoured utilitarianism over glamour, becoming a cult-classic for adventurous families, surfers, and almost anyone living rurally.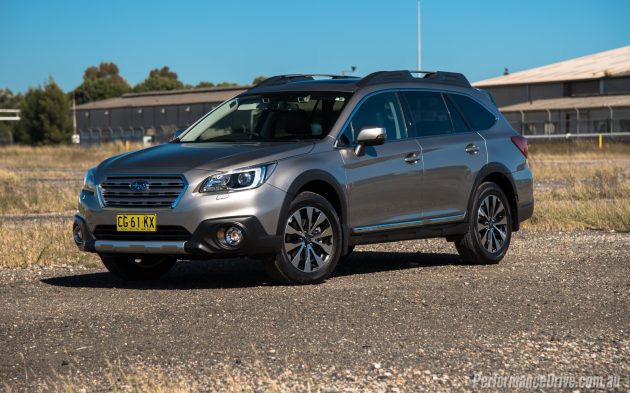 In recent years though the Outback has sharpened up its looks, and table manners; becoming more sophisticated in an attempt to snatch some customers back from the seemingly endless grasp of SUVs.
Battle lines have been drawn and the competition is hotter than ever. Can the Outback entice buyers enough? We're testing the latest MY2016 version which was released earlier this year, in top 3.6R trim.
2016 Subaru Outback 3.6R – THE SPECS
Engine: 3.6-litre flat-six
Output: 191kW@6000rpm / 350Nm@4400rpm
Transmission: CVT auto
Drive type: All-wheel drive, X-mode centre differential
Wheels: F: 18×7.0, 225/60  R: 18×7.0, 225/60
ANCAP: Five stars (scored 35.99 out of 37)
Tare weight: 1662kg
Power-to-weight: 8.70:1 (kg:kW)
Official fuel economy: 9.9L/100km
Economy during test: 12L/100km
Fuel capacity/Type: 60L/91 RON
Power efficiency: 19.29kW:L/100km
0-60km/h: 4.49 seconds
0-100km/h: 8.19 seconds
1/8 mile: 10.75 seconds at 119.4km/h
1/4 mile: 16.10 seconds at 150.3km/h
100-0km/h braking: 3.00 seconds at 38.03 metres
Decibel at idle: 42
Peak decibel at 60-100km/h: 86
Peak stereo decibel: 99
Priced from: $48,490

2016 Subaru Outback 3.6R – THE PACKAGE
With each generation, the Outback (and indeed many Subaru models) casts an increasingly handsome profile, with an emphasis placed on striking a balance between rugged off-road usability and luxury. Subaru has done well with this Outback, with a fresh new front grille, chrome accents, smart new halogen lamps and contoured bulges down the bonnet and side profile. All up, a deserving addition to the Subaru lineup that will take the fight to its domestic and even European rivals.
The Outback's cabin is an extremely pleasant place to be, mixing luxurious materials with utilitarian function. The theme inside is black, with contrasting silver accents. The central console housing the infotainment system is anchored by silver plastic, which makes its way in front of the passenger and to the door sills. It's just enough to break up the largely black setting.
The steering wheel is overly complex, with a few too many buttons in our opinion. This can prove overwhelming at first, but they do allow you to browse sub-menus through the steering wheel alone, which helps to keep your focus on driving.
The heated leather seats are immensely comfortable yet supportive for those long cross-country school holiday drives. And you won't hear the kids complaining about legroom in the back, because the Outback's cabin is undeniably spacious.
The sunroof is a welcomed, albeit small, add-on to the cabin's premium aesthetic. Overall though, the materials used and their fit and finish are a testament to the increasingly impressive quality of Subaru's interiors. Subaru has always been responsible for some of the highest quality standards in terms of Japanese vehicles.
Speaking of equipment, Subaru knows this is a pricier model, so it has thrown in almost every piece of technology inside. Included are: a leather interior, power adjustable heated seats in the front, 18-inch alloys, electric folding mirrors, keyless entry, automatic boot-lift function, a five-inch touch-screen display with navigation and Bluetooth, connected to a 12-speaker Harman Kardon surround sound system. This system is a particular highlight for us, with a much improved acoustic quality over the regular Subaru sound systems. At full chat, it recorded 99dB on our gauge and at the same time producing crisp and clean sound.
One of the only drawbacks to the Outback's usability is in tight situations, where its proportions come to the forefront. This is a large car; at 4.8 meters long, it's 40mm shorter than a Range Rover, and every millimeter becomes prevalent when navigating through a tight car park or narrow driveway.
The upside of this sheer size is, as you can imagine, the practicality that comes with. The 512L boot can become a 1801L boot with the clever folding rear seats down. It can accommodate anything from golf clubs, weekend camping gear, and even surfboards. For anything larger, there's a clever fold-out roof rack system with several configurations to accommodate different items.

2016 Subaru Outback 3.6R – THE DRIVE
The first thing you notice when climbing about the Outback is the driving position; which feels more like a crossover SUV than a large wagon. The second thing you notice is just how quiet it is. You'll be fooled into thinking there's something other than a 3.6-litre flat-six hiding under the bonnet. Good for 191kW at 6000rpm and 350Nm at 4400rpm, the powertrain is a very likeable aspect of the car. The transmission? Not so much.
The Outback, like many other Subi variants, can be optioned with a continuously variable transmission (CVT) which may be heaven for some, and hell for others.
The bright side is that the CVT provides an extremely smooth and refined power delivery, gently providing forward surge. However, the downside to this is that the CVT occasionally gives you dull response if you want to pick up speed in a tight situation. Give it too little throttle and you'll barely move; too much and you'll give your passengers whiplash.
Okay, we're exaggerating here… But, the 3.6R is the most powerful variant in the lineup, and it seems a little sad the powertrain's brilliance is somewhat dampened by the transmission. This negative tone is backed up by its relatively poor acceleration. We timed 0-100km/h in 8.19 seconds. It's not that it's overly slow, but for a 191kW flat-six, you'd expect it to be a bit quicker.
Fuel economy is one area where the Outback can't help but stumble. Well, not the Outback, but the 3.6R. It is too thirsty by 2016's standards. The ADR claim suggests 9.9L/100km on a combined cycle, we recorded upward of 12L/100km around the city. If the acceleration was impressive this might be more tolerable. Subaru, please fit a seven- or eight-speed conventional auto on the next model.
Subaru has packaged the 3.6R with a three-mode SI-Drive function, which allows the driver to configure their power delivery and response. The three modes do indeed have distinctly different delivery curves, and the CVT's behaviour is slightly changed.
Head out of the city and toward the dirt and you'll be pleasantly surprised with how competent the Outback remains. Subaru's symmetrical all wheel drive system keeps everything under control, and the 213mm of ground clearance, combined with an active X-Mode for off-roading (like a centre LSD) make the 3.6R a solid performer.
Ironically though, the Outback feels every bit at home in the city as it does off road, with its smooth powertrain, comfortable suspension and whisper-quiet ride. For the man or woman who has to wear a suit during the week, and a wetsuit on the week, this is the perfect car.

2016 Subaru Outback 3.6R – THE VIDEO
2016 Subaru Outback 3.6R – THE VERDICT
Is this the Outback to buy? In our opinion, the 2.5 is the pick of the bunch due to its more economical powertrain and identical looks. There's also a 2.0-litre turbo-diesel for pure economy. For the buyer that isn't too thrilled on a generic family wagon, the 3.6 does offer an attractive amount of power (and a nice sound), and high levels of comfort and luxury. We must remember, the Outback is the pioneer of this jumped-up wagon segment. In our opinion, it still is the leader, so long as you're mindful of which powertrain option you go for.
PROS:
– Build quality and reputation for reliability
– Comfort and luxury
– Sweet-sounding flat six
– Clever innovations: Eyesight adaptive cruise, fold-out roof racks
– Space and multi-purpose practicality

CONS:
– CVT ruins the excitement of the 3.6 engine
– Poor fuel economy