The all-new, 2018 Toyota Camry will be unveiled at the 2017 North American Auto Show in Detroit next month, the company has just confirmed.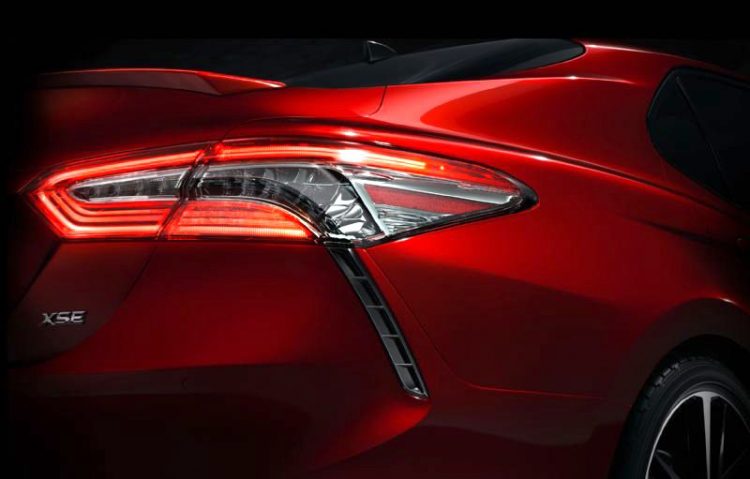 Toyota decided to send out a typical teaser image to boost some excitement for the conservative, mainstream model, showing the design of the new taillights. You can also see the sporty vertical slit that runs down from the taillight, along with a multi-contoured rear haunch and wheel arch.
So far no details have been officially announced in terms of specs or features, however, Toyota is calling the new model an "eye-catching sedan". This is perhaps not a phrase usually used to describe the Camry, potentially indicating a more striking design for the next edition.
According to reports, the new model could adopt Toyota's New Generation Architecture (TNGA), which debuted under the latest Prius. There's also a chance Toyota may install the 2.0-litre turbo four-cylinder engine from various base model Lexus vehicles.
The 2.0 turbo produces around 180kW and 350Nm, depending on which Lexus model specifically. But even if this is detuned slightly, or left untouched, it should give the Camry a nice little kick compared with the outgoing naturally aspirated 2.5-litre petrol four-cylinder that produces 135kW and 235Nm.
In its current form, the 2.5 offers an average fuel consumption of 7.9L/100km. If we take the IS 200t as an example, it offers an average consumption of 7.5L/100km. We're sure Toyota could fine-tune this, especially with slightly less power, to bring the number down even further.
Of course this is all just speculation at this point and we'll probably have to wait for the full reveal next month. We'll be sure to keep you updated in any case.