Audi has unveiled the all-new 2013 Audi A3 hatch at the 2012 Geneva Motor Show in Switzerland. This is the first car to be built on Volkswagen Group's new MQB platform, also underpinning the 2013 Mk7 Volkswagen Golf.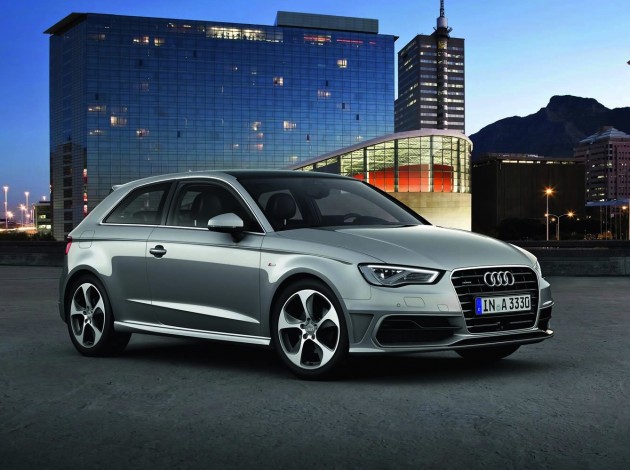 Although the new model has been spotted and revealed a few times in the past month or two, these are the first official images of the new model that have been released, showing the new slimline Audi design language.
At the front the 2013 Audi A3 incorporates Audi latest thin headlight styling, with LED daytime running lights. There's also a large inverted central grille layout, and Audi's new central lower lip, which joins the two outer black driving light clusters.
Three engines will be available during the car's launch, at least in Europe, including two petrol variants and one diesel. The entry-level petrol is a 1.4-litre TFSI turbocharged four-cylinder producing 90kW and 200Nm, while the range-topping petrol is a 1.8-litre TFSI turbo four, producing 132kW and 250Nm.
Making up the diesel variant is a 2.0-litre TDI unit producing 110kW of power and 320Nm of torque. A morel fuel-efficient 1.6 TDI offering a fuel consumption rating of 3.8L/100km is being planned for further down the track.
The 2013 Audi A3 will arrive in Australia during the start of next year, after hitting European markets in a few month's time.