Ford will be showing the new 2012 Formula Ford open-wheel race car at the 2011 IAA Frankfurt Motor Show later today. The new car will compete in various events from next year, including the British Dunlop MSA Formula Ford Championship. It gets a new turbo engine, as well as a more modern body design.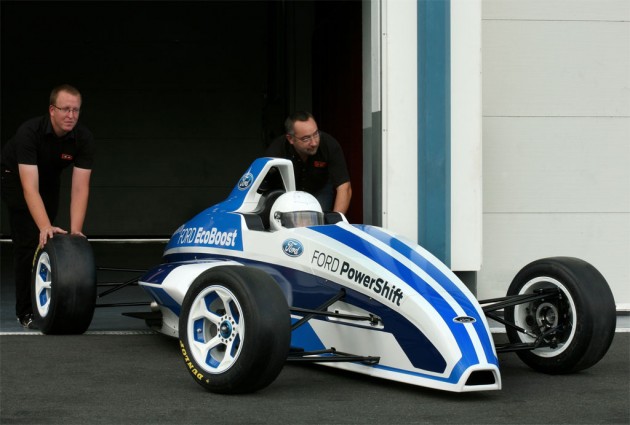 The Formula Ford series racing cars are one of the most popular entry-level forms of motorsport to get into. And now this new model has been released, there's even more reason to want to get involved.
Just looking at the 2012 Formula Ford race car, it's a very tidy and modern design. There's a unique side skirt lip that surrounds the entire front end of the body. It also features an aerodynamic cutaway under the main seating structure and new gapping side air intakes for the engine.
As for the engine, it's a new Ford 1.6-litre EcoBoost turbo four-cylinder unit developing 121kW of power and 220Nm of torque. The new engine is said be be significantly more fuel efficient and kinder to the environment compared with the previous Formula Ford crop.
Other highlights include a full FIA approved steel tubular chassis, including front and rear carbon fibre crash sections, and side intrusion protection beams.
Pricing details and a possible Australian introduction is yet to be finalised. It's a great-looking bit of kit though, wouldn't you say?