The 2012 BMW X6 M50d is the only vehicle on the market at the moment that comes with three turbochargers under the bonnet (along with the X5 M50d). Yes, three turbochargers. That makes it a very unique package, and being a diesel, it offers intense levels of torque with great fuel economy.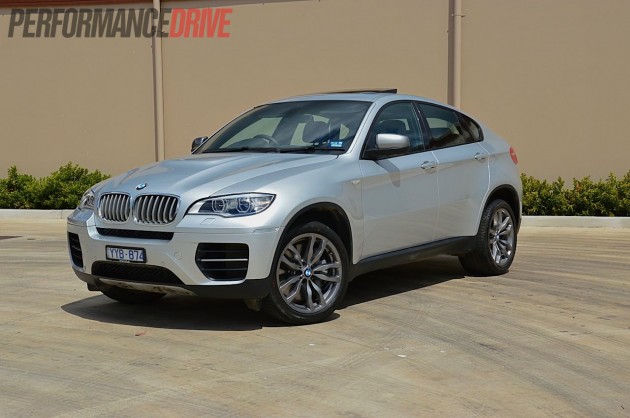 2012 BMW X6 M50d – PROS AND CONS
PROS:
Surging power and torque (740Nm) just keeps pulling, effortless acceleration
Handles as good as (or better than) most sports cars, very solid and surefooted
Imposing looks
Great fuel economy for the performance – we averaged 9.8L/100km (official 7.7L/100km)
Excellent brakes
CONS:
Rear vision restricted by thick C-pillars and coupe styling
Looks too imposing/large?
Too road-oriented for proper off-road use; low-profile tyres, 20-inch alloys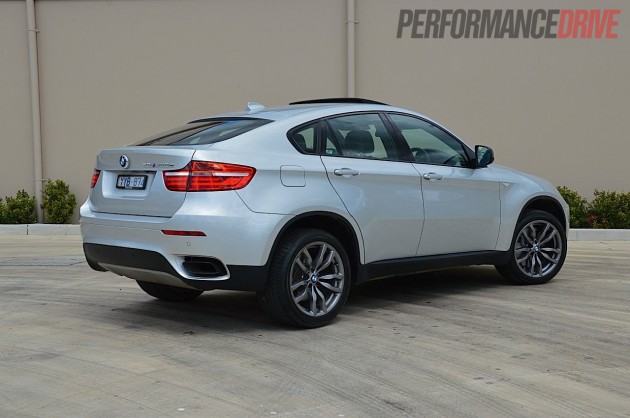 2012 BMW X6 M50d – OVERVIEW
The M50d is one of the first vehicles to come through in a new line of 'M Performance' models that BMW is planning. It's not quite the full X6 'M' car, which comes with a 408kW twin-turbo petrol V8, instead, it's simply a top line X6 garnished with the performance and expertise of M Division.
At this point you're probably wondering what sort of figures a tri-turbo engine offers. The 3.0-litre straight six tri-turbo diesel in this churns out 280kW of power and a monstrous 740Nm of torque – one of the torquiest engines currently on offer in a mainstream passenger vehicle.
(The engine is also available in the X5 M50d in Australia, as well as the 5 Series 'M550d' in overseas markets.)
Power is sent to a constant all-wheel drive system and a Dynamic Performance Control rear differential via an eight-speed automatic transmission. The differential is capable of distributing torque between left and right wheels according to the conditions, a bit like a sophisticated limited-slip differential.
Prices for the X6 M50d start at $157,000 (excluding on-road costs), or just under $7000 more expensive than the X6 xDrive50i – the top-of-the-range model underneath the X6 M.
For all of the added performance features and the seriously punchy and angry diesel engine, it is somewhat of a bargain in regards to the showroom range, and the limited competition that's out there.
2012 BMW X6 M50d – ENGINE SOUND AND 0-100KM/H ACCELERATION VIDEO
2012 BMW X6 M50d – ACCOMMODATION AND EQUIPMENT
So what does M Division actually provide for the X6 M50d? Apart from the mega engine, M steps in with 385mm front and 345mm rear disc brakes, M Servotronic steering, M sports adaptive suspension (with a sport button), and some 'M50d' sill plates. There's also an M sports steering wheel and an M instrument cluster.
Being the top of the range X6, aside from the X6 M, the M50d comes with almost all of the equipment you would expect, such as satellite navigation, a 16-speaker 600W HiFi 'Professional' grade audio system with a 12GB hard drive – optional on lesser variants – and four-zone (front and rear) climate control air-conditioning.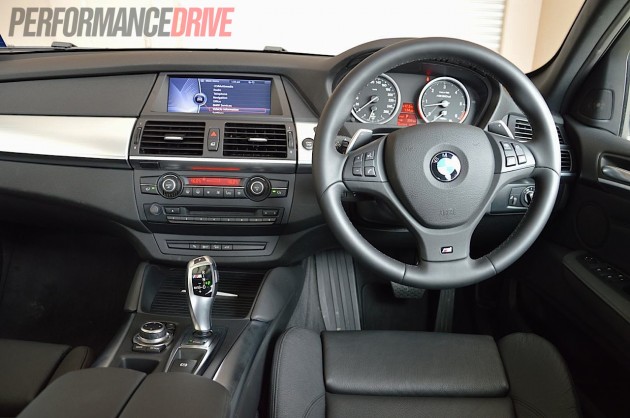 Then again, it is a German vehicle, and as usual there's still plenty of option boxes ready to pile up that initial $157,000 starting price. Items you might expect as standard that are not include a sunroof ($3500), adaptive LED headlights ($3400) – non-LED adaptive are standard – and seat heaters ($900 – front).
BMW does give you some options to play around with in terms of colours and trims. These are presented to you upon purchase and can be selected without charge. You can select between full leather or Alcantara and leather upholstery, and choose between brushed aluminium, bamboo wood grain, ash wood grain, or aluminium 'Flywheel' black trimmings for the dash, centre console and door cards.
In terms of comfort and space, the X6 is a great highway tourer. It's smooth and mostly quiet, while the perched up seating position, which can also be lowered down for a racy feel via the electronic seat adjustment, gives the front passengers a clear view ahead accompanied by that secure and safe SUV feeling.
Even in the back, rear passengers are well catered for. They have their own climate control settings, as well as ample legroom and shoulder space.
Headroom is less than what is offered in the X5 – the vehicle the X6 is based on – however, the way the roof curves down for that coupe styling doesn't intrude enough to make it any sort of serious problem. There are two cutaways in the ceiling which provide additional room.
In the very back there's loads of space, 570 litres in fact, which is short of the X5 wagon that offers 620 litres. With the rear seats folded down, that space is opened up to a huge 1450-litre capacity. There are various hooks and cubby holes to keep things secure, as well as a pull blind to cover them up.
2012 BMW X6 M50d – DESIGN AND SAFETY
From the outside the X6 M50d is only just distinguishable from the regular variants. There are a handful of clues though that separate it, letting others know this is not your average X6.
The standard 'Shadow Line' trim, for example, with black trimmings around the window, front mesh grilles and darkened side mirrors provide a hint.
There's also a bulging 'Powerdome' bonnet like what is featured on the full-tilt X6 M, a pair of huge oval/square exhaust tips that are finished in black, and two intercoolers sitting in the large side vents in the front bumper bar.
Other than that, there's no extravagant bodykit or excessive spoilers. It kind of goes back to the original M philosophy in a way by being a touch understated and discreet, at least on the design and styling front. It's an awesome sleeper.
As for safety, standard features include a head-up display, active headrests, dynamic taillights that flash under heavy braking, and traction and stability control. Australia's ANCAP is yet to test the X6, however, it has tested the X5 and given it the full five stars.
2012 BMW X6 M50d – ON THE ROAD
You've probably heard people bang on about how good BMWs handle, even talking about its range of SUVs such as the X3, X5 and the X6. It's not until you actually drive one that you begin to understand what they are on about, and begin to appreciate what BMW is doing.
The X6 M50d handles exceptionally well. You have to remind yourself at times that this is a 2000kg-plus SUV (2150kg) and not a nimble sports sedan. It's really that good. With the adaptive suspension in sport mode the ride is slightly stiffer, but the upshot is zero bodyroll and almost faultless precision.
It turns in – pardon the expression – like it's on rails. There's no easier way to put it. It doesn't show any sign of letting up either. The tyres don't squeal to warn you its limits are being explored, even in tighter turns, and it feels like it has no limits… within the restrictions of public roads anyway.
This dynamic confidence is partly because the tyres are 275mm wide on the front. The rear end, with its 315mm tyres, feels as though it is clamped to the path ahead like a monorail. It's all very solid and super surefooted.
As for the engine character and feel, under full power the tri-turbo system surges relentlessly. There's a puff of turbo-lag at the very beginning, as though it is double checking you want all of that 740Nm right now, and then it pulls hard through all gears until, well, you reach whatever speed you desire to achieve.
At standstill if you load the engine up using the brake, and tilt your head slightly forward, it is impossible to keep your head there after releasing the brake. There's just so much torque and thrust going on, your head is literally jerked back whether you like it or not. Again, this is partly thanks to those huge tyres that provide no-slip AWD traction off the mark. Of course, it's mostly thanks to the 740Nm on tap as well.
In true M car fashion, the M50d engine sounds good. It sounds meaty and sings away to the 5400rpm redline. From around 4500rpm onwards you can feel power does peak, so there's no real point in revving it beyond that when you're driving in manual shift mode. It sounds good nonetheless. (See the video above for a taste of the sound.)
Like most modern BMWs, the brakes on the M50d are brilliant. After taking it for a run through our favourite route, they didn't show any sign of fade and the pedal remained firm and at its position.
2012 BMW X6 M50d – OFF THE ROAD
Okay, so you're probably not going to buy a performance SUV purely to go off-roading every weekend. Even so, BMW has created the X6 as an SUV, and has developed it to manage sticky situations. It comes with hill descent control and a clever torque distribution calculator.
We didn't push this test vehicle to the limits off road, but we did find it could pull itself out of, over, and through rough terrain quite adequately.
The all-wheel drive system distributes torque to wheels that have the most traction, taking into account the steering angle, and you can monitor the distribution in real-time via the in-dash multimedia screen. Basically, there is never a time of excessive wheelspin from any single wheel.
The main areas where the X6 struggles a bit off-road are with tyre grip, no thanks to the low-profile 20-inch performance rubber, and the relatively short suspension travel. The lack of travel is one of the key highlights as to why the X6 handles so well on the road though, so it's a bit of a catch-22 situation.
2012 BMW X6 M50d – VERDICT
The X6 M50d is a jack of all trades. If you want a BMW M3 but need something for the odd weekend away, or need more interior and cargo space, the X6 M is the way to go. If you, like us, are tired of spending vast amounts of cash on petrol every week, the X6 M50d is definitely the next best thing.
It offers awesome acceleration and up-any-hill torque, as well as great handling with a properly sorted chassis and suspension setup. It also zips fuel, with 900km to a tank easily achievable.
The only problem is, why isn't this great engine available in other vehicles in Australia such as the 5 Series or even the 6 Series?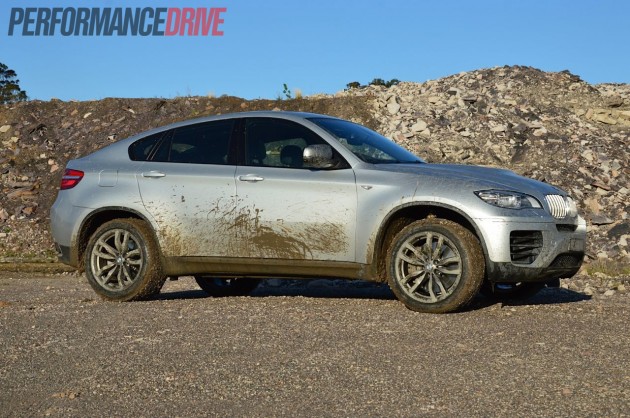 2012 BMW X6 M50d – THE COMPETITORS
Currently there are no other vehicles available in this category: Large performance SUV four-door coupe. Mercedes-Benz and Audi are reportedly working on it though.
2012 BMW X6 M50d – SPECIFICATIONS
MODEL
2012 BMW X6 M50d
ENGINE
3.0-litre triple-turbo diesel with common rail direct injection
ENGINE SIZE  / COMPRESSION RATIO
2993cc / 17:1
BORE X STROKE
84mm x 90mm
POWER
280kW@4000-4400rpm, 740Nm@2000-3000rpm
POWER TO WEIGHT RATIO
7.6: 1 (kg:kW)
KERB WEIGHT
2150kg
HEIGHT / WIDTH / LENGTH
1699mm / 1983mm / 4877mm
DRIVETRAIN
Eight-speed auto transmission, all-wheel drive
BRAKES
F: 385mm ventilated discs
R: 345mm ventilated discs
WHEELS / TYRES
Front: 20 x 10-inch, 275/40 R20
Rear: 20 x 11-inch, 315/35 R20
FUEL TANK CAPACITY
85 litres
FUEL TYPE
Diesel
FUEL CONSUMPTION
Tested average: 9.8L/100km
Official average: 7.7L/100km
PERFORMANCE
0-100km/h: 5.2 seconds (tested)
PRICED FROM
$157,000
WARRANTY
Three-year/Unlimited kilometre