The Combined Ford Clubs of NSW ran its annual All Ford Day static car show yesterday at Sydney's Eastern Creek Raceway, now called Sydney Motorsport Park. Never have we seen such a massive collection of GT Falcons.
There were around 1200 Fords on display at the event, from immaculately kept original Falcon GTs, to even rarer classics, such as early Ford Cortinas and first-generation Falcons.
A range of very high performance modern-day Falcons were also on attendance, including one of the 125 limited FPV GT 'BLACK' editions which went on sale last year, after a concept was unveiled at the 2011 Australian International Motor Show.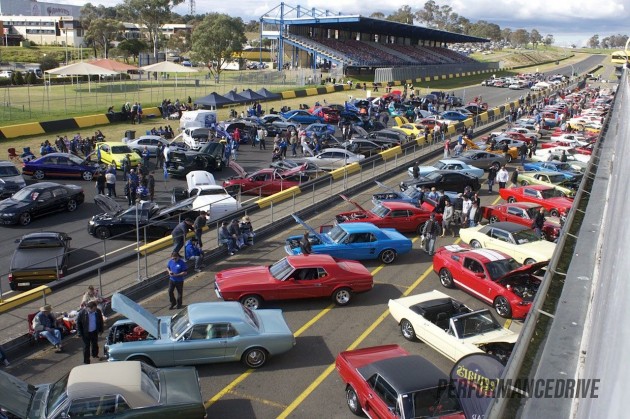 A huge collection of Mustangs occupied the entire pit lane, with early well-kept examples, stunning restored show cars wearing fresh coats of modern pearl paint, and a couple of modern-day GT500s to top it off.
The paddock area showcased plenty of highly modified Fords as well, including a few heavily tuned F6 turbo Falcons, and a few retro British Fords, such as a genuine Ford Sierra RS Cosworth.
Take a look through the gallery below for a sample of some of the cars.