Following an initial four-star ANCAP safety rating, the new Hyundai Tucson has just been updated for 2016 and has now passed the full five-star criteria.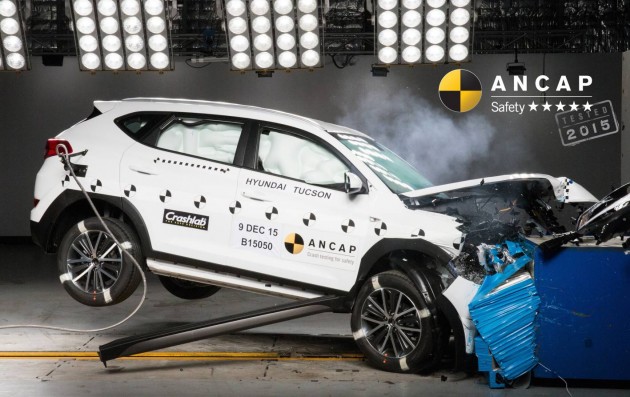 The new five-star rating applies to all Tucson variants, built after November 17, 2015, in South Korea, and after December 16 for those built in the Czech Republic.
Hyundai has taken feedback from the initial test, which saw a score of just 32.46 out of 37, and applied it to the slightly updated model. Specifically, testing of the 2015 model revealed a comprise in the structural integrity of the footwell.
Since then, Hyundai has introduced a number of safety-related improvements as well as improved the strength of the footwell to help it pass for five stars (35.53). Speaking about the new result, ANCAP CEO James Goodwin said:
"It is encouraging to see Hyundai make a number of design and production changes to improve the safety of the vehicle… The changes significantly improved the vehicle's performance in the frontal offset test which would reduce the possibility of injury to occupants in the event of a crash."
ANCAP urges buyers to double check the build plate to ensure there is no confusion when purchasing a new or used Tucson. On the secondhand market, we can probably expect prices to be pushed down for the four-star build models.
The new Tucson, launched in July, has taken a while to build up momentum on the new-car market, following a very successful innings of the smaller ix35 which is now out of production. Hyundai sold 1632 examples of the Tucson in December, 1838 in November, and just 843 in October.