Images showing what appears to be the production Tesla Model X electric SUV have surfaced online, potentially giving us a first look at the anticipated next model and a glance at some of the specs.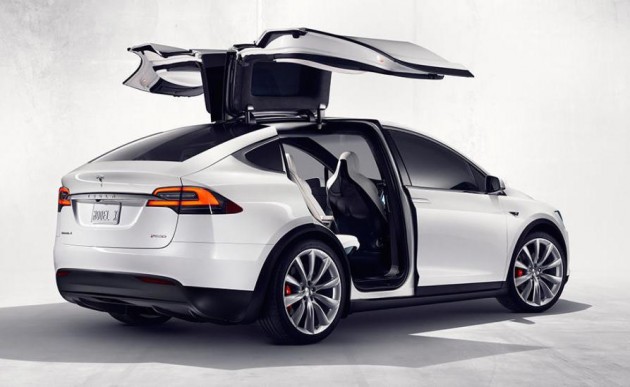 The Tesla Model X is expected to carry over the huge amount of interest garnered by the Model S sedan. Underneath features a similar foundation, only on top, it takes the shape of the fashionable jumped up SUV/crossover stance.
These images were apparently taken from the company's configurator system which allows forthcoming customers to select between various options. And as you can see, the design is quite similar to the initial concept version.
By the looks of it, the new model will retain the dramatic Falcon wing up-swinging rear doors that featured on the concept. These open to a luxurious and technology-filled cabin that offers seating for seven.
According to the configurator spec options, the Model X Signature comes with a dual motor electric system with a 190kW front motor and 370kW rear motor, for a combined output of, astonishingly, 560kW.
The specs show a 0-60mph (97km/h) time of 3.8 seconds, or just 3.2 seconds if optioned with the Ludicrous Speed pack. So then, that would make it officially the world's quickest production SUV. It also offers a top speed of 250km/h and a driving range of 386km.
Interestingly, Tesla looks like it is also going to offer an optional tow pack capable of transforming the electric powerhouse into a practical weekend tool. The system is capable of towing 2268kg, and uses special braking technology to control sway.
Prices for the Signature model will start at US$132,000. It is expected to make a more official debut in the very near future. As for Australia, we noticed confirmation on the Falcon wing rear doors on the local Tesla website as well. It says local deliveries will commence late in 2016.