Looking to buy a new track day car? Zenvo has unveiled its latest mental machine at the Geneva motor show. Called the Zenvo TSR-S, it's the third model from the Danish company.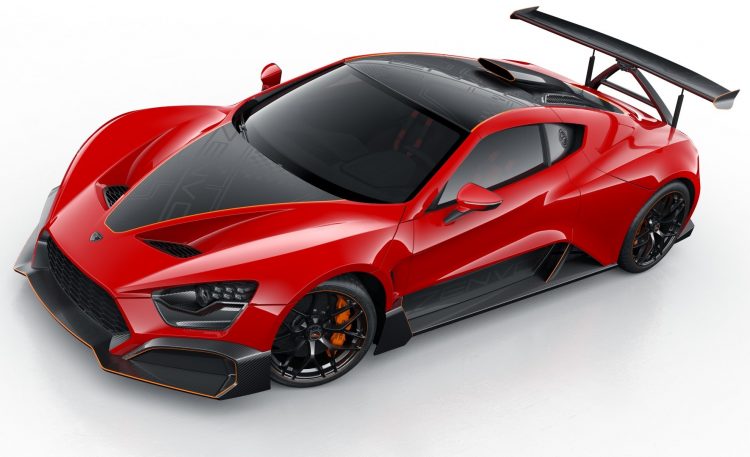 Power comes from a bespoke 5.8-litre twin-supercharged V8 using a flat-plane crank, twisting out an insane 878kW (1177bhp) at 8500rpm, in the raciest driving mode. The grunt is sent through a seven-speed sequential shift transmission that uses helical-cut dog gears.
Out on the tarmac the Danish devil can stomp 0-100km/h in just 2.8 seconds, and 0-200km/h in just 6.8 seconds. The top speed is limited to 325km/h, which is probably fast enough for most circuits.
The body is made from carbon fibre while underneath is a combination of lightweight steel and aluminium for the semi-monocoque frame, with separate front and rear sub-frames. It cradles a strict two-seat, two-door layout with the engine mounted midship.
Dry weight is listed at 1495kg, with a weight distribution of 44:56 front to rear for near-perfect balance. Helping with handling is a set of 20-inch front and 21-inch rear forged aluminium wheels measuring 8.5 inches wide on the front and 12.5 inches at the rear.
Zenvo describes the TSR-S as revolutionising stability and high-speed cornering via a new Centripetal Wing. The wing has two rotational axis allowing it to perform as an air-brake and a cornering stabiliser. Troels Vollertsen, Zenvo chief technical officer, spoke about the advanced aerodynamics, saying:
"Whereas most supercars only achieve optimum downforce in cornering at a certain speed, the multi-rotational function of the wing distributes downforce in an innovative way to deliver the optimum amount of cornering grip at any speed. Whilst lifting to boost downforce, the wing also tilts while cornering – for example, lifting the left side of the wing when cornering left and vice versa, to propel the car to the inside of the corner, ensuring exceptional stability and grip."
As for the interior, it's a stripped out racing cockpit combined with only the essential practical items for motoring. There's no sat-nav or sound system, no air-conditioning, and no airbags, with manually-adjustable seats. However, Zenvo says buyers can specify and option for specific needs.
Zenvo produces just five cars per year, spread over the TS1 GT, TSR, and now this TSR-S, making them some of the rarest and most exotic hypercars on the market.