Mercedes-Benz has been spotted test driving a prototype version of the upcoming GLC 63 AMG performance SUV, belting out some nice V8 noises.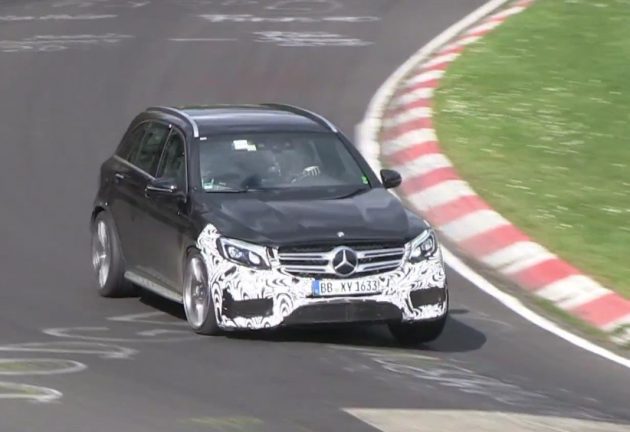 The GLC is Mercedes's latest C-Class-sized SUV. With the AMG version, it's set to become the first proper performance SUV in the segment – the only rival that comes close is the diesel Audi SQ5.
It's understood Mercedes is developing a tamer GLC 43 AMG model, featuring the company's 3.0-litre turbo V6. However, what we're looking at here is the top-shelf V8 version that is set to get AMG's latest 4.0-litre twin-turbo V8.
Output figures haven't been confirmed, and indeed Mercedes is yet to even confirm a V8 model, but according to reports the engine is likely to produce 350kW, like it does in the regular C 63 AMG (non-S not sold in Australia).
There is some speak that the GLC 63 will come with a nine-speed automatic as opposed to the seven-speed auto in the C 63 sedan. The reason behind this is apparently due to the SUV being designed to offer better grand touring ability over its sedan counterpart, as opposed to outright acceleration and track performance.
Like the C 63 AMG, the GLC version is expected to come with all of the usual AMG enhancements, including bespoke sports suspension with various modes, big brakes and wheels, a unique bodykit, and a sportier interior than the regular GLC. We can also expect various AMG-labelled fixtures and gauges.
Thanks to the videos below, we can see Mercedes-AMG is taking testing very seriously. It is being honed on the notoriously-punishing Nurburgring, as well as on the road. We get a sneak peek of the aggressive exterior and the bigger wheels sitting inside bolstered wheel arches. Take a look below.
https://youtu.be/l2IBOcyc6dE