If you've ever driven around in summer in a convertible with the roof down, you'll be all too familiar with the feeling of your hair blowing in the wind, and the sun crisping your skin. Couple that with a scenic set of roads and an engine/exhaust soundtrack from a serious performance car and it doesn't get much better as far as pure motoring in concerned.
Money ain't a thing… well, that's at least what we've considered when choosing ten high-performance convertibles, starting from most expensive. Feel free to tell us in the comments section below which car you would choose, and why.
All the models we've listed are currently on sale in Australia.
2012 Lamborghini Gallardo LP560-4
What you're looking at is the cheapest Lamborghini rag-top on sale. Despite being around since 2004, albeit with various exterior and driveline tweaks, the Gallardo is still a serious mid-engined supercar to be reckoned with. Its 5.2-litre V10 makes full power at a screaming 8000rpm, and it can dial up 100km/h in just 3.7 seconds. Purists will go with the six-speed manual, while others would prefer the paddle shift six-speed E-gear automatic (single-clutch automated manual).
Engine: 5.2-litre V10
Power: 412kW / 540Nm
Drive type: four-wheel drive
Weight: 1630kg
Priced from: $502,000
2012 Aston Martin DBS Carbon Edition
We couldn't think of anything else James Bond would rather drive along the Great Ocean Road. Aston Martin certainly knows how to make a very visually appealing car. Fitted with a V12 engine up front, and a six-speed automatic transmission, the DBS can sprint 0-100km/h in 4.3 seconds. The latest DBS 'Carbon Edition' makes what was already an intense British supercar, something even more special, with (you guessed it) carbon fibre parts fitted throughout, and the choice of three unique paint options. Who hasn't dreamed of owning an Aston Martin at one point or another…
Engine: 6.0-litre V12
Power: 380kW / 570Nm
Drive type: rear-wheel drive
Weight: 1850kg
Priced from: $497,100
2012 Ferrari California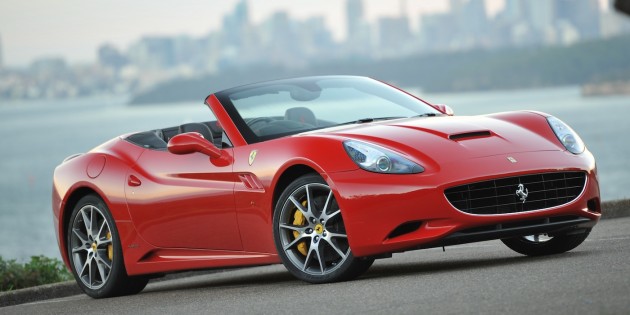 It's cheaper than a 458 Italia, with the same amount of passion. The Ferrari California is the 'baby' Ferrari. It is the first Ferrari to come with a folding metal roof; first to feature a front-engined V8; and first to feature a seven-speed dual-clutch transmission. It seats up to four people in lavish Italian leather. The 4.3-litre engine produces 84.8kW per litre, making it one of the most powerful naturally aspirated V8s on the planet. Acceleration from 0-100km/h is achievable in 3.8 seconds.
Engine: 4.3-litre V8
Power: 365kW / 505Nm
Drive type: rear-wheel drive
Weight: 1705kg
Priced from: $459,650
2012 Audi R8 Spyder 5.2 FSI quattro Spyder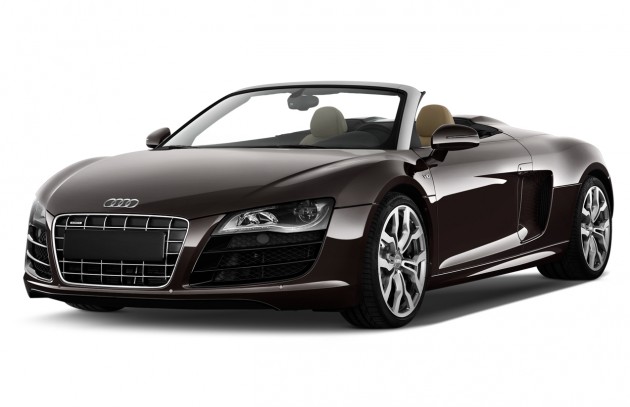 Designed and built on the Lamborghini Gallardo platform, the Audi R8 is one of the smoothest-looking road cars ever to wear the four-ring emblem. Using the Gallardo's 5.2-litre V10 and Audi's trademark quattro system, the R8 5.2 FSI can blitz 0-100km/h in 4.1 seconds. Maximum engine power is achieved at 8000rpm. Buyers can choose to order their R8 with either a six-speed manual transmission, or – new to the 2012/2013 model – a seven-speed S tronic dual-clutch self shifter. The newest version features a world-first all-LED headlight system.
Engine: 5.2-litre V10
Power: 386kW / 530Nm
Drive type: four-wheel drive
Weight: 1720kg
Priced from: $380,200
2012 Porsche 911 Carrera S 991
The latest 911 991 is more than just a two-door sports car, it's an engineering marvel. We'd buy one just to have the bragging rights to owning a car with a seven-speed manual. The visual changes compared with the 997 are subtle, yet distinctive, with the 991 looking longer and lower. With 294kW on tap, we have very little doubt we could find use for each of its seven gears. You can opt to have your 3.8-litre Carrera S fitted with Porsche's PDK self shifter if you're not into clutch pedals.
Engine: 3.8-litre boxer six-cylinder
Power: 294kW / 440Nm
Drive type: rear-wheel drive
Weight: 1540kg
Priced from: $288,300
2012 Jaguar XKR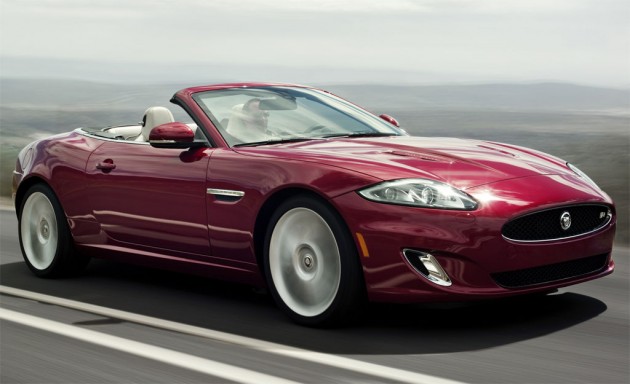 The XKR is the only car in this lineup to be fitted with a supercharged V8 engine. Jaguar's 'R' models are some of the most desired cars in the British marque's lineup. Thanks to a no-fuss supercharger system, the driver has 625Nm of torque under the right pedal from as low as 2500rpm. Bringing up 100km/h is achievable in 4.6 seconds. There's no manual option, just a six-speed automatic. Like all modern Jags, the XK is very easy on the eye, and in the right colour is a standout at the traffic lights.
Engine: 5.0-litre supercharged V8
Power: 375kW / 625Nm
Drive type: rear-wheel drive
Weight: 1800kg
Priced from: $263,000
2012 BMW 650i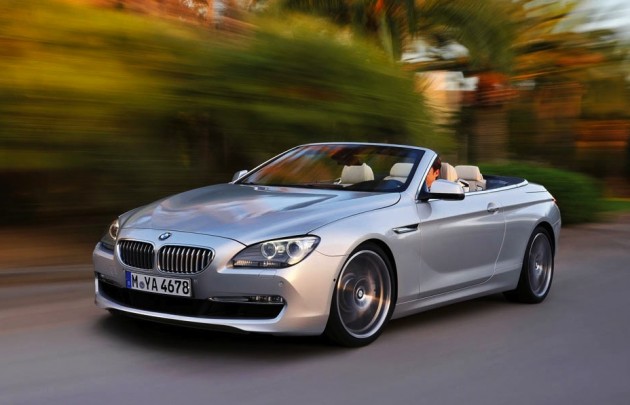 While the latest 6 Series does look stunning in Coupe format, there's something about BMW rag-tops that commands respect. Fitted with BMW's new 4.4-litre twin-turbo V8 and eight-speed automatic, the 650i is capable of pumping out quite a soundtrack as it boosts down the open road. Being a BMW, it aims at pleasing those who love driving, and this newest 6 Series is the best they've created to date. Until the new BMW M6 convertible goes on sale in Australia later this year, the 650i is our pick from Munich.
Engine: 4.4-litre V8 twin-turbo 
Power: 300kW / 600Nm
Drive type: rear-wheel drive
Weight: 1940kg
Priced from: $248,300
2012 Mercedes-Benz E500
Few cars on the road look as razor-sharp as the latest E Class range. As far as four-seat convertibles go, the E500 is the best Mercedes does. Like the new BMW 6 Series, Mercedes has opted to install a smaller-displacement V8 for its latest model, with the assistance of two turbochargers. At $189,135, it's $59,165 cheaper than BMW's 650i convertible, so if it's roofless German V8 luxury you're after, the E500 is quite a steal. It uses a seven-speed automatic, and can click up 100km/h in 5.2 seconds.
Engine: 4.7-litre V8 twin-turbo
Power: 300kW / 600Nm
Drive type: rear-wheel drive
Weight: 1920kg
Priced from: $189,135
2012 BMW M3 E93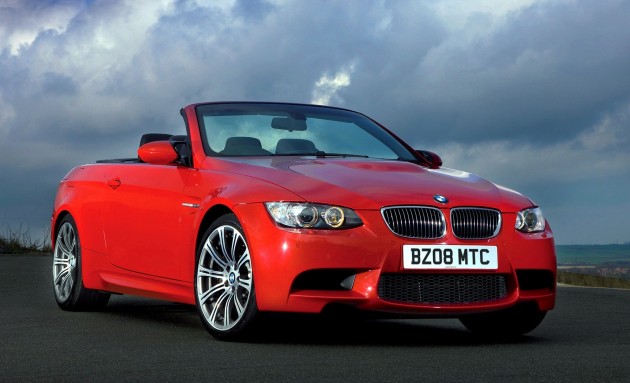 If the engine in the E93 M3 was a singer, it'd be Mariah. Making full power at 8300rpm, the 4.0-litre V8 loves nothing more than being flogged. Even though its performance credentials are sown into German automotive history, the M3 is one of the most practical performance cars on sale; it's a true four-seater with decent boot space for the odd game of golf. Whether you went for the six-speed manual, or the seven-speed dual-clutch job, nothing could stop an M3 from putting smiles on those who dare turn the traction off.
Engine: 4.0-litre V8
Power: 309kW / 400Nm
Drive type: rear-wheel drive
Weight: 1810kg
Priced from: $173,350
2012 Mercedes-Benz SLK55 AMG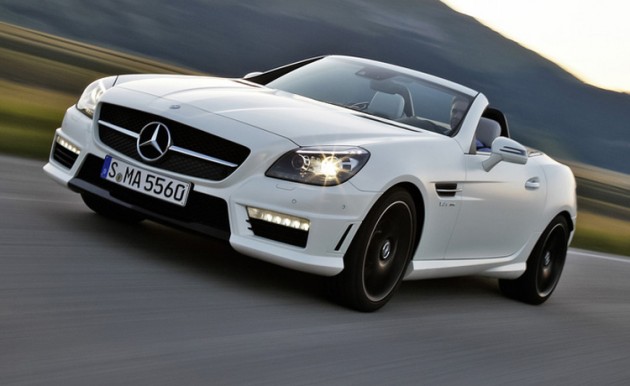 The latest SLK55 laughs in the face of those who dare call it a 'hairdressers' car. Its engine can switch to run on just four-cylinders when you feel like being green, but can instantly turn back into a V8 monster should you stretch its legs. With cylinder-deactivation technology, the SLK55's fuel economy is rated at 8.5L/100km on the combined cycle, using as little as 6.3L per 100km during highway driving. Forget the green stuff for a second though, this metal-folding roof Mercedes can crack 0-100km/h in just 4.6 seconds. Not a hair curler in sight.
Engine: 5.5-litre V8
Power: 310kW / 540Nm
Drive type: rear-wheel drive
Weight: 1610kg
Priced from: $155,000