A Lexus LFA Roadster has made a surprise appearance at the 2012 Tokyo Auto Salon during a drift event. It's likely it is a personalised or custom-order Lexus LFA Roadster, and not a vehicle that will be part of the normal Lexus lineup.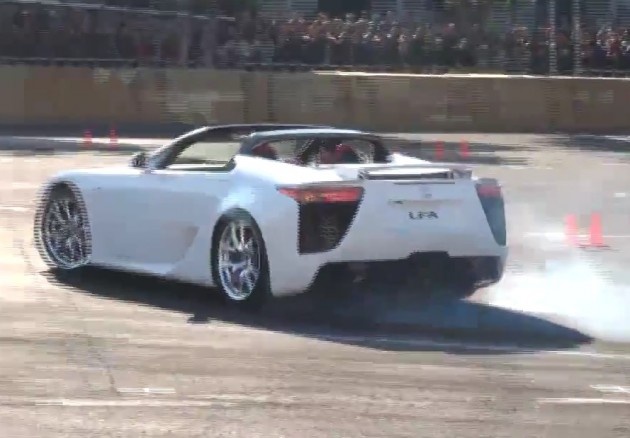 As part of the D1GP Kick Off Drift event, which was held outside the Makuhari Messe convention center in Chiba, the Lexus LFA Roadster came drifting onto the designated drift area, belching out a trademark LFA V10 soundtrack. Lexus has not announced any formal details.
Lexus was initially working on a Roadster version of the LFA, but eventually canned the idea. The company even revealed a concept version (below) called the Lexus LF-A Roadster (LF-AR) at the North American International Auto Show in 2008, featuring no windscreen frame and side cameras replacing the side mirrors.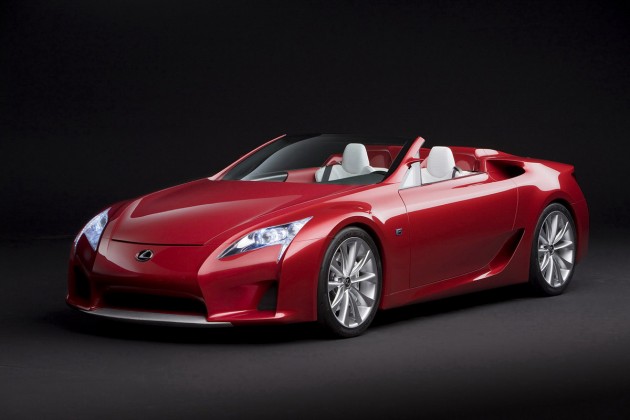 This Lexus LFA Roadster seems slightly more custom though with extra reinforcement, evident by the large rollover bar, as the LFA was not designed as a convertible. The bar would retain structural integrity and torsional stiffness. Either way, it's very cool.
In standard form, the Lexus LFA features a 4.8-litre V10 engine producing 412kW of power and 480Nm of torque. Click play to see how it all sounds (it comes in at around 0:45).