Rumour has it Hyundai is developing a new supercharged 3.8-litre V6 engine for the 2013 Hyundai Genesis Coupe. Early spy shots of the new Hyundai Genesis Coupe previewed a great-looking design by Hyundai, but a supercharged V6 would certainly top things off.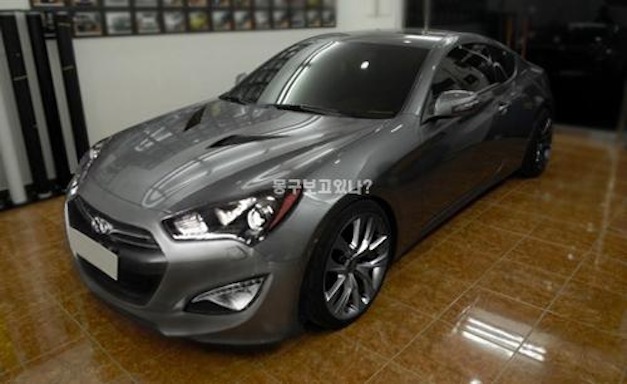 Although Hyundai has not yet released official specifications of the new 2013 Hyundai Genesis Coupe, reports from around the world seem pretty convinced that the new model will come with at least three different engine trim levels.
The entry-level model is said to be based around a 2.0-litre turbocharged four-cylinder engine lifted from the US-spec Hyundai Sonata. In that car, the engine offers 204kW of power and 364Nm of torque.
Next up is said to be a flagship Hyundai Genesis Coupe model with a naturally aspirated 3.8-litre V6 engine. The unit will offer 248kW of power and 294Nm of torque, making for quite a handy little BMW M3 rival, only at a much cheaper price.
Reports from the US are now saying that a special Hyundai Genesis Coupe R-Spec variant will come with a supercharged version of the 3.8-litre V6. The unit is speculated to produce more near 400hp (298kW), providing a solid competitor to the Ford Mustang and Nissan 370Z.
As mentioned, details are not yet official so we'll have to wait for Hyundai to release further information before getting too excited. The 2013 Hyundai Genesis Coupe is set to be unveiled at the 2012 North American International Motor Show in Detroit, US, in January.
Something we can get excited about though is that this new 2013 Hyundai Genesis Coupe model will be coming to Australia. Market entry will likely take place in 2013.